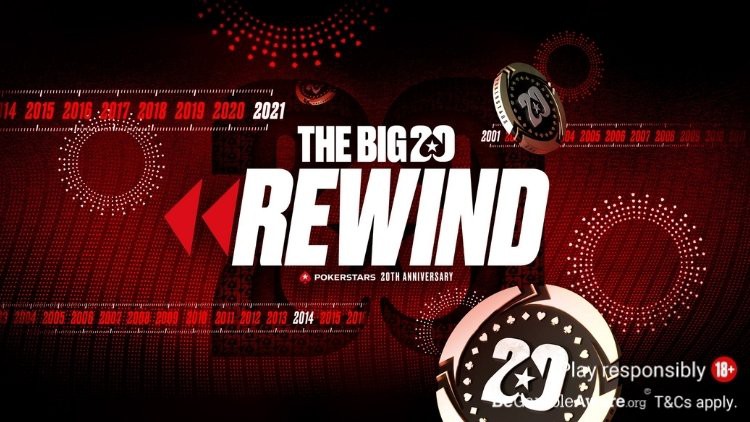 PokerStars is celebrating its 20th anniversary this month, and they are doing it in style. The operator has gone all out with its Big 20 promotion, a big part of which is the Rewind Series.
Originally, PokerStars hinted that the series would feature 20 distinct events, each commemorating one special event in its rich history. Now, we finally have the full schedule for the Rewind Series, which will kick off on November 14 and run until December 5, culminating with the Big 20 Finale.
There are in fact 22 tournaments on the schedule, with three versions of the 2009: Year of the SCOOP, to celebrate the three-tier nature of the famous tournament series.
Over the course of the Rewind Series, PokerStars will guarantee $5.5 million in prizes, and the Big 20 Finale features the prize pool of another $5,000,000.
In addition to cash, every tournament will offer special prizes for all tournament winners, with PokerStars giving away Platinum Passes, luxury watches, sports tickets, exotic vacations, and much more.
PokerStars.com
is celebrating its 20th birthday and everyone is invited to join The Big 20 party!
Super-charged daily leaderboards starting with November 1 and running through the month, offering boosted prizes
20 thematic tournaments celebrating the biggest moments from the PokerStars two-decade history
$5MM Guaranteed The Big 20 Finale with the buy-in of just $55 and ample opportunity to qualify for free
Full Big 20 Rewind Schedule
What makes the Big 20 Rewind series even more appealing is the fact PokerStars has made sure everyone can get involved. Buy-ins start at $11 on the low end and go up from there, catering to all player types. In fact, one tournament has no buy-in at all: The event celebrating 2007—the Year of EPTLive—is a freeroll.
There are even high-roller tournaments with buy-ins of $5200 and $10,300, so everyone can get involved at the level they're comfortable with.
Each event celebrates one special occasion from the particular year, further boosting the celebratory feeling of the entire event.
The Big 20 Rewind Schedule
Date
Event
Buy-in
Guarantee
Special Prize
Nov 14
2001: Year of PokerStars
$11
$100,000

SLAM

Package*
Nov 16
2002: Year of

WCOOP

$1050
$250,000
Round the world trips
Nov 17
2003: Year of Moneymkaer
$86
$125,000
$10K PokerStars Passport
Nov 18
2004: Year of the

EPT

$1050
$250,000
Trophy &

EPT

Package
Nov 19
2005: Year of the

PCA

$109
$100,000
Luxury trip to Bahamas
Nov 21
2006: Year of the Sunday Million
$215
$1,000,000
Tickets to a major sports event
Nov 22
2007: Year of EPTLive
-
$20,000
Streaming package
Nov 22
2008: Year of Turbo Takedown
$30
$100,000
Electric car
Nov 23
2009: Year of

SCOOP

$109
$300,000
Luxury watch
Nov 23
2009: Year of

SCOOP

$1050
$700,000
Luxury watch
Nov 23
2009: Year of

SCOOP

$10,300
$750,000
Luxury watch
Nov 24
2010: Year of the Big Game
$55
$250,000
TV & surround system
Nov 25
2011: Year of Home Games
$11
$100,000
Bespoke home game package
Nov 26
2012: Year of Zoom
$11
$125,000
Monte Carlo Grand Prix &

EPT

package
Nov 27
2013: Year of the

PKO

$22
$225,000

UFC

tickets
Nov 28
2014: Year of Spin & GO
$10
$150,000
Dinner for 3 at 3* Michelin restaurant
Nov 29
2015: Year of Sports & Casino
$55
$200,000
Las Vegas trip
Nov 30
2016: Year of the

USA

$200
$200,000
Trip to New York
Dec 1
2017: Year of Twitch
$11
$100,000
Trip to Amsterdam TwitchCon
Dec 2
2018: Year of the Platinum Pass
$5
$50,000
$10K in tickets to Year of

PSPC

event
Dec 3
2019: Year of the

PSPC

$25
$150,000
Platinum Pass for

PSPC

2022
Dec 4
2020: Year of the Arena
$5200
$300,000
Foo Fighters

VIP

Live Arena experience
SLAM Package includes buy-ins for WCOOP, SCOOP, EPT package, and a PSPC Platinum Pass.
PokerStars has gone all out with the extra prizes, adding heaps of value for the winners across the board. The operator also had some fun with the schedule as well.
For example, the buy-in for the Year of Moneymaker event is $86 – the exact amount that Chris Moneymaker paid for the satellite that landed him the 2003 Main Event seat.
The Big 20 $5MM Finale
The celebrations will culminate with the Big 20 Finale, a $55 tournament featuring a massive $5,000,000 guarantee. It is not common for two-digit buy-in events to have seven-figure guarantees, but it is not every day that one of the leading poker rooms celebrates its 20th birthday.
The tournament will take place on December 5 and it will be a three-day event, with the final day taking place on December 7. While there are no special prizes thrown in the mix for the winners in this one, the prize pool alone should be more than enough of an incentive.
Boosted Leaderboards & Other Promos
Throughout November, PokerStars is running other promotions as a part of the Big 20 celebrations. Boosted daily leaderboards give players a chance to compete for improved prizes in Spin & Go and cash game leaderboards every day until the end of the month.
There is close to $750,000 to be won in Spin & Go leaderboard prizes alone in November, plus weekly giveaways for all active players, offering $5000 in prizes each week and $6500 on December 1.
To find out more about boosted leaderboards and everything else relating to the Big 20 celebrations, make sure to visit our dedicated page that we updated regularly with the latest information about this valuable promotion.