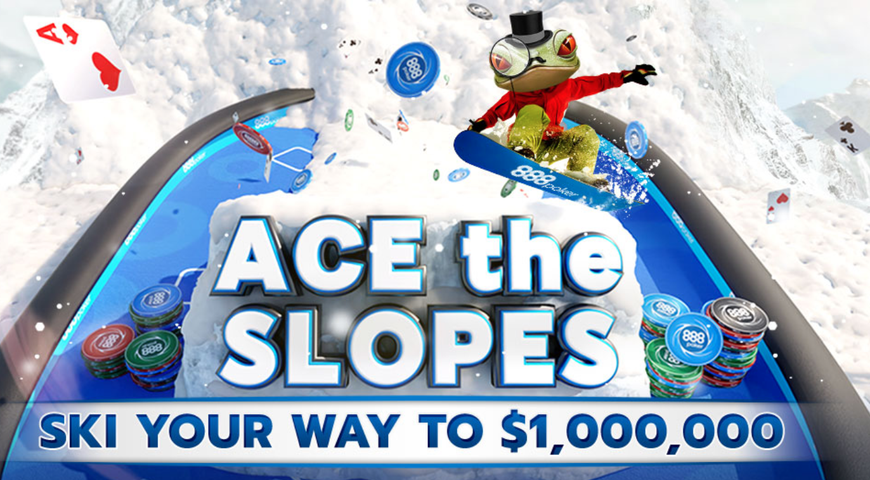 888poker is making a name for itself as a home for fantastic freeroll promotions, and has wasted no time in 2022 — kicking off the year with a three-month freeroll extravaganza.
888's Ace the Slopes promo runs from January 12 until April 12 and promises over $1,000,000 of prizes.
The ski-themed spectacular features three levels of freeroll challenges — each taking place over a different period of time.
There is the $1K Green Run Freeroll, which runs three times every day, Monday through Saturday; the $10K Red Run Freeroll, which takes place every Sunday; and the $100k Black Run Freeroll, which runs on February 12, March 12, and April 12.
In addition to this, one monthly winner of the Red Run Freeroll will also bag a bonus prize of a ski package.
All the Details on the Freeroll Action
Each level of Ace the Slopes has its own qualification criteria, which increase in line with the potential payout of the freeroll tournaments. The precise details are as follows:
Green Run Freerolls.
To qualify for the daily Green Run Freerolls, players simply need to complete one of the challenges below:
Tournaments Challenge: Buy-in to poker tournaments totaling $5 (includes

BLAST

tournaments).
Cash Games Challenge: Win one cash game hand, with an 8 as one of your hole cards (includes

SNAP

games).
Sports Challenge: Wager $5 on sports events.
Casino Challenge: Wager $5 on casino games.
Players may claim up to three Green Run Freeroll tickets every day.
Red Run Freerolls.
The challenges for the weekly $10K Red Run Freerolls are the same as above but in order to qualify, players must complete nine of them, in any combination, during the seven-day period (Mon-Sun). Up to three challenges per day can be counted towards the weekly total and players may claim up to two Red Run Freeroll tickets each week.
Black Run Freerolls.
To qualify for a $100K Black Run Freeroll ticket, players must complete the following during the monthly period:
Win 100 hands playing any poker game.
Finish in the money in three or more tournaments (does not include

BLAST

or Freerolls).
888 Focusing on Freerolls
888poker is gaining a reputation for running huge freeroll series on a regular basis. The recent promotions follow a similar pattern — giving away $1,000,000 over a period of several months.
Last year's Sir Prize promotion did just that, running from October and finishing just a couple of weeks ago, on January 2.
Prior to that, 888 had run a water park-themed version of the freeroll festival, named Splash Party, which also gave away $1 million in prizes.
The format has proved popular enough for the operator to open this year with another massive freeroll promotion, this time with a brand-new ski theme — just in time for the Beijing Winter Olympics. It seems likely that 888 will continue to provide similar promos for the foreseeable future.
Ace The Slopes is already running in 888's dot-com market and will continue through April 12, 2022.