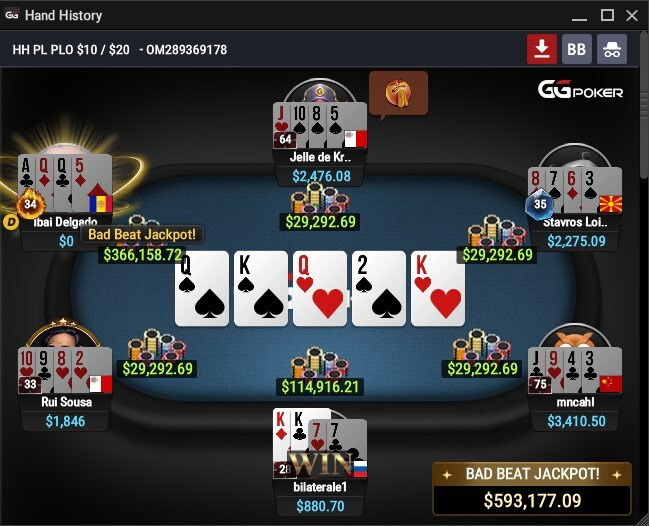 Being on the receiving end of a bad beat is never fun unless it happens at a table that awards a bad beat jackpot worth a lot more than the actual pot you played.
This is exactly what happened to GGPoker player Ibai Delgado on Saturday, January 15, 2022, when the biggest Bad Beat Jackpot to date was triggered at the $10/20 PLO table he was playing at.
Delgado called a $70 raise from "bilaterale1" with Qc Qd Ac 5d to see a flop of Qs Ks Qh, for flopped quads. Little did he know that his opponent was holding pocket Kings for a full house, which turned into stronger quads when the Kh hit the river.
Needless to say, all the money went into the pot, and the players created a pot of just over $5,000. Bilaterale1 won the pot with his quad Kings, but it was actually Delgado who took home the biggest prize, winning the lion's share of the $593,177.09 Bad Beat Jackpot.

Special Signup Offer
100% deposit bonus up to $600!
Or get up to $100 worth of rewards
Available in many regulated markets
Great

MTT

schedule including

WSOP

events
For his loss, the Romanian player was awarded just over $366,000, while his opponent in the hand won just under $115,000. The remaining four players at the table each took home $29,293 just for being a part of this epic hand of poker.
This Bad Beat Jackpot broke the operator's previous record for the promotion, with Paul Burke, the Head of PR at GGPoker saying: "GGPoker's biggest Bad Beat Jackpot yet — almost $600K — was shared out between six Omaha players, with the player who's quad queens were cracked snagging $366K for their troubles! We love seeing these huge amounts won by our cash game players, and hopefully, some more record-setting jackpots will drop in the coming weeks."
GGPoker Bad Beat Jackpot Keeps on Giving
In September 2021, GGPoker replaced several of their jackpot promotions with a single massive Bad Beat Jackpot promotion, which is now available at all types of cash game poker tables, including Rush&Cash games.
The rules of the Bad Beat Jackpot are quite simple, with players who lose in bad beat situations awarded the largest chunk of a progressive jackpot that keeps on growing with every pot played at any cash game table on the site.
Players can trigger the progressive jackpot by losing with Aces Full at Texas Hold'em, Quad Jacks at PLO5, Quad Nines at PLO, or Quad Nines at Short Deck Poker.
Since the launch of the promotion, GGPoker has given out over $15 million in Bad Beat Jackpots, with more than $1 million of that paid out in a single weekend in December. Player "phil_sn" won the Jackpot on two separate occasions during that period, taking home more than $46,000 for winning the two jackpots at $1/2 Rush&Cash tables.
On December 6, the previous largest Bad Beat Jackpot was awarded, with $10/20 PLO players sharing just over $570,000 and "airline22" taking the biggest share of over $352,000 for losing with Quad Tens to a Straight Flush.
The Bad Beat Jackpot promotion continues to run and is likely to award quite a few more massive wins in the coming weeks, with action at GGPoker getting bigger by the day and other promotions such as the Bad Beat Flipout Freerolls adding extra value to every hand you play.
Are Bad Beat Jackpots Dying Out?
Bad Beat Jackpots used to be very popular in the early days of online poker, with many online poker sites using this type of promotion to draw in recreational players and poker fans from around the globe.
Lately, fewer and fewer online poker operators have been using a Bad Beat Jackpot for promotional purposes, with GGPoker's current promotion being the largest and most noteworthy in recent years.
Before the recent GGPoker Jackpots were awarded, the largest online Bad Beat Jackpot ever paid out was the one from 2018, when BetOnline.ag had the Jackpot stand at over $1,200,000. However, the Jackpot winner received only $218,000 in cash, while the winner of the hand got just over $155,000, and other players received around $25,000 each.
The remainder of the prize money was used to seed the next Jackpot, which means that Ibai Delgado was the recipient of the biggest single online Bad Beat Jackpot prize ever paid.
While GGPoker continues to offer Bad Beat Jackpots, this type of promotion has become scarce at online poker sites in recent years. Yet, anyone playing at GGPoker these days is still in with a very real chance of winning a substantial jackpot at a flip of a card at any stake or game type.