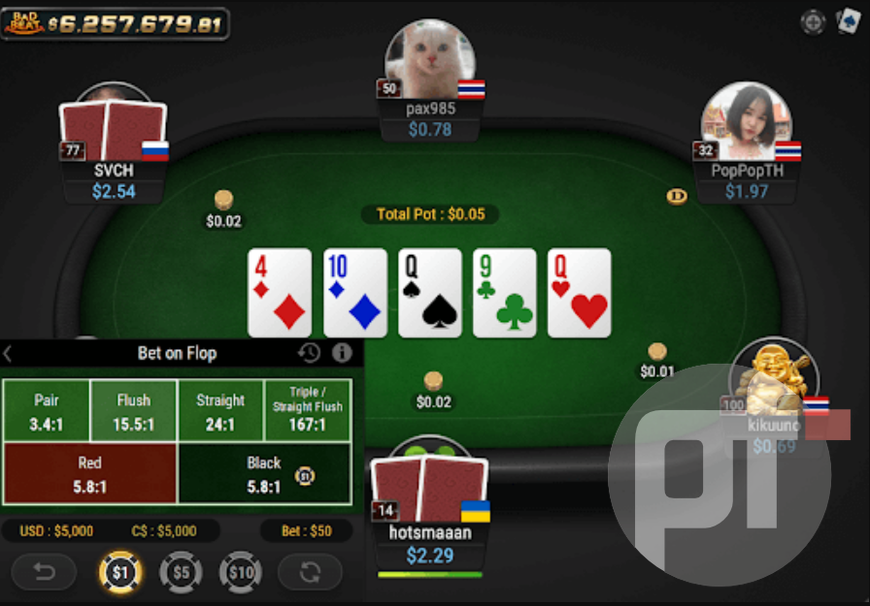 GGPoker continues to shake up the online poker space, adding another new twist to spice up its cash games.
This time, the operator has added a side betting feature, called Bet on Flop, allowing players to wager on what they think the first three community cards will bring.
GGPoker launched the new feature in selected markets on January 28 — across all Hold'em cash tables (excluding Rush & Cash), and it may later be rolled out to other jurisdictions where local regulations allow.
Players can choose from a number of options: whether a pair, flush, straight, three of a kind, or even a straight flush will come on the flop. They can also select for board textures — for instance, "more red" or "more black".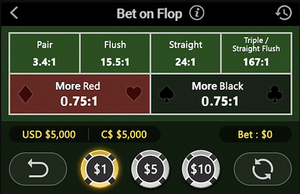 The Bet on Flop function is only available for players who are involved in the hand — if you are sitting out, you will not be able to place a side bet.
Wagering can take place at any point up until the flop is dealt and, if the hand ends pre-flop, the bet will roll over to the next hand. Bet sizing may be between 1BB and 100BB. Bets are made against the house and are deducted from your account balance, as opposed to being taken from your playing stack.

Special Signup Offer
100% deposit bonus up to $600!
Or get up to $100 worth of rewards
Available in many regulated markets
Great

MTT

schedule including

WSOP

events
Casino-Style Luck-Based Side Action
It is important to note that this is not a skill game. Bet on Flop is a luck-based game and the payouts are fixed – ranging from 0.75:1 for more red/black board texture bets, up to 167:1 for a three-card straight flush.
The full range of payouts and return-to-player (RTP) figures can be found below:
| Bet Type | Flop Description | Payout | RTP |
| --- | --- | --- | --- |
| More Red | Two or more red suit cards | 0.75:1 | 92.86% |
| More Black | Two or more black suit cards | 0.75:1 | 92.86% |
| Pair | Two cards with the same face value | 3.4:1 | 75.43% |
| Flush | Three cards of the same suit | 15.5:1 | 82.58% |
| Straight | Three non-suited cards in sequential order | 24:1 | 84.69% |
| Triple / Straight Flush | Three suited cards in sequential order | 167:1 | 78.86% |
GGPoker told Poker Industry PRO that the inspiration for the game came directly from the side bets players often make in live poker games, though it is not the first operator to offer such a feature.
PokerStars had a similar feature called Side Bets, which offered wagering options on future hole cards as well as flops. Most online poker rooms now provide some form of side betting.
For instance, 888poker offers a blackjack game accessible from its poker tables, and GGPoker itself has a range of casino mini-games for players wishing to make side bets when there is a lull in the poker action.
Biometric Login Also Now Available
Bet on Flop was released as part of GGPoker's most recent monthly software update. Along with the new side game, the poker operator has also introduced a biometrics login feature.
The option is available on the iOS version of its app, and allows players to log in using fingerprint or facial recognition. GGPoker joins PokerStars and 888poker as the third major operator to offer this function.
Bet on Flop and the biometric login went live on January 28, 2022, and are available in select markets for both desktop and mobile clients.