888poker LIVE is set to make a big return to Catalonia, Spain with the 888poker LIVE Barcelona stop beginning on May 13. Casino Barcelona is set to host the 12-day poker event that features something on the schedule for everyone.
Whether you play high or low stakes, 888poker LIVE Barcelona can likely scratch your live poker itch. The 15-event schedule has a massive range of buy-ins, with several events priced at less than €100 and, on the other end of the scale, a couple of high roller events with price tags of €2,200 or more.
The Main Event is in the middle of the range, coming in at €1,100 to buy into one of the four starting days. The Main Event action kicks off on May 19th with Day 1a, and day 1s continue through May 22nd when there is a Turbo Day 1d starting just hours before Day 2 gets rolling.
This event marks the first return to Barcelona for 888poker LIVE since 2019. That event had €1 million in guarantees and the Main Event saw more than 550 entries across three starting flights, including a few players who decided to buy in on Day 2. That meant they actually broke the €550k guarantee, though just barely, with €551,000 in the final prize pool.
2022 888poker
LIVE

Barcelona Details
Main Event at a Glance
Starting Stack: 30K
Days 1 (A, B, C) Level Time 45 mins
Day 1D Turbo Level Time 20 mins
Day 2 & Final Table Level Time 60 mins
Heads-Up Level Time 30 mins
Big Blind Ante & 30 sec. Shot Clock
As always, the feature event will be the Main Event, though no doubt a lot of attention will also be focused on the two high-roller games included in the schedule. The opening flight for the Main Event gets going on May 19, and two more regular speed Day 1s will run on May 20 and May 21. Day 2 gets going in the afternoon of May 22, but not before a Turbo Day 1d runs starting at 11 am.
That gives players four chances to bag a stack before the start of Day 2, but players can actually still choose to buy into the event on Day 2 during the first two levels of play. Day 2 gets going at 4 pm on the 22nd, so players can enter the Main Event as late as 6 pm on the 22nd.
In addition to the Main Event, there are two massive high-roller games scheduled as well. May 17 features the €2,200 High Roller event, with Day 2 running May 18. If that isn't a big enough game, the €5,300 Super High Roller gets going at 8 pm on the 18th, with Day 2 completing the biggest game of the festival on May 19 starting at 5 pm. Both events have registration open into Day 2, so players have a choice of how much poker they want to play.
There is more to this festival than just the big buy-in games though — there is something for everyone at 888poker LIVE Barcelona. Buy-ins for the scheduled events start at just €50 for the Mini Shot Turbo and there are four other open games priced at under €100, with the Ladies Event also priced low at just €55.
There are several other games in the €100 – €333 range, so this festival truly has an event for almost every bankroll.
The Venue — Casino Barcelona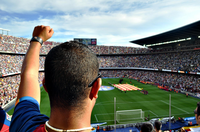 Casino Barcelona is located in the bustling capital of Catalonia, Spain, located in the NE region of Spain. The city is a great destination for tourists and players alike, boasting historic structures, museums, greenspace, and world-class sports.
Off the felt, attendees of 888poker LIVE Barcelona can look forward to visiting historic sites like the World Heritage Site Sagrada Família, designed by famed Catalan architect Antoni Gaudí, as well as the majestic Fountain of Montjuïc (pictured above). The city is also filled with various parks and museums to whet the appetite of players looking for a break from the poker in one of Europe's most picturesque cities.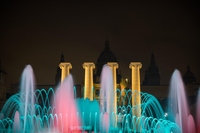 For players looking for a bit more action on their days off, the city is home to one of the biggest football clubs in the world, FC Barcelona.
888poker
LIVE

Barcelona Festival Details

The 888poker LIVE Barcelona festival looks to be a great poker vacation for serious pros and recreational players alike. With lots of action and sights both on and off the tables, this could be one of the premier stops on the live poker calendar this year.

Below is the full schedule of poker events for the festival. Pick your spots on the felt early and plan for a few days in sunny scenic Barcelona as well.
888poker

LIVE

Barcelona
DATE

TIME

EVENT

BUY-IN

CHIPS

LEVEL

INFO

11/05
4:00 PM
Turboellite toOpening Event 1A
50€
5,000
15
Late reg 6 Levels
11/05
8:00 PM

STEP

2 Main Event
220€
10,000
20
Late reg 6 Levels
12/05
6:00 PM
888poker LIVEBarcelona Festival –Opening Event Day 1A
220€
30,000
30
Late reg 11 Levels
12/05
4:00 PM
Turboellite toOpening Event 1B
50€
5,000
15
Late reg 6 Levels
13/05
5:00 PM
888poker LIVEBarcelona Festival –Opening Event Day 1B
220€
30,000
30
Late reg 11 Levels
13/05
7:00 PM
The Mayhem
88€
15,000
25
Late reg 8 Levels
14/05
12:00 PM
Turboellite toOpening Event 1C
50€
5,000
15
Late reg 6 Levels
14/05
2:00 PM
888poker LIVEBarcelona Festival –Opening Event Day 1C
220€
30,000
30
Late reg 11 Levels
14/05
6:00 PM
888poker LIVEBarcelona Festival –Opening Event Day 1D

TURBO

220€
30,000
15
Late reg 11 Levels
14/05
7:00 PM
The Rumble
110€
15,000
20
Late reg 8 Levels
15/05
1:00 PM
888poker LIVEBarcelona Festival –Opening Event

FINAL

220€
N/A
N/A
N/A
15/05
4:00 PM
The Mini Shot Turbo
50€
10,000
15
Late reg 8 Levels
15/05
6:00 PM
The Triple Threat
110€
15,000
20
Late reg 8 Levels
16/05
6:00 PM
The Mid Shot
55€
15,000
25
Late reg 10

LVL

16/05
9:00 PM

STEP

2 Main Event
220€
10,000
20
Late reg 6 Levels
17/05
6:00 PM
The Turbo Deepstack
77€
30,000
15
Late Reg 10

LVL

17/05
8:00 PM
High Roller Day 1
2,200€
100,000
45
Late reg Day 2/10 Levels
17/05
9:00 PM
Satellite High Roller
440€
10,000
20
Late reg 6 Levels
18/05
4:00 PM
Made To Play
66€
20,000
20
Late reg 12

LVL

18/05
5:00 PM
High Roller Final Day
2,200€
100,000
45
Late reg Day 2/10 Levels
18/05
6:00 PM
Superellite toMain Event Day 1A
110€
8,000
20
Late reg 7 Levels
18/05
8:00 PM
Super High RollerDay 1
5,300€
100,000
45
Late reg Day 2/10 Levels
19/05
3:00 PM
Superellite toMain Event Day 1B
110€
10,000
15
Late reg 8 Levels
19/05
5:00 PM
Super High RollerFinal Day
5,300€
100,000
45
Late Reg First 2 Levels
19/05
6:00 PM
888poker LIVEBarcelona FestivalME Day 1A
1,100€
30,000
45
12 Levels/ Late reg first 2 Levels Day 2
20/05
6:00 PM
888poker LIVEBarcelona FestivalME Day 1B
1,100€
30,000
45
12 Levels/Late reg first 2 LevelsDay 2
20/05
8:00 PM
The Mega Knockout[50€ Bounty]
165€
25,000
25
Late reg 9 Levels
21/05
12:00 PM
Turbo Superellite toMain Event Day 1C
110€
5,000
20
Late reg 6 Levels
21/05
5:00 PM
888poker LIVEBarcelona FestivalME Day 1C
1,100€
30,000
45
12 Levels/Late reg first 2 LevelsDay 2
21/05
8:00 PM
Pot Limit Omaha
150€
30,000
20
Late reg 9 Levels
21/05
9:00 PM
Turbo Superellite toMain Event Day 1D
110€
10,000
15
Late reg 8 Levels
22/05
11:00 AM
888poker LIVEBarcelona FestivalME Day 1D Turbo
1,100€
30,000
20
12 Levels/Late reg first 2 LevelsDay 2
22/05
4:00 PM
888poker

LIVE

BarcelonaFestival MEDay 2
1,100€
30,000
60
Late reg first 2 LevelsDay 2
22/05
8:00 PM
The Big Shot
333€
20,000
30
Late reg 10

LVL

22/05
8:00 PM
The Ladies Event
55€
15,000
25
Late reg 8 Levels