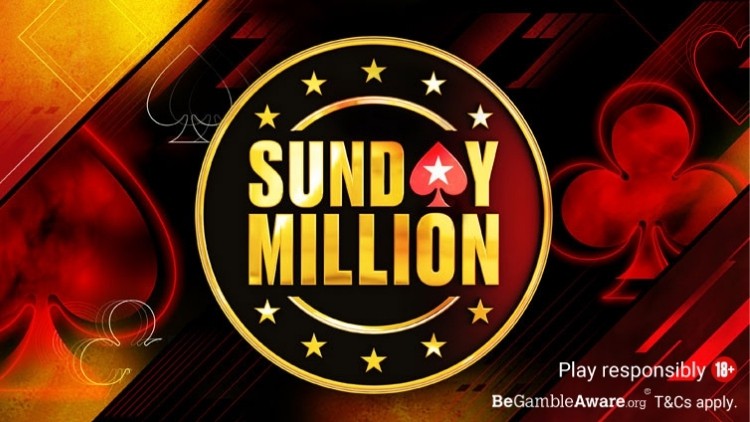 Sunday is a big day in the online poker world, and for 16 years, the place to be on Sunday has been PokerStars for the Sunday Million. The marquee tournament has grown and changed since its inception, and it is about to undergo another significant change as it permanently becomes a progressive knockout (PKO) tournament.
From its inception back in 2006, the Sunday Million has been a marquee event for PokerStars and was one of the events that helped define Sunday as the biggest day of the week for online poker. While it sometimes runs in a knockout format, the tournament has always returned to its traditional format. That will change on June 12 when the Milly permanently changes to PKO.
There are a few other changes to the blinds, start stack, and players at the table, but the significant change comes with the new bounty format. The operator cites the increasing popularity of the PKO in online poker as a driving force for the new format.
This is far from the first time the tournament has undergone considerable changes. In its 16 years, it has changed time slots and buy-ins, had multiple guarantees, and moved from a freezeout to a single rebuy, to name a few changes.
The Sunday Million even has a history as a PKO tournament, though generally as special editions throughout the year. PokerStars has been leaning more heavily toward the PKO format recently, with 12 of 20 events this year playing the progressive bounty format.

Last verified: December 2023
Special Signup Offer
100% deposit bonus up to $600!
Deposit $20 and get $30 worth of free play
One of the best mobile apps
Biggest

MTT

guarantees
Second Chance at Sunday Million Glory
The operator is giving away a bunch of tickets to satellite players to celebrate the new format of PokerStars' premier Sunday game. From now until WCOOP 2022, even when players lose a Sunday Million satellite, they will still have a chance to win with the Sunday Million Second Chance drawing.
This promotion is open to anyone who plays a Sunday Million satellite between now and August 21. Players who don't qualify for tickets will automatically be entered in a weekly drawing for one of 100 Sunday Million tickets.
There are 100 tickets on offer weekly in the drawing, so even if you don't qualify for a ticket, you can still get a free entry to the big Sunday game. Drawings happen every Sunday at 12:00 AM ET, and there are 100 tickets to give away every week.
Players can only earn one entry per week, and UK players have to opt-in through the Challenges window to track their progress for promotion. The final drawing for the free tickets will take place on Sunday, August 21 at 12:00 AM ET.
A New Look For The Sunday Million
_Changes Starting June 12: At A Glance _
Sunday Million is permanently switched to

PKO

format.
Standard buy-in will be $109 with special editions
Tables will be 8-max
New Blinds/Start Stack

50,000 starting stack (previously 10,000)
200 big blinds to start (remains the same)
15-minute levels during the late registration period (ending on 20 big blinds)
12-minute levels for the remainder of Day 1
15-minute levels for Day 2
Day 1 will now end one hour earlier at 01:05

CET

(currently ends at 02:50

CET

)
1400 and 3500 blind levels cut (but new levels introduced after level 40 for more play late on)
Players will have more timebank at the final table
The Milly's new look merges the old with the new, jumping on the latest trend in online poker with the popular bounty formats. This is something Poker Industry PRO predicted earlier this year, partly because the marquee game has often struggled to meet its guarantee.
While it hasn't always hit the guarantee in a PKO format either, its trendiness tends to increase the numbers. PRO has also analyzed the performance of the Sunday Million, and found the "tournament performs well when run as a PKO edition in comparison to the regular edition."
Despite the big shakeup, the Sunday Million is likely to retain its iconic status. Regardless of the structure, it is the one game every online poker player wants to win, and, starting June 12, they can also win bounties along the way.
Not a member yet? Sign up for PokerStars and boost your bankroll for the new Sunday Million. Head to our comprehensive review for all the details on the latest PokerStars Deposit Bonus