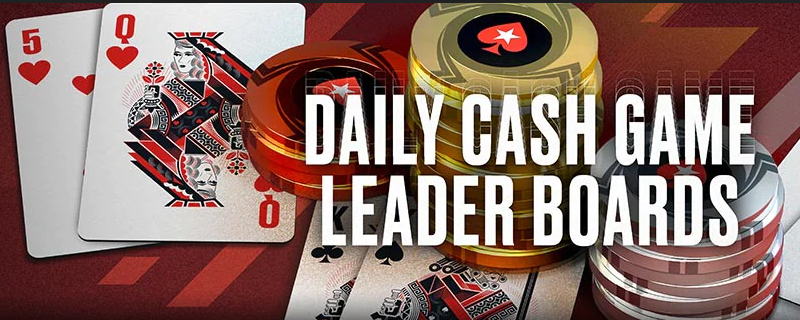 PokerStars is bringing back its patented Daily Cash Game Leaderboards, with more than $16,000 in cash prizes available every single day across June, July, and August.
Leaderboards are a reasonably popular promotion that has been available to cash game players at PokerStars in the past, offering valuable prizes to the luckiest players across a variety of No-Limit Hold 'em cash game stakes, ranging from $0.01/$0.02 to $2.5/$5.
All real-money poker players qualify to participate in the daily leaderboards, but you must opt-in for the promotion to start accumulating your daily points.
Here are all the details about this exciting promotion so you can get involved and try your luck (we're crossing our fingers for you!)

Special Signup Offer
Not regulated or for use in Ontario
100% deposit bonus up to $600!
Deposit $20 and get $30 worth of free play
One of the best mobile apps
Biggest

MTT

guarantees
How to Play (and Win) in PokerStars Daily Leaderboards
Players who opt-in for the daily leaderboards and start playing cash games (including Zoom) will accumulate points towards the leaderboards.
Each player is given three chances to accumulate points across each daily leaderboard. The first 200 hands you play at a particular stake will count towards your first shot, the subsequent 200 hands will count towards the second, and then your third shot at the leaderboard.
All points are attributed based on the pocket cards you are dealt, meaning players who play different poker styles won't be at an advantage or disadvantage over the others.
The daily leaderboards award players who acquire the most points based on a simple scoring system, which considers every card you are dealt over the 200 hands.
All cards with pips award the number of points equal to the number of pips, while picture cards award 11 points for a J, 12 points for a Q, 13 points for a K, and 14 points for an A.
In addition, the following multipliers also apply:
Suited Connectors: 2x Multiplier
Low Pocket Pair: 4x Multiplier
Pair of Jacks: 88 Points
Pair of Queens: 96 Points
Pair of Kings: 104 Points
Pair of Aces: 125 Points
Your best 200 hands score will count towards the daily leaderboard, and as many as 500 players will get a cash prize every day, depending on the leaderboard you are playing in.

Special Signup Offer
Not regulated or for use in Ontario
100% deposit bonus up to $600!
Deposit $20 and get $30 worth of free play
One of the best mobile apps
Biggest

MTT

guarantees
What Prizes Are up for Grabs?
The prizes up for grabs vary based on the daily leaderboard you are competing in. Each cash game level has a leaderboard of its own, with the $0.01/$0.02 level being the lowest you can compete in.
At the lowest level, 500 players are awarded prizes, with the daily winner receiving $25, a total 12.5 buy-ins for this level of play.
As blinds go up, so do the prize values, with the number of players rewarded reduced with each new level.
For instance, players can receive between $1 and $100 at the $0.05/$0.10, between $3 and $200 at the $0.10/$0.25, and between $4 and $300 at the $0.25/$0.50 level.
The biggest prizes are reserved for players competing in the $1/$2 orbit, where the daily winner can get $800 in cash, and a total of 20 players can expect a prize of at least $50.
A total of five players can get a prize at the $2.5/$5 level, which typically includes a lower number of players in the pool, making it easier to reach the top five.
Keep in mind that you can participate in the daily leaderboards until the end of August, giving you plenty of opportunities to compete across many blind levels and potentially win thousands in prizes just from this promotion alone.
Players who don't have an account with PokerStars can quickly sign up for one at their leisure and claim a valuable 100% deposit bonus worth up to $600.
Alternatively, you can opt for $30 in free play that will allow you to play at the lower levels and potentially win some daily leaderboard prizes while only risking $20 of your cash.
Learn more about PokerStars real money online poker »