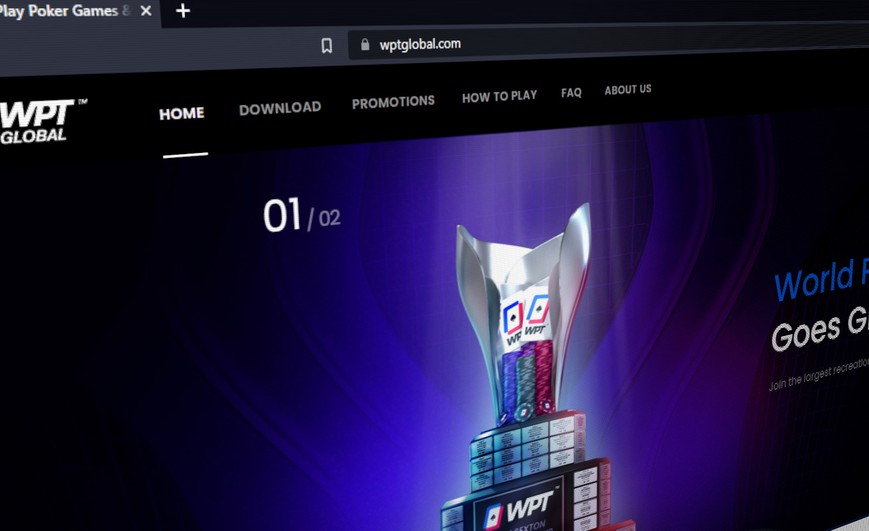 WPT Global is a newcomer in the online poker industry. Launched in cooperation with one of the biggest live poker brands in the industry, the operator has already shown it has serious plans to grow in a tough market against the big incumbents like PokerStars and GGPoker.
Soon it will debut its loyalty program, pokerfuse has learned. How exactly it will work remains to be seen — but, as with everything at WPT Global, we can expect the company to upend expectations and do something a bit different.

Special Signup Offer
100% deposit bonus up to $1200!
Use bonus code FUSEBONUS
Generous welcome bonus
Quality mobile app
WPT

Global's Rise to Recognition

The operator went live in April, offering its services to players in over 85 countries worldwide. From the outset, WPT Global promised a safe and trustworthy platform catering to players of different profiles, with a big focus on mobile play with its WPT Global app.

Right now, the platform features a solid cash game action across a variety of stakes (up to $5/10) and a decent tournament schedule, albeit with somewhat smaller guarantees for the most part.

As a fresh face in the industry, the room has a lot of catching up to do compared to industry's major players — but the partnership with the World Poker Tour will certainly help towards achieving this goal.

So far, WPT Global has come up with some interesting promotions, offering free tickets to online events with big guarantees — even running a raffle to send one lucky player to a couple of live events at The Festival in Tallinn. But, when it comes to the loyalty program, the room is taking its time.

Of course, a loyalty program is mandatory for any operator that wants to stay relevant, and WPT Global has plans to roll one out soon. Details of what the program will look like are scarce, but from what we were able to gather it seems the main thought behind it will be to create a fair and sustainable ecosystem across the board.
Standing Out from the Crowd
Of course, that could mean a lot of things and there have been no official statements to date. However, pokerfuse believes WPTG will put their own — potentially controversial — twist on the whole thing, likely with some kind of player profiling with some players earning more cashback (as a proportion to rake paid) than others.
This idea certainly sounds nice in theory, but in practice, it is quite challenging to implement well. Over the years, other operators have tried similar models, and the main online poker rooms in the market still have them in place to some degree. One of the main problems is that these tend to hurt regular players, reducing rakeback for winners in favor of the recreational players.
Again, in theory, this is a good model if you want to give back money to more casual players, who will often be net losers long term. Giving them more perks helps them stay in the game for longer, which improves their experience.
However, winning players got to where they are by constantly seeking the best value, and if they can get better rewards at a different site, this theory about creating a healthy and longer-lasting ecosystem is not enough to keep them around.
More Rewards for Recs & Contributing Players
From the few details that the operator has decided to share, it seems that the loyalty program at WPT Global will try to distribute rake based on players' behavior. Losing players and players willing to play at short-handed tables to help start and keep the games going will get better rewards, while those looking exclusively for +EV situations will get a worse deal.
WPTG wants to encourage good and positive behavior. Thus, players who sit out of the games when there is no "fish" and only get back in the action when a fun player joins the table can expect to get a lower rakeback.
The motivation behind this is clear: Players who play poker for fun do not like to feel like they have targets on their backs. If games only run when they join and stop immediately when they get up, it is not the kind of experience that will keep them coming back.
At the same time, it is hard for any poker room to operate without a solid reg base that practically guarantees there is always some action. As much as fun players do not like being targeted, they also do not like having to wait around for games to start.
A Path Well Trodden
Models like this have been tried before. In some cases, attempts to encourage certain behavior (and discourage other behavior) have been rolled back, with players complaining about a lack of transparency and predictability.
For a long time, PokerStars had a loyalty program that focused on recreational players, and it did not go down well with serious players. Not that long ago, the operator went back to its roots — at least to some extent — creating a much more transparent loyalty system.
GGPoker still operates a similar system today. Its Fish Buffet VIP rewards system looks transparent on the face of it, with more rake paid leading to higher rewards tiers and direct cashback.
However, how much rake is considered "contributed" by a player is based on an opaque individual player score dubbed Player Value Index (PVI). This categorizes players based on their playing style, net withdrawals and various other factors. The value of the PVI ranges from 0 to 2, and acts as a multiplier on the "raw" rake contribution.
Can WPT Global find a model that works well enough for everyone? It will be interesting to see how they execute — but it will not be an easy task. Poker players can be a tough crowd to please, and they will go after the value wherever they can find it. It is an uphill battle, especially for a site fairly new to the market.