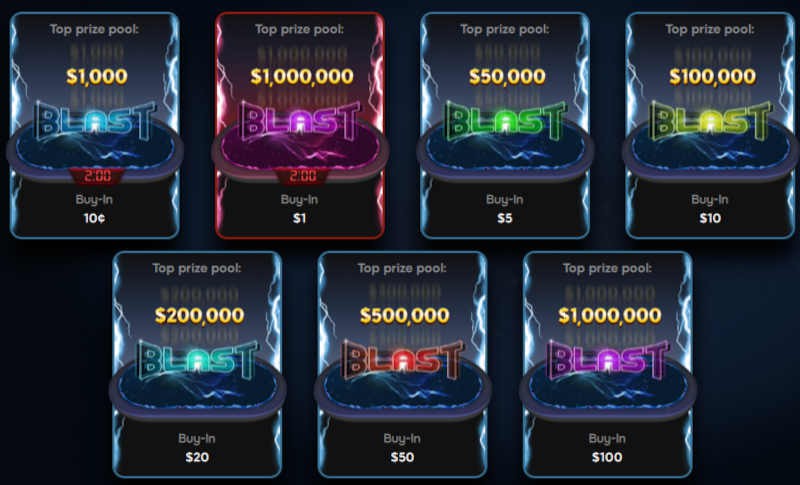 Ever since Winamax introduced lottery-style sit and goes with their unique-at-the-time Espresso format, the popularity of these games kept on rising. All major poker operators soon followed suit, adding their own variation of these games, with 888poker introducing Blast back in 2016.
Most poker players are familiar with the basic concept of these games. They are fast-paced, three-handed tournaments, where the prize pool is determined randomly at the start of the game, ranging from two times the buy-in to 10,000x+. The premise is pretty much the same across all operators, but one thing makes 888poker Blast events unique and very appealing, especially to casual players.
Namely, this is the only room that offers special $1 buy-in events where the massive prize pools can even potentially reach seven figures. While it is a rare occurrence, as one would expect, the possibility of turning the small, virtually negligible amount into $1,000,000 has a massive appeal.
PokerStars, another prominent name in the online poker world, has featured many special $1,000,000 Spin & Gos (their lottery-style format), but the lowest buy-in has always been at least $5. It may not seem like a big difference on the surface, but the idea of turning $1 into $1,000,000 somehow has a better ring.
888poker Blast Odds Explained
It would be misleading to make it seem like you can expect to play a few dozen or even a few hundred of these $1 Blast events and expect to get lucky. The odds of triggering the massive prize pool are much longer, at 1 in 10,000,000. Those are similar odds to getting five correct numbers in a Powerball draw, so it doesn't happen very frequently.
It only happened once thus far at the €1 buy-in in September 2021. Three poker players from Italy sat down to have a bit of fun, and moments later, they were left in disbelief as the jackpot prize wheel stopped at the top prize of €1,000,000.
While Blast events are usually played in the winner-takes-all format, this does not apply to the highest multipliers, which is probably a good thing. Imagine getting lucky enough to trigger the jackpot event, only to bust out in second place and win nothing.
Instead, all three players were guaranteed a handsome payout. The winner took home €700,000, while the runner-up and the first player out banked €200,000 and €100,000, respectively. And it all happened in a matter of minutes, as these tournaments do not tend to last very long.
More Big Win Multipliers in the Mix
Chasing the 1 in 10,000,000 chance may not be everyone's cup of tea, but 888poker's Blast events offer much more action with more reasonable odds. Outside of the special ones, a typical Blast tournament offers the prize pool between 2x and 10,000x the buy-in.
The buy-ins start as low as $0.10, making the games affordable to everyone, and go up to $100:
$0.10 — max prize of $1000
$1 — max prize of $10,000
$5 — max prize of $50,000
$10 — max prize of $100,000
$20 — max prize of $200,000
$100 — max prize of $1,000,000
The odds of triggering the 10,000x multiplier are still long but more realistic. The big Blast game at any given level happens once in 1,000,000 tournaments, on average. For the top two multipliers of 100x and 10,000x the buy-in, the prize pool is always distributed to all players, using the 70%-20%-10% formula. In all other cases (2x, 3,x, 5x, 10x, and 25x), the winner is awarded the entire prize pool.