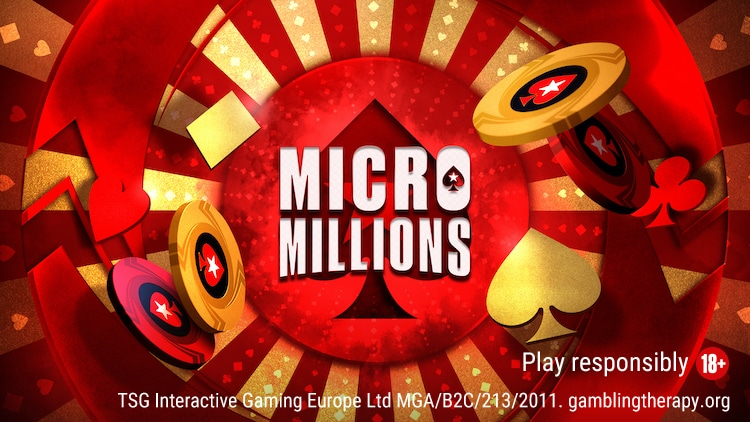 With 200+ games now in the books, PokerStars' MicroMilliions is over with more than 20% extra in prizes over the two-week festival. The MicroMillions action kicked off with the first events on July 17, and what followed was two weeks of micro-stakes online poker action that guaranteed nearly $5 million for tournaments that cost as little as $1.10 to play.
While many tournament series cater to players with deep bankrolls, featuring buy-ins of $100 and up, PokerStars' MicroMillions is aimed at the other end of the player pool. With the cheapest games costing just $1.10 to buy into and the series high rollers coming in at the $50 range, MicroMillions is designed to give small-stakes players the same sort of tournament series experience usually reserved for deeper pockets.
With all the events now complete and the final numbers tallied, it's plain to see that the operator smashed its guarantees. Initially, PokerStars promised a minimum of $4.7 million in prizes, but in the end, the series collected more than $5.8 million, an increase of 23.80% over the original guarantees.
The biggest prize pool of the entire series was unsurprisingly the $22 Main Event. With $500k guaranteed, an astonishing 27,544 entries showed up to compete for a prize pool that eventually settled in at $550,880, better than 10% above the original promise. That was also the largest turnout for any game of the series, by more than 10,000 entries.

Last verified: December 2023
Special Signup Offer
100% deposit bonus up to $600!
Deposit $20 and get $30 worth of free play
One of the best mobile apps
Biggest

MTT

guarantees
PokerStars MicroMillions Series Summary
| | |
| --- | --- |
| Total Prizes | $5,818,696 |
| Total Entries | 1,136,253 |
| Average Prizes | $28,110 |
| Median Prizes | $17,975 |
| Total Guarantees | $4,700,000 |
| Diff from Gtd | 23.8% |
| Games Above Gtd | 185 |
| Games Below Gtd | 22 |
| Games Doubling Gtd | 14 |
More Than a Dozen Games Double Guarantee
Throughout the 207-game series, PokerStars beat the guarantee on 185 of the contests. A total of 14 of those games managed to collect more than double the promised prizes, while two games more than tripled their guarantees.
MicroMillions 151 — $5.50 NLHE [7-Max, Hyper], $7K Gtd and MicroMillions 54 — $5.50 NLHE [7-Max, Hyper], $7K Gtd both collected more than $26,000 each, with MM 151 nearly quadrupling its guarantee at more than $27,000 in prizes.
Outside of the massive 27,544 entries for the Main Event, the biggest attendance of the series came in MicroMillions 105 — $11 NLHE [8-Max, Progressive KO, Sunday Special], $100K Gtd. 16,233 entries inflated the prize pool to $159,083, nearly 60% better than the original guarantee.
In total, 10 games managed to draw more than 10,000 players. Other big attendance games were:
MicroMillions 10 — $11

NLHE

[8-Max, Progressive KO, Sunday Special], $100K Gtd

15,199 entries
$148,950 in prizes,
48.95% increase

MicroMillions 205 — $5.50

NLHE

[8-Max, Progressive KO], $50K Gtd

13,024 Entries
$63,818 in prizes
27.64% increase

MicroMillions 108 — $5.50

NLHE

[8-Max, Progressive KO], $50K Gtd

12,242 Entries
$59,986 in prizes
19.97% increase
The biggest prize pool of the series also came from the huge Main Event, but there were several other gigantic pots in play. MicroMillions 204 — $55 NLHE [8-Max, High Roller], $200K Gtd drew more than 6.500 entries for a prize pool of $327,300, while the aforementioned MM 105 had almost $160k in prizes.
In the end, the 2022 MicroMillions was a massive success for PokerStars. With more than 1.1 million entries in the mix and total prizes of more than $5.8 million, the MicroMillions was anything but "micro."