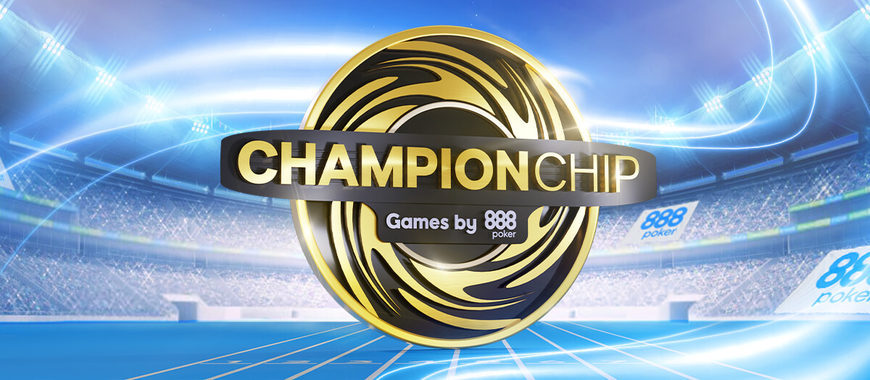 Get into some hot late-summer poker action with the return of 888poker's ChampionChip series kicking off on August 28. Running since 2016, the summer games-themed poker festival is returning this year with low-stakes poker action guaranteeing more than $500,000.
Action for 888poker's ChampionChip series kicks off on August 28 and runs for a week until September 5. The final table for the ChampionChip Main Event will run on September 6, but the last real-money buy-in will occur the day before, while Day 1 flights for the Main Event start September 1 and run through September 5.
With more than half a million dollars to be won in the series, there is a lot for low-stakes players to get excited about. With a minimum buy-in of $1, there is undoubtedly something for even the smallest bankrolls in this series. At the same time, the $60 Main Event with $200k guaranteed still offers players a chunky buy-in with a healthy prize pool, so even the deeper bankrolls will find some fun and value in this one.
The $200k Main Event guarantee is by far the biggest tournament of the series, with the next closest one just 15% of that value at $30,000 for the $33 Opening Ceremony Event on August 28. However, more than half of the games have guarantees between $10k and $30k, so there is a lot of value across the schedule.
On September 4, Event #23 — Micro Main Event ChampionChip Games kicks off for just $5.50 with $15k guaranteed. Outside the pricier Main Event ($60 to get in with $200k Gtd), the Mini Main offers the best value in the series with around $3k guaranteed value for every dollar of buy-in.
ChampionChip Games by the Tape
There are 31 games in the ChampionChip series this year, though only 25 of them are official numbered events on the schedule. Interspersed among those numbered events are some Made to Amaze and Triple Threat games that don't have event numbers, but are still proudly wearing the ChampionChip flag.
In total, there is more than $500,000 on offer, with $200k promised in the Main Event alone.
2022 ChampionChip Schedule Summary
| | |
| --- | --- |
| Total Gtd: | $506,200 |
| Average Gtd: | $16,329 |
| Median Gtd: | $10,000 |
| Average Buy-In: | $14.92 |
| Median Buy-In: | $11 |
| Min Buy-In: | $1.00 |
| Max Buy-In: | $60.00 |
| Total Events: | 31 |
With a deeper dive into the schedule, it is clear there is a lot of value for all bankrolls across the schedule. Games range from $1 to $60, so there is something for everyone over the week-long poker festival, and even the tiniest bankrolls will get a shot at colossal value.
The most significant value in the series comes from the two Main Event games scheduled for the end of the series. Whether you are playing in the $60 Main or the $5.50 Mini Main, those who make the money in these two marquee games have a lot to look forward to.
However, there is more value to be found, with three events guaranteeing around $2k per dollar spent. The third numbered event in the series, Event #03 — High Jump R&A ChampionChip Games, is just $1 to get into with $2,000 guaranteed, meaning even the smallest bankrolls will get a shot at great value.
In addition to Event #03, two Made to Amaze games also hit the $2k value threshold. While those games are not officially numbered ChampionChip events, they are running through the series week with ChampionChip branding with the extra value boost. With a buy-in of just $5 and guarantees of $10k, they make for an ideal spot for small bankrolls to take a shot at hefty prizes and unique, Made To Amaze prizes.
2022 ChampionChip High Value Games
| Tour Name | Date | GMT | Buy in | GTD | $Gtd/$1 Buy-In |
| --- | --- | --- | --- | --- | --- |
| Made to Amaze – ChampionChip Games | 28-Aug | 18:00 | $5.00 | $10,000 | $2,000.00 |
| Event #03 – High Jump R&A ChampionChip Games | 28-Aug | 19:00 | $1.00 | $2,000 | $2,000.00 |
| Made to Amaze – ChampionChip Games | Sep 4 | 18:00 | $5.00 | $10,000 | $2,000.00 |
The action kicks off on August 28 with the Opening Ceremony, Sailing, High-Jump events, and three branded unnumbered games. There is nearly $85k on offer during the opening day, with plenty more to follow. Check out the schedule below, and if you don't already have an 888poker account, check out our handy review for details on all the extra value you can get during ChampionChip festivities.
2022 ChampionChip Schedule
Tour Name
Date

GMT

Buy in

GTD

$Gtd/$1 Buy-In
Triple Threat 11 (

PKO

) ChampionChip Games
28-Aug
16:00
$11.00
$15,000
$1,363.64
Triple Threat 22 (

PKO

) ChampionChip Games
28-Aug
16:30
$22.00
$20,000
$909.09
Event #01 – Opening Ceremony ChampionChip Games
28-Aug
18:00
$33.00
$30,000
$909.09
Made to Amaze – ChampionChip Games
28-Aug
18:00
$5.00
$10,000
$2,000.00
Event #02 – Sailing ChampionChip Games
28-Aug
18:30
$7.70
$7,700
$1,000.00
Event #03 – High Jump R&A ChampionChip Games
28-Aug
19:00
$1.00
$2,000
$2,000.00
Event #04 – Boxing (

PKO

6-Max) ChampionChip Games
Aug 29
18:00
$22.00
$12,000
$545.45
Event #05 -Karate (

PKO

6-Max) ChampionChip Games
Aug 29
18:30
$5.50
$4,000
$727.27
Event #06 – Judo (

PKO

6-Max) ChampionChip Games
Aug 29
19:00
$3.30
$2,500
$757.58
Event #07 – Weightlifting ChampionChip Games
Aug 30
18:00
$55.00
$20,000
$363.64
Event #08 – Wrestling ChampionChip Games
Aug 30
18:30
$22.00
$12,000
$545.45
Event #09 – Hammer Throw ChampionChip Games
Aug 30
19:00
$11.00
$6,000
$545.45
Event #10 – Shooting (

PKO

8-Max) ChampionChip Games
Aug 31
18:00
$16.50
$10,000
$606.06
Event #11 – Fencing (

PKO

8-Max) ChampionChip Games
Aug 31
18:30
$8.80
$6,000
$681.82
Event #12 – Taekwondo (

PKO

8-Max) ChampionChip Games
Aug 31
19:00
$3.30
$2,500
$757.58
Event #13 – Marathon (Deepstack) ChampionChip Games
Sep 1
18:00
$22.00
$12,000
$545.45
Event #14 – Triathlon (Deepstack) ChampionChip Games
Sep 1
18:30
$11.00
$6,000
$545.45
Event #15 – Decathlon (Deepstack) ChampionChip Games
Sep 1
19:00
$5.50
$4,000
$727.27
Event #16 – Surfing (6-Max) ChampionChip Games
Sep 2
18:00
$11.00
$6,000
$545.45
Event #17 – Sailing (6-Max) ChampionChip Games
Sep 2
18:30
$5.50
$4,000
$727.27
Event #18 – Swimming (6-Max) ChampionChip Games
Sep 2
19:00
$2.20
$2,000
$909.09
Event #19 – Sport Climbing (

PKO

) ChampionChip Games
Sep 3
18:00
$22.00
$12,000
$545.45
Event #20 – Mountain Biking (

PKO

) ChampionChip Games
Sep 3
18:30
$11.00
$6,000
$545.45
Event #21 – Skateboarding (

PKO

) ChampionChip Games
Sep 3
19:00
$3.30
$2,500
$757.58
Triple Threat 11 (

PKO

) ChampionChip Games
Sep 4
16:00
$11.00
$15,000
$1,363.64
Triple Threat 22 (

PKO

) ChampionChip Games
Sep 4
16:30
$22.00
$20,000
$909.09
Event #22 – Mini Main Event ChampionChip Games
Sep 4
18:00
$16.50
$20,000
$1,212.12
Made to Amaze – ChampionChip Games
Sep 4
18:00
$5.00
$10,000
$2,000.00
Event #23 – Micro Main Event ChampionChip Games
Sep 4
19:00
$5.50
$15,000
$2,727.27
Event #24 – Main Event (Day 2) ChampionChip Games
Sep 5
18:00
$60.00
$200,000
$3,333.33
Event #25 – Closing Ceremony ChampionChip Games
Sep 5
18:30
$22.00
$12,000
$545.45