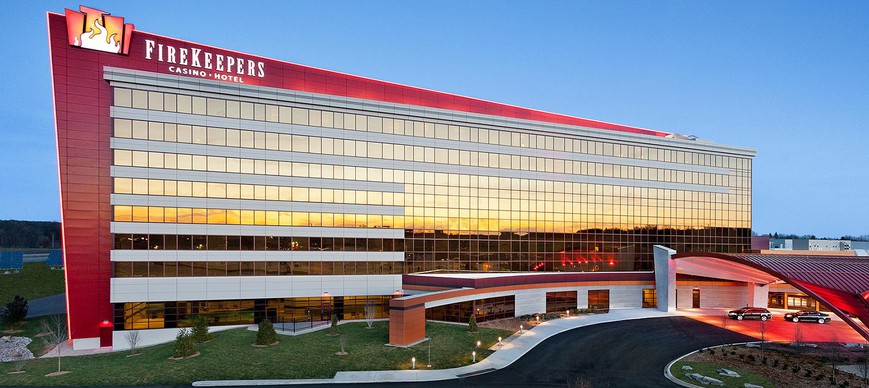 The turnout of top poker players from across the country further solidifies FireKeepers' status as one of the nation's leading poker rooms. FireKeepers Casino Hotel drew a record 2,409 entrants to a four-day event on the Mid-States Poker Tour (MSPT) and generated a $2.3 million prize pool — far more than the $1 million guaranteed — making it the biggest Michigan poker event to date.
Participation in the Michigan State Poker Championship set a Midwest region record on the MSPT. Matthew Davis of Flat Rock, MI, won the event and $344,446. It was Davis' first MSPT title.
"The turnout of top poker players from across the country further solidifies FireKeepers' status as one of the nation's leading poker rooms," the casino said Tuesday. The top 252 finishers were paid out.

Special Signup Offer
100% deposit bonus up to $1000!
Up to $75 in

MTT

tickets on top of the bonus
Frequent

MTT

series with good guarantees
Great action around the clock
Prize Pool at May Event Hit $2.2 Million
FireKeepers followed up on its success from last spring.
Main Event #195 of the MSPT was held from May 12 through 15 and drew 2,330 entrants. Like the just concluded Michigan State Poker Championship, the event began with a $1 million guaranteed prize pool but grew way beyond that to a cool $2.2 million.
Daniel Bekavac of Chicago won the event and $252,020. It was Bekavac's fourth MSPT title, a record.
The Michigan State Poker Championship prize pool exceeded that generated at Main Event #195 by just $122,851. Of interest, Bekavac finished in 44th place at the former, taking home $6,772 in prize money.
"A great partnership with MSPT, combined with the FireKeepers Team Members' commitment to guest service, continues to draw record-breaking attendance and prize pools," said Kelley Bailey, poker manager at FireKeepers.
"Event after event, the team outdoes themselves, keeping players coming back for more — so much so that we're already excited for our next major events."
In an exclusive last week, Jim Wise, Vice President of Marketing for FireKeepers, told MI Gaming Review that the casino expected to beat the $2.2 million prize pool mark set at Main Event #195.
BetRivers Casino Special Signup Offer
$200 in free play on a deposit of $50!
Best wagering requirements out there
Trusted & fully regulated online casino
Play slots from top game providers
$1M Prize Pool is Rarity Outside of Las Vegas
Since FireKeepers opened its doors in August 2019, it has hosted 15 MSPT events. There have been 203 events on the tour to date.
FireKeepers is located in Battle Creek, MI, just off Interstate 94 — the primary highway between Chicago and Detroit. Being centrally located and easily accessible from both cities is part of the reason for its success.
With that success, the MSPT has guaranteed a $1 million prize pool four times at FireKeepers. That's a rare offer, considering the only other venue where the tour had a guaranteed $1 million prize pool was The Venetian in Las Vegas.
The Venetian has hosted an MSPT event with at least $1 million guaranteed 17 times.
FireKeepers has been steadily growing its relationship with the MSPT since 2013. When the casino first hosted a tour event that year, the guaranteed prize pool was $100k. But it got bumped up to $200k the very next year and was at $300k by 2016. The prize pool ballooned to $1 million in 2019.
When COVID struck, the MSPT was compelled to cancel numerous events. FireKeepers wasn't spared the cuts — it didn't get to host MSPT events in either 2020 or 2021.
FireKeepers likely lost out on a total of four events, two for each pandemic year. Until then, the casino had hosted two MSPT events every year since 2013. They were usually held in May and October, although events were held in March and August 2013, during FireKeepers' first year as host.
Looking for somewhere to play? Check out our complete Michigan Online Poker Reviews and Michigan Online Casino Reviews.