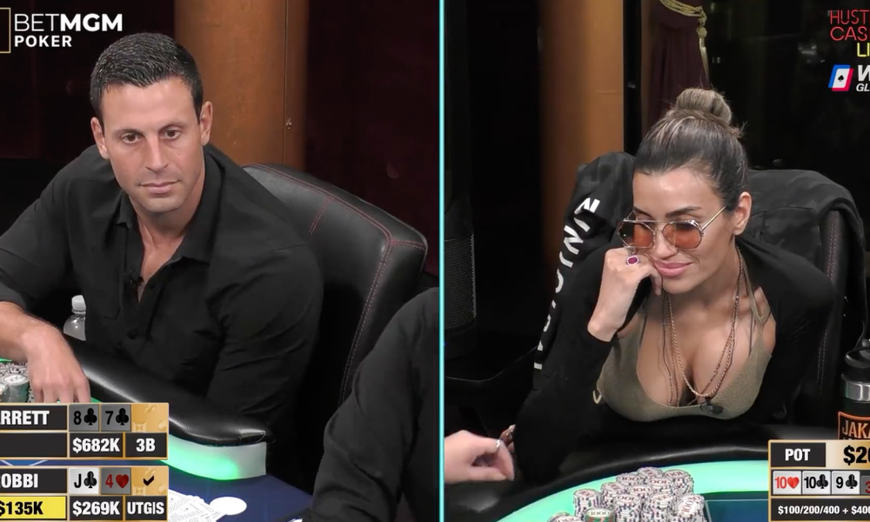 We are confident with the measures now in place that our stream is among the most secure in the industry. Players and fans of Hustler Casino Live should be extremely confident that our games are safe and secure. Nearly three months after a cheating scandal erupted at a Hustler Casino Live (HCL) tournament, the producer of the popular poker stream said it had completed an investigation into the matter and found "no conclusive evidence of wrongdoing."
The scandal involved a September 29 hand of Texas Hold'em involving Robbi Jade Lew and Garrett Adelstein. Lew faced accusations that she cheated to win an all-in hand for a pot totaling $269,000.
A probe into the game was ordered by High Stakes Poker Productions (HSPP), which owns and produces the show. It made the results of the probe public on Wednesday.
HSPP hired three entities to investigate the controversial hand — Bulletproof, a cybersecurity firm specializing in the gaming industry; The Solution Group, a firm of legal and private investigators; and Hustler Casino, with legal counsel by Sheppard, Mullin, Richter & Hampton.

Last verified: December 2023
Great Welcome Bonus!
100% deposit bonus up to $600!
Get $100 in casino bonus after wagering $1
Great variety of gaming options
Quality player rewards program
Claim Signup Offer
Please play responsibly. If you or someone you know has a gambling problem and wants help, call 1-800
GAMBLER
.
How the Cheating Scandal Unfolded
On the hand in question, Adelstein started with a stack of $813,000, while Lew had $133,000 in chips. Adelstein was dealt the 8 and 7 of clubs, while Lew received the Jack of clubs and 4 of hearts.
At that point, all the other players had folded — leaving a pre-flop pot of $4,500 between Adelstein and Lew. Adelstein raised to $3,000, and Lew called.
Neither player had a hand better than a pair of 10s after the first three community cards were dealt — the 10 of hearts, 10 of clubs, and 9 of clubs. But Adelstein was lined up for a possible flush or a straight flush and had better odds of winning.
Adelstein then bet another $2,500, and Lew called. After the turn yielded the 3 of hearts, Adelstein bet $10,000, upon which Lew raised to $20,000. Adelstein bet $129,000, and Lew went all-in to call.
The players agreed to run it twice, but Adelstein lost both times — the river was the 9 of diamonds, followed by the Ace of spades.
Things got even more bizarre after the hand was over. Adelstein, Lew, and an HCL producer reportedly met off-camera to discuss what had just happened. Lew reportedly agreed to return Adelstein's half of the pot — but she claims she felt threatened to do so.
Adding to the confusion, a casino employee was caught on camera stealing $15,000 in chips from Lew's stack during the September 29 event. Lew had initially declined to press charges against Bryan Sagbigsal, but changed her mind later.
The scandal sharply divided the poker community. Some players say Lew was just lucky with her "hero call" and that she may have misread her cards. Others have speculated that she cheated — perhaps with some sort of hidden device, and perhaps with the cooperation of Sagbigsal.

Last verified: December 2023
Special Signup Offer
100% deposit bonus up to $1000!
Up to $75 in

MTT

tickets on top of the bonus
Frequent

MTT

series with good guarantees
Great action around the clock
Please play responsibly. If you or someone you know has a gambling problem and wants help, call 1-800
GAMBLER
.
Cyber Sleuths Find No Evidence of Cheating
On Wednesday, HSPP said cybersecurity experts had concluded that the shuffling machine used in the September 29 match was secure and could not be compromised. They also determined that it was "extremely unlikely" that Lew could have used a card-reading device from the table to intercept a card signal being sent to the event's production booth.
The cybersecurity experts also found that the radio-frequency identification (RFID) technology used by the tournament was safe and that communications with the camera operator on the gaming floor were not impacted. HSPP said its PokerGFX system "was free and clear of malware, installed programs or systems that could intercept hands."
Despite being unable to come up with solid evidence of cheating, HSPP said it would take a series of steps to improve game security and reduce the likelihood of another cheating scandal in the future. Most of the steps involve physical changes to the production room, but players and production room employees will now be required to surrender any electronic devices before gameplay.
"Our cybersecurity team found a number of areas we could improve — and we have followed that guidance to significantly improve the security of our stream," said Nick Vertucci, Co-Owner of HSPP.
"We are confident with the measures now in place that our stream is among the most secure in the industry. Players and fans of Hustler Casino Live should be extremely confident that our games are safe and secure."