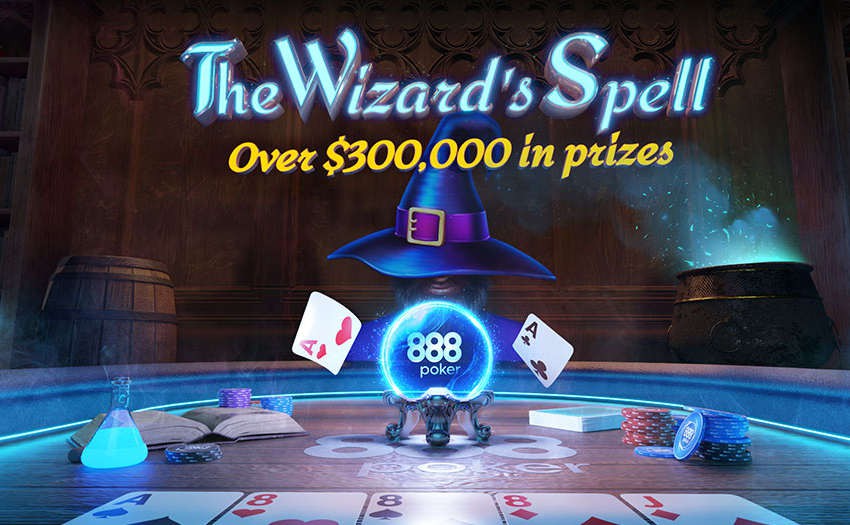 888poker, one of the world's biggest online poker operators, continues to give back generously to its players, with $300,000 in prizes set to be given away in the latest promotion dubbed "The Wizard's Spell."
The Wizard's Spell will run until April 23, with players across all stakes and game types eligible for their share of the $300,000 prize pool, which will be awarded across a series of freeroll tournaments taking place on a daily, weekly, and monthly basis.
The freerolls are already underway, and 888poker's Wizard will be giving away tens of thousands of dollars each month, making this the ideal time to play online poker on the platform.
Here's exactly what you need to do to be a part of The Wizard's Spell promotion and how you can win your share of the $300,000 in promotional rewards.
How to Take Part in The Wizard's Spell?
The Wizard's Spell is a special themed promotion that 888poker will run until the end of April, with various freeroll tournaments offering players a chance to win their share of the prize pool throughout the three months.
Players will be able to enter the following types of freeroll tournaments during the promotional period:
Daily: $300 Wizard's Wonder Freerolls
Weekly: $2000 Magical Mystery Bounty Freerolls
Monthly: Miraculous Mystery Bounty Freerolls
The $300 Wizard's Wonder Freerolls will be the easiest to qualify for, as you will only need to complete one of the Wizard's Challenges to get an entry. Wizard's Challenges include simple feats such as winning a single cash game hand with AK, winning a BLAST game, or wagering $2 on casino games or the sportsbook.
Getting entry into the weekly $2000 Mystery Bounty Freerolls will be a bit more complex, as you will need to complete a total of nine Wizard's Challenges within a week to get in. However, this, too, will not be too difficult for most players to achieve, and it is worth noting that the weekly freerolls will offer valuable mystery prizes to the top five players on top of the $2000 prize pool, including live event packages and unique gifts and bonuses.
Finally, at the end of each month, the Wizard will wave his staff over the monthly Miraculous Mystery Bounty Freeroll. These tournaments will feature guaranteed prize pools of up to $60,000, and you will need to win 100 cash game hands, cash five or more tournaments, or knockout 10 players from KO events on the platform to win an entry.
Miraculous Mystery Bounty Freerolls will take place on February 18, March 18, and April 22.
All challenges can be completed on the lowest of stakes, and winning hands at cash games as low as $0.01/0.02 will qualify you for the freerolls.
More Valuable Rewards Await
The next couple of months will be some of the best to play at 888poker, given the availability of The Wizard's Spell promotion, but there are plenty of other reasons to join.
All new players can count on the operator's *$88 welcome package*and a first deposit bonus worth up to $1000 for new depositors, one of the best in the industry.
Other regular promotions, such as BLAST Leaderboards, Hand of the Day, Tweet for Seat, and Gift Drops, are all still active, offering tons of extra value for everyone on the platform.
Join 888poker to compete for your share of the $300,000 through dozens of freeroll tournaments and compete in your preferred poker format at one of the world's largest online poker operators.