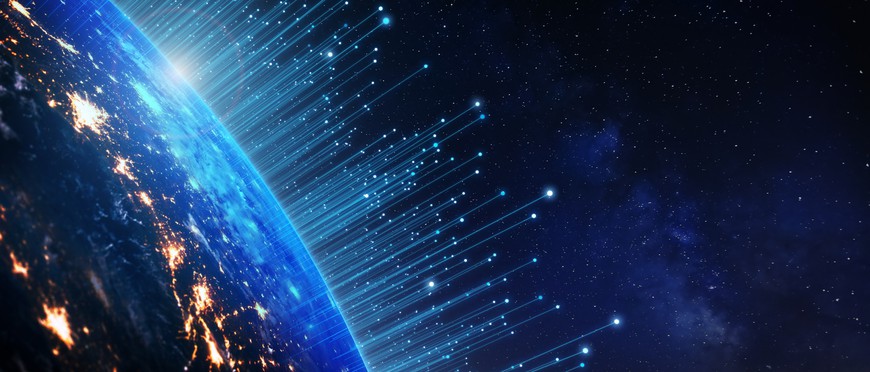 Online poker leader GGPoker continues to grow from strength to strength as the room hits an all-time high in cash game traffic, pokerfuse can exclusively reveal.
Per data tracked by independent monitor GameIntel and available exclusively on the PRO Data platform, GGPoker is reporting an average of 7600 concurrent cash game seats, based on the seven-day moving average.
It is a level the operator has never achieved before and shows the dominance it has carried on over the last three years.

Last verified: November 2023
Special Signup Offer
100% deposit bonus up to $600!
Or get up to $100 worth of rewards
Available in many regulated markets
Great

MTT

schedule including

WSOP

events
PokerStars, the former world's leading online poker room, is maintaining the second-place position with an average of 4532 seats — meaning GG is leading by a massive 68% margin.
GGPoker is still controlling almost half of the international "dot-com" online poker market and is more massive than all other major dot-com operators combined.
GGPoker's New Peak: Key Points:
Traffic just surpassed 7600 concurrent cash game players — its highest level since its launch
It is up 22% year-over-year and more than double the mini-boom seen in 2020
Comfortably leading over PokerStars with a massive 68% margin
It is larger than all other major dot-com operators combined
Currently controlling 45% of the international dot-com traffic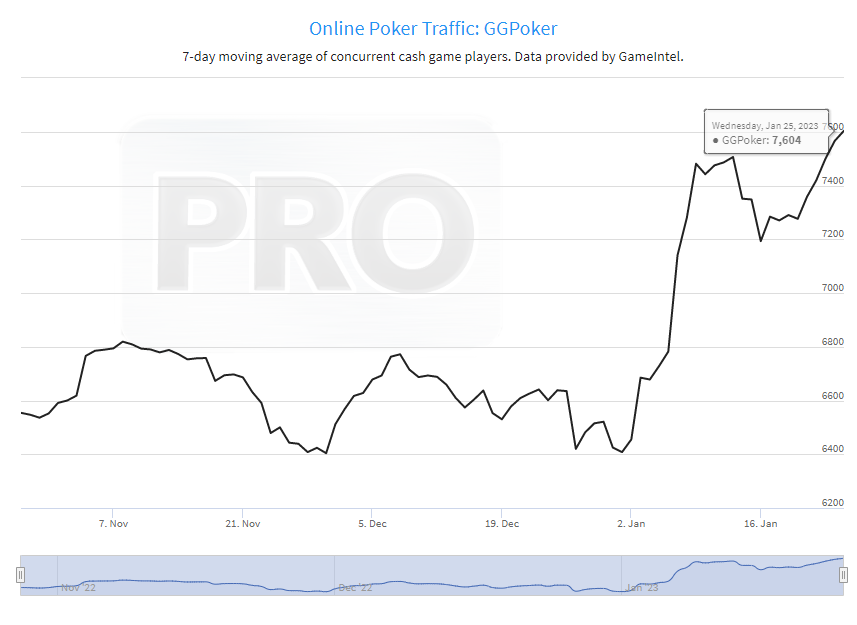 The surge in GGPoker's traffic has come mainly in the new year. On January 1, GGPoker filled an average of 6408 seats. A week later, the traffic grew to 7141 — an uptick of 11%. On January 13, it grew even further to 7506 seats before seeing a small drop on January 16, but since then, it has been unstoppable.
The last time GGPoker reached the 7000 level was in the summer of 2022 — traditionally, one of the quietest periods of the year. While other operators saw a drop in traffic, GG enjoyed all-time high traffic even then.
Year-over-year, the operator is up by 22% and even exceeds the industry-wide surge of interest seen during the height of the COVID-19 pandemic in 2020.
The scenario was quite the opposite at the start of 2022, with PokerStars riding into the new year as a market leader while GGPoker sat in second place. However, the outbreak of the Russo-Ukrainian War and subsequent international sanctions changed the scenario. PokerStars, which has a heavy presence in Russia, had to exit the market, and its traffic plummeted to its lowest point.
What could be the primary drive for GGPoker's sudden growth spurt is unknown, but the first half of January usually sees a surge in the traffic across the industry after the holiday break and then falls from February onwards.
Not just GG but rival PokerStars has also seen growth since January 1 — though not as dramatic as the former. Its latest surge has taken the dot-com market's total traffic to nearly 17,000 seats — of which GGPoker currently accounts for 45% of this traffic.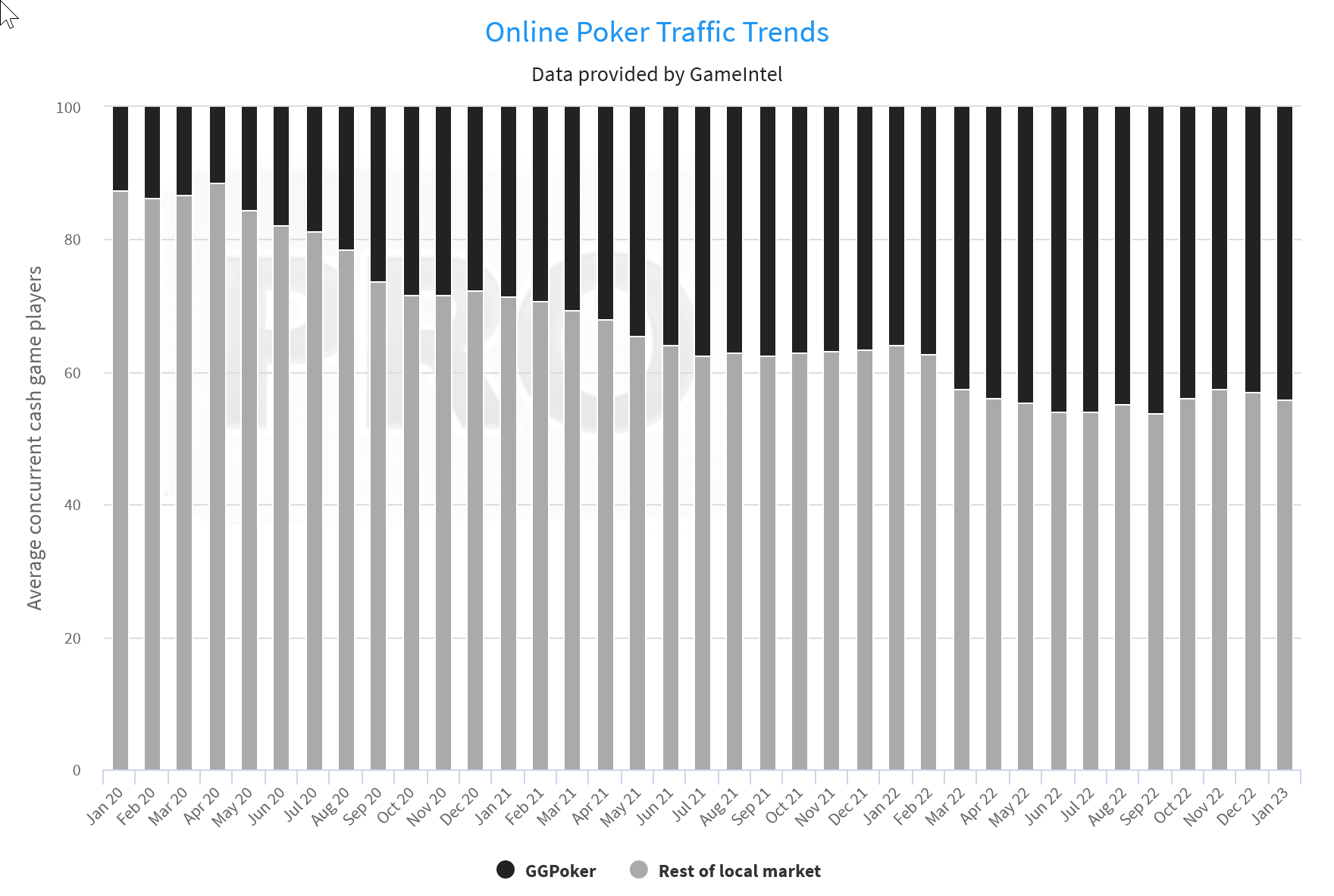 One possible reason for the booming growth is that GG added the facility to allow its players to change their screen names on a onetime basis. The policy was implemented on January 1, and players had until January 7 to change their handles. It also recently introduced a new cash game format — an 8-handed 3-blinds game with randomized cash drops.

Last verified: November 2023
Special Signup Offer
100% deposit bonus up to $600!
Or get up to $100 worth of rewards
Available in many regulated markets
Great

MTT

schedule including

WSOP

events
Whether the name change policy or introducing the new game impacted the traffic is unknown, but GGPoker would surely like to maintain the trajectory it's currently on.
There have been various reasons for GGPoker's remarkable growth over the years. It arguably has one of the best poker software platforms, boasting a myriad of poker features and innovations not seen elsewhere. It hosts plenty of valuable features that recreational players are usually attracted to.
With that said, GGPoker's growth may be close to its peak and could see a plateau in its traffic. Should that happen, it would still comfortably lead over its competitors and stay in the number one position for quite a while.
Sign up for GGPoker and see for yourself why it's the hottest online poker site in the world.