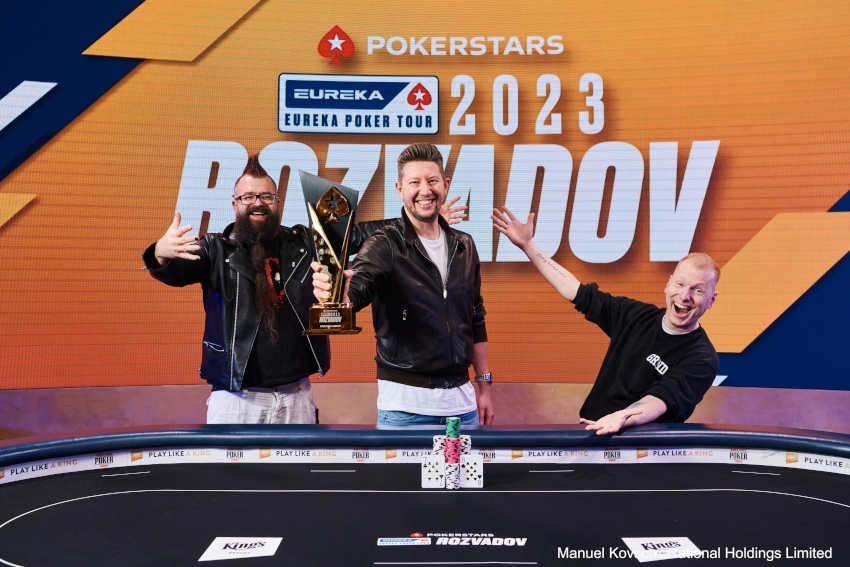 The PokerStars EUREKA Poker Tour Main Event in Rozvadov came to an end on Monday evening, with German semi-professional player Joerg Schneegass walking away with his first tournament trophy and a massive boost to his bankroll.
The event itself was a record-breaker, as 1866 entries were made at the price of €1,100 each, creating a massive prize pool of more than €1.72 million. These participation numbers broke the previous record, also held by the EUREKA Rozvadov event in 2022, attracting only 1096 entries.
In the end, the event ended up being a great success for PokerStars and a dream come true for Schneegass and several other players, as a 5-way ICM deal guaranteed each of them would take home well over €100,000.
This tournament was also a major step forward for the popular PokerStars sponsored poker tour, which continues to grow in popularity among the mid-stakes tournament community and whose tournaments have been attracting staggering numbers in recent months.

Special Signup Offer
Not regulated or for use in Ontario
100% deposit bonus up to $600!
Deposit $20 and get $30 worth of free play
One of the best mobile apps
Biggest

MTT

guarantees
International Final Table at Europe's Poker Paradise
The Kings Casino Rozvadov has been the center of all poker action in Europe for quite some time, so it comes as little surprise that the record-setting EUREKA event happened in this casino of all the places.
While nearly 2000 players gave it a shot, only 21 would return for Day 3 action on Monday, and a final table was set after slightly more than five hours of play.
The final nine were all European players, with three Romanians, two Germans, and one player each from Italy, Belarus, Poland, and Slovakia representing their flags at the final table.
With the prize pool set at €1.72 million, the champion was going to take home €283,000 in cash, but a five-way ICM deal among the remaining players meant that everyone left in play would get at least €125,684 for their troubles, significantly diminishing the first place prize.
Yet, another €20,000 was left in play for the champion, as the remaining players could already celebrate their success and pop open the champagne while playing down to the official winner.
By the time it was all said and done, it came down to two German players — Paul Knebel and Joerg Schneegass — with the latter walking away victorious and taking home €187,335, which would be the highest payout of the tournament.
Interestingly, the third-placed Paolo Calculli from Italy also won €160,935, as he was one of the biggest benefactors of the five-way ICM chop.
Here are the complete final table payouts of the 2023 edition of EUREKA Poker Tour Rozvadov:
1. Joerg Schneegass (Germany) — €187,335
2. Paul Knebel (Germany) — €127,503
3. Paolo Calculli (Italy) — €160,935
4. Narcis Nedelcu (Romania) — €125,684
5. Eusebiu Jalba (Romania) — €134,543
6. Cosmin Nica (Romania) — €52,400
7. Aliaksandr Shylko (Belarus) — €39,700
8. Kimon Fountoukidis (Poland) — €30,000
9. David Berdis (Slovakia) — €22,700
Hard Work and Patience Pay Off for Schneegass
The 2023 EUREKA Poker Tour champion Joerg Schneegass has spent the better part of the last few years commuting between his home in Munich, Germany, and the Kings Casino Rozvadov, participating in all events he could find the time to play in.

Special Signup Offer
Not regulated or for use in Ontario
100% deposit bonus up to $600!
Deposit $20 and get $30 worth of free play
One of the best mobile apps
Biggest

MTT

guarantees
Despite his efforts and a number of cashes over the last 12 months, the German semi-pro could hardly find a deep finish, let alone a final table spot in all his tries.
In his winner's interview, Schneegass admitted that this had caused him lots of frustration and discussed the negative effects of the bad run, but he also talked about the poker coaching he got and the relentless nature of his approach to poker.
It all came together for Joerg last weekend, as he booked a win in one of the biggest mid-stakes tournaments of the year and finally managed to go all the way in a major event in Rozvadov.
With his newfound confidence and bankroll, Schneegass is guaranteed to return to Rozvadov soon, while his story will doubtlessly serve as inspiration to many other aspiring pros looking to make it in the world of live tournament poker.
Want to be the next big PokerStars winner? Sign up and get started on your journey to greatness!