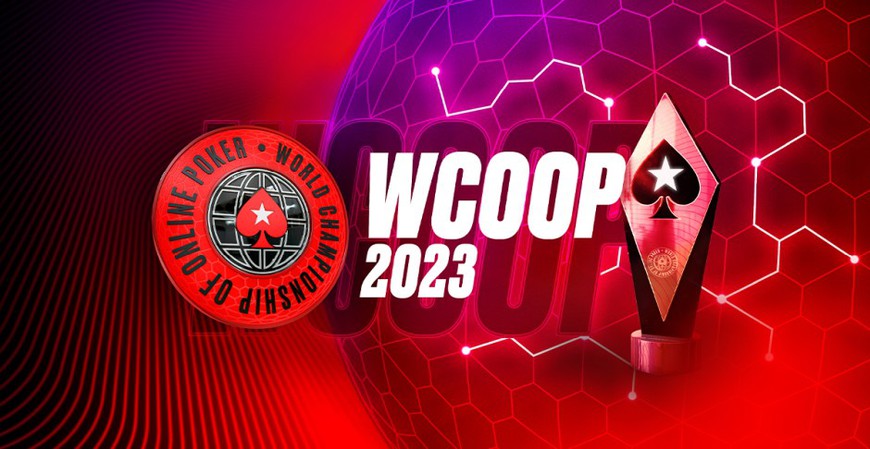 The World Championship of Online Poker (WCOOP) from PokerStars is among the world's premier online poker festivals. Alongside its Spring sister SCOOP, it stands as a true world championship for the online game with a history spanning more than two decades.
From humble beginnings at the dawn of online poker back in 2002, the 2023 edition has grown to over 100 events, with $80 million guaranteed, and the opening events are set to kick off on September 10.
Over the past 21 years of Championship action on PokerStars, over $1.2 billion has been awarded in prize pools in the series, making it one of the most anticipated online poker tournaments on the annual calendar. As is usual for the series, most events will come in three sizes to fit most bankrolls, with Low, Medium, and High versions of nearly all events.
The buy-in range is one of the things that makes WCOOP such an anticipated series — rather than targeting a specific segment of the player market with high-roller or micro-stakes games, the Championship casts a much wider net capturing a huge swath of poker bankrolls with buy-ins ranging from $5.50 to $25,000 and qualifier games starting at $.55.
With nearly a full month of online poker action scheduled for the WCOOP, there will be plenty of poker on the Red Spade to keep MTT grinders happy over the next few weeks. Action for the series kicks off on September 10 and runs through October 4 with multiple events daily at all three buy-in levels.
2023
WCOOP

in a Nutshell
Dates: September 10-October 4
$80,000,000 guaranteed
Buy-Ins: $5.50-$25,000
Three Main Events

$109

WCOOP

Main Event-L – $2,500,000 guaranteed
$1,050

WCOOP

Main Event-M – $4,000,000 guaranteed
$10,300

WCOOP

Main Event-H – $6,000,000 guaranteed

Last verified: August 2023
Special Signup Offer
100% deposit bonus up to $600!
Deposit $20 and get $30 worth of free play
One of the best mobile apps
Biggest

MTT

guarantees
Early Action from 2023
WCOOP
The opening action on the massive 2023 WCOOP from PokerStars is just days away, and the first few days have some big action. There is nearly $6 million guaranteed on the opening Sunday alone, with three games worth at least $1 million a piece.
The biggest events on the opening day will be the Sunday Million, which is billed as the Low version of WCOOP 04, as well as WCOOP 04-M and the World Championship of Progressive KO.
It is no surprise to see the $1 million guarantee next to the Sunday Million, as PokerStars players compete for seven figures in that game every week. What is a bit more unusual from a regular Sunday is that there will be two other chances to play for seven-figure prize pools on September 10.
2023

WCOOP

Million Dollar Games on the Opening Day
Date
Day of Week
Start Time
Event
10-Sep
Sun
12:30

WCOOP

04-L: $109

NLHE

[Sunday Million], $1M Gtd
10-Sep
Sun
12:30

WCOOP

04-M: $1050

NLHE

, $1M Gtd
10-Sep
Sun
12:30
World Championship of Progressive KO NLHE: $5200

NLHE

, $1M Gtd
Those games, however, barely account for half the guarantees on offer on the opening day of WCOOP 2023. While the Sunday Million represents the best value on the opening day, there are a lot of other high-value games on the schedule in the first couple of days of action as well.
Among those is one for tournament the smaller bankrolls. The first event of the series, WCOOP 01-L, is a $5.50 buy-in with $50k guaranteed. Dubbed WCOOP Kickoff, it brings almost as much value as the Sunday Million, in terms of dollars guaranteed per dollar of buy-in, but at one-twentieth the cost.
Another big game on the opening day is the $11 6-Max even, WCOOP 06-L. That one has $85k guaranteed for a value of $7727.27 $GTD/$BI, about $1500 less than the Sunday Million.
WCOOP

2023 Top Value Games from Early Action
Date
Start Time
Event
Guarantee
Buy-In
Value ($Gtd/$BI)
10-Sep
12:30

WCOOP

04-L: $109

NLHE

[Sunday Million], $1M Gtd
$1,000,000
$109.00
$9,174.31
10-Sep
8:05

WCOOP

02-L: $5.50

NLHE

[

WCOOP

Kickoff], $50K Gtd
$50,000
$5.50
$9,090.91
10-Sep
15:05

WCOOP

06-L: $11

NLHE

[6-Max], $85K Gtd
$85,000
$11.00
$7,727.27
11-Sep
12:30

WCOOP

09-L: $55

NLHE

[Progressive KO], $375K Gtd
$375,000
$55.00
$6,818.18
11-Sep
15:05

WCOOP

11-L: $11

NLHE

[Progressive KO, Freezeout], $70K Gtd
$70,000
$11.00
$6,363.64
WCOOP 2023 is just days away now, and grinders will not want to miss the opening action from the world-leading online championships. There is more than $8.5 million guaranteed on the opening two days of play alone, so there are lots of reasons to get into the series from Event #1.
Head to PokerStars to sign up and get in on all the WCOOP action