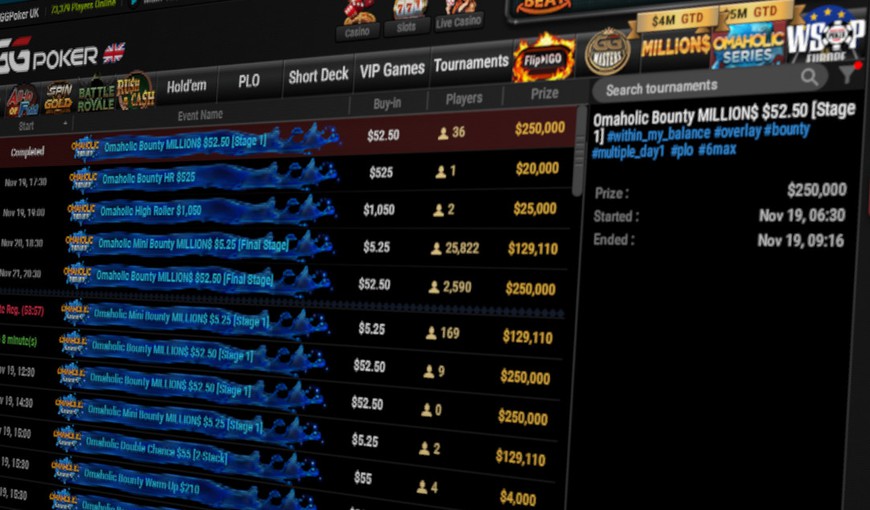 The GGPoker app saw some major disruptions last week, with several days of technical problems that impacted some key events.
While the world's biggest poker room seemed to have the problems sorted by early on Wednesday morning (Sep 20), that only came after action was disrupted from Sunday through Tuesday.
One of the biggest risks for an online poker site comes in the security arena — they are high profile targets with wide exposure to online activity. Even the biggest can fall victim to technical problems that impact site performance and player experience, as was well evidenced this past week when GGPoker saw major disruptions that had knock-on effects for several high-profile events.
Players on the site began experiencing problems during the biggest day in online poker, Sunday, when the largest fields compete. To top it off, it was even bigger than a usual Sunday with the WSOP Online 2023 in full swing and the disruption ended up forcing the postponement of Day 2 of the Main Event, which is now set to run Oct 2.
The issues were mostly cleared up by Wednesday morning, but it took the operator some time and effort to correct the problems. It posted late Sunday that regular service had resumed, but that was premature, and Monday was also beset with login issues among other things.

33

WSOP

Bracelets Up for Grabs on GGPoker!
Running August 20 – October 2, 2023
$25,000,000 GTD in the Main Event
Buy-ins starting as low as $100
$2,000,000 in extra value with Continental Freerolls
Keeping Players in the Loop
Through most of the problems, GGPoker seemed pretty responsive to the issues, taking to social media a few times to update the situation. They were quick to alert players on Sunday that impacted games would be resolved through the standard refund policy.
That message announcing the problems resolved was premature, however, and on Monday, players were still having issues with logging in, as well as some client display and Fish Buffet issues. While some players appeared to experience difficulties into Tuesday, it appears as though the operator restored normal operations by Wednesday and the problems have not reappeared.
Limited Details on Cause of Problems
There are limited details from the operator on the cause of the problems, though that is not entirely unexpected as online gaming operators tend to be fairly tight-lipped about security and technical considerations. One possible explanation, however, is that it was hit by a distributed denial-of-service (DDoS) attack.
DDoS attacks are essentially a firehose approach by hackers to shut down websites. By flooding targets with huge numbers of network requests coming from a multitude of sources, hackers can effectively "block the door" to online businesses, preventing legitimate customers from accessing the product or service.
DDoS attacks have become increasingly common. In general, they attack high-profile targets, often involved in financial activity and lately, some online poker sites have become targets.
Last year, rival PokerStars was forced to postpone some big WCOOP events as a result of DDoS attacks and that was not the first time the industry had been targeted. Back in 2019, much of the online poker industry, including GGPoker, was under attack.
GGPoker Refund Policy
Players affected by the outages last week will be able to fall back on the GGPoker refund policy to deal with games that were in progress when the problems occurred, In general, the operator will do its best to make players whole as a result of money lost due to outages, and while the policy on the cash side is fairly straightforward, the MTT side has a few kinks to navigate to fully understand how it applies in specific situations.
Cash Game Refund Policy
For cash game players affected by the problems, the solution is relatively easy — all hands in progress will be rolled back and each player's chip count will be reset to the amount they had to start the impacted hand.
MTT

Refund Policy

There are four possible states for MTT games in terms of the refund policy, and each situation is handled a little differently.
For tournaments that have not started yet, all registered players will receive a refund for their full buy-in, including fees.
For tournaments that have started but are still in the late entry stage, refunds will be handled in two steps:

Remaining players in the game will receive a full refund of buy-in and fees
Any remaining prize pool money will be paid out with 50% going to all players in equal amounts and the other 50% divided between players based on chip counts when the game was suspended
Note that if the

MTT

has a guarantee that has not been exceeded at the time of cancellation, only the money collected will be considered for prizes, regardless of the original guarantee.

For tournaments that are in the money:

All remaining players will get their buy-in and fees refunded
All remaining players will receive the next prize in full
Remaining prize pool money will be divided between the remaining players based on chip counts at the time of cancelation

Late registration on an

MTT

may be closed early if the field reaches the paid spots plus one. No more players will be allowed to enter and only the money collected via entries will be part of the prize pool, regardless of the original guarantee.
Service is now back to normal on GGPoker and WSOP Online 2023 is back in full swing again with action continuing through Oct 2.