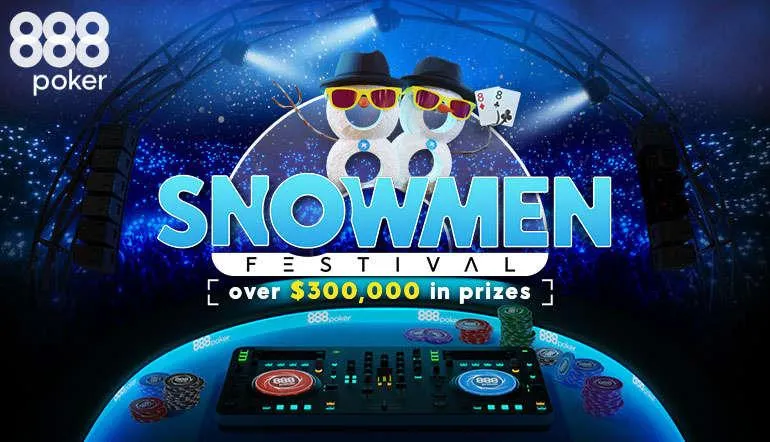 The holiday season is approaching, and 888poker is looking to spice things up for players throughout the fall. Players on the site will be treated to daily challenges in the final quarter of 2023 with a bounty of prizes until the end of the year.
October marks the beginning of the end — for 2023 at least — and the holiday season is coming up quickly. As 2023 comes to a close, moving from Halloween through Thanksgiving into Christmas, 888poker has a load of goodies on offer for players to claim through daily challenges on the site.
From October 1 through December 31, players can participate in Daily Challenges that lead to a shot at $8888 worth of free weekly prizes in an exclusive multi-flight freeroll played out on Sunday, the biggest day in online poke. Day 1 flights run throughout the week, and players can play as many Day 1 flights as they have tickets for to book a Day 2 Sunday seat.
Day 1 tickets are available via Daily Challenges on 888poker, catering to cash game and tournament players. Even online casino and sports betting fans have a shot at Day 1 tickets by placing a minimum bet of $10 on any casino game or making a $10 sports wager.
Over $300,000 in Prizes in the Snowmen Festival
888poker is throwing its biggest poker festival of 2023, a party that goes on for three months straight. Starting October 1 and running right through the end of 2023, players will get shots at huge weekly freerolls where the Triple Eights had to add an extra digit to the guaranteed prize pools.
The ultimate prize in the festival is a ticket to one of the $8888 Snowmen Weekly Freerolls, and most players will be able to earn their shot at those prizes by doing what they always do on 888poker. Players need to complete various Daily Challenges to earn tickets to the big freeroll, but the challenges are pretty simple.
Key Daily Challenges
Cash Game Challenge — Play pocket eights (88) in any cash game, including

SNAP

, and win the hand
Tournament Challenge — Play at least $20 worth of tournaments, including

BLAST

games.
Casino/Sports Challenge — Place a minimum bet of $10 on any casino or sports game
Players can earn tickets to one of many Day 1 flights every day by completing the above (or a number of other) challenges. Complete two Daily Challenges to earn one ticket per day, and up to three per week, for the Day 1 flights.
Once a Day 1 ticket is secured, all the player has to do for a shot at the $8888 Day 2 is survive Day 1, and they can take as many shots at it as they have tickets.
Once a player secures their Day 2 seat, they may not play any more Day 1s that week, even if they have tickets, and the tickets will expire at the end of the week, but everyone can earn as many as three tries each week to try and make it through Day 1. Other ways to book a Day 1 ticket include:
Card Strike Extra Bonus

PKO

Challenge
Mystery Bounty Challenge
Bubble Up
Live Events Packages & Seats
Omaha Focus

BLAST

Leaderboards Boost
Get ready to party in the biggest poker festival of 2023 from October 1 through December 31. See the 888poker client for more details on the Snowmen Festival, and check out all the terms and conditions on the website.