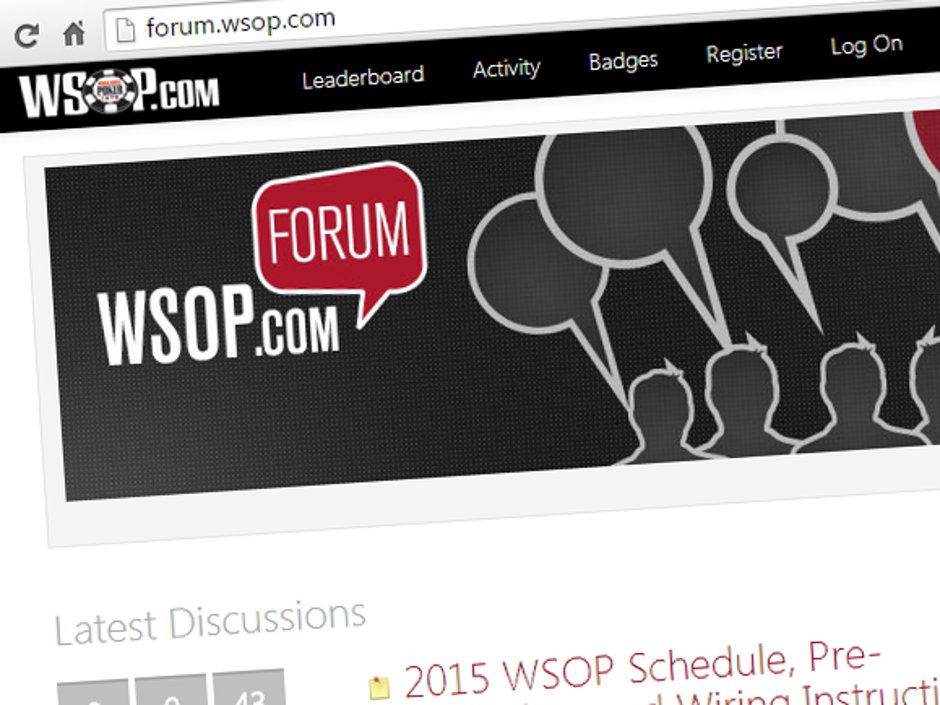 WSOP.com has opened its own online support forum for poker players. The new forum is available at the WSOP.com site, and caters to all WSOP poker players in its Nevada and New Jersey state regulated markets. It also has categories dealing with live WSOP Las Vegas and WSOP Circuit events.
Players who are not yet registered with WSOP can register for WSOP.cm NV and WSOP.com NJ. Advice on getting started in poker can be found on the new forum, and those who have already started playing can find a place for their "Brags and Bad Beat Stories" on the forum as well.
Until now, WSOP has managed a support thread on the popular poker forum TwoPlusTwo.com. WSOP's Bill Rini explained the change to posters saying that "with all of the social media outlets available to players, centralizing our support communications in one place was the most effective and efficient model for the greatest number of our players."
He added that "rather than trying to be everywhere it makes more sense to be in the place where the greatest number of players were familiar with our brand."
Players will still be able to post questions and comments at Two Plus Two, but the operator will be prioritizing its time in responding to those posted on its new support forum.
The transition is a small mark of the coming of age of WSOP as an online poker operator. It is the biggest poker brand in the US, and dominates the Nevada state regulated market. It has survived the early cull of operators in the New Jersey market and looks poised to be a major player in any new markets which introduce state regulated online poker.
The WSOP poker rooms and live tournament series are owned by Caesars Interactive Entertainment which has just posted first quarter results showing 42% revenue growth compared to last year.
Chairman and CEO of the parent company Caesars Entertainment, Gary Loveman, told investors that "we continue to look for ways to attract new customers and grow this business [...] We're pleased to see growth in New Jersey and we continue to work on further enhancing our products and promotions for our four sites across two states."