Full Tilt Changes Result in Cash Game Traffic Decline, For Now
Radical changes to the lobby, rake and game offer rebalance Full Tilt's player base towards more casual players.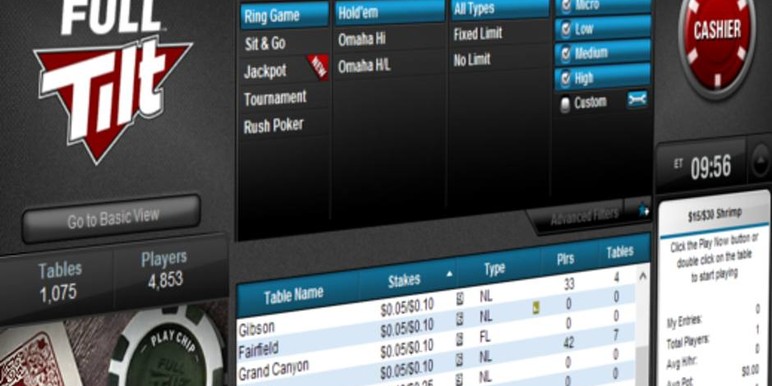 Full Tilt has launched a new initiative to change the make-up of its player base. One week after radical reforms, cash game traffic is down by more than 10%, but the rebuilding process has only just begun.
The client update a week ago is part of a plan designed to improve the playing experience of casual players. Though the plan includes an increase in rake at some levels, it also includes a complete overhaul of the rewards system, which will be rebalanced with the intention of increasing the value for recreational players.
"It's going to be fundamentally different from anything you've seen before and will go to the heart of what Full Tilt stands for: playing for the love of the game," Managing Director of Full Tilt Dominic Mansour promised on the company blog.
The Changes
Last week, Full Tilt introduced a new player lobby which removed a player's ability to select tables or even observe them. All heads up games were removed, as well as the nosebleed stakes where players like Viktor "Isildur1" Blom used to attract a huge audience of railbirds. Rake was increased at microstakes cash games and at tables with blinds of $5/$10 and $10/$20.
Short-stack hit and run tactics are no longer possible, minimum buy-ins have been increased to 40 big blinds, and players have a series of 30 minute "clocks" which limits their ability to keep switching tables in an attempt to circumvent the table selection restrictions put in place.
Stud, Draw and Mixed games have been removed because there weren't enough players interested in them to keep the tables filled.
In the next few weeks the VIP program will also see major changes. "The way the industry rewards players for their loyalty is on volume of play and that doesn't necessarily reflect the benefit they're giving to the site," Mansour told PokerListings.
"Therefore the players that fall into the category of recreational, something like 95% of your total database of players, are not experiencing that reward program. And if they are, they're getting so little out of it that it's not really changing their behavior or making them play more and have more fun."
The new VIP scheme will use the proceeds of the rake increases to fund a better distribution of rewards so that the casual players can access real value benefits from the scheme.
"So we're not just doing what the rest of the industry did and cut off the high-volume players," said Mansour. "That's not our intention. Our intention is to reward the recreational player better than before."
Figures from PokerScout via Poker Industry PRO show that the immediate effect has been a reduction in the average number of seats filled by players at the cash game tables. Public figures do not yet show the true impact of the changes since as it has only been little more than a week since the first changes were implemented.
The Impact
Before the changes, Full Tilt cash game traffic averaged around 1,000 seats. A little more than a week later, traffic has fallen below a daily average of 800 seats.
It is probable that traffic will continue to fall. A new equilibrium will take time to reach, but news that poker revenues at Unibet are on the rise must be encouraging news for Full Tilt.
In early 2014, Unibet left MPN (Microgaming Poker Network) to launch its own proprietary poker platform which was heavily focused on catering to recreational players. The new platform incorporates features like a highly-simplified recreational player-friendly lobby, missions and achievements and other aspects designed to enhance the enjoyment of the game.
Since the move, Unibet has demonstrated steady growth. Today, Unibet's cash game traffic is estimated to be nearly as much as that of all the remaining poker rooms on its old network, MPN.