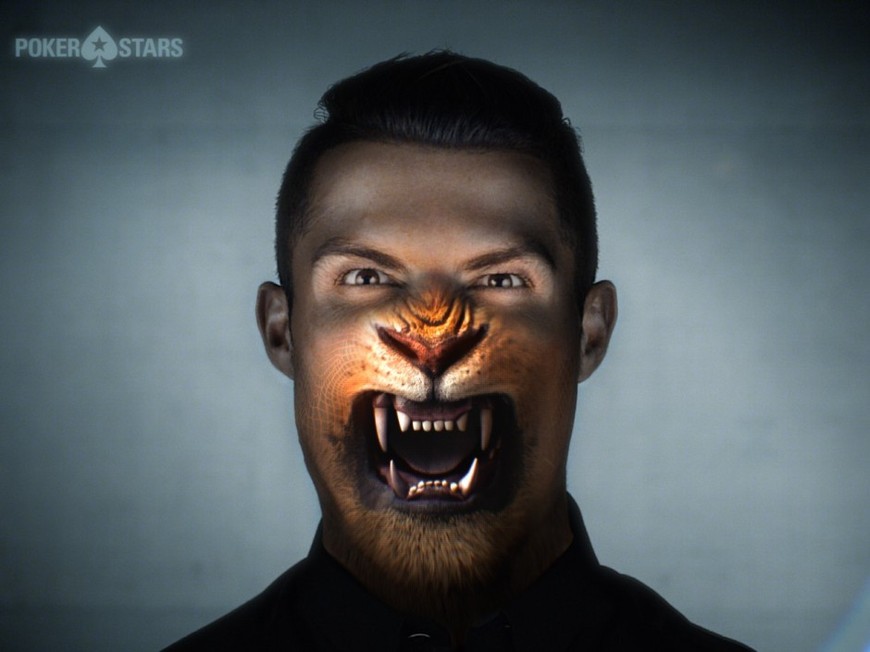 PokerStars has just launched Beat the Clock, a fast-paced new tournament format that's set to make a big splash. Whenever there's a new product format, there's a surge in interest: Many existing players try it out, and thousands of new players sign up for the first time, download the PokerStars software and give it a spin.
Thanks to a major advertising campaign featuring Cristiano Ronaldo, we expect this to be one of the biggest launches on PokerStars in recent history. In this article we tell you everything you need to know about Beat The Clock, how best to play it, pitfalls to avoid, and bonuses you can take advantage of right now.
But if you read nothing else, here are the most important things you need to know for players thinking of signing up for the first time:
First, congratulations, you've already won. This is the perfect time to sign up, because PokerStars is rolling out the red carpet for this new game.
Second, don't stare at the Cristiano Ronaldo-lion-morph picture for too long. Trust us. He'll visit you in your nightmares.
Open to everyone around the world make one deposit of $20 (or your currency equivalent) and you'll get $30 more in free cash and tickets. See here for more details.. Just use "CLOCK30" when you deposit and over the course of a week you'll get 20 more $1 Beat The Clock tickets and 2x$5 in straight cash. Again, any money you win with the tickets is real money and all yours.
You can also participate in daily missions, that reward you with tickets to daily freerolls for playing Beat The Clock games. These are running all month and are basically giving you something for nothing, as you're there to play the Beat The Clock games anyway.
What's particularly special about this deal is that thousands of other new players will be playing the same tournaments as you—everyone is going to be in these $1 Beat The Clock games. That means there will be lots of people just trying poker for the very first time. So whether you're new to online poker or not, these games are going to be very soft to play over the coming weeks.
If you want to sign up, you can do so here, or find out more about these special offers here.
About The Game
Here's how Beat The Clock works: In the lobby click on the "Clock" tab. Right now there's $1 or $3 games and they all last 5 minutes. Hit "Register," and off you go. Right now these games are running constantly, so there should be zero wait time. Like we say, there's a lot of new people trying out these games right now.
Games last exactly five minutes. If you still have chips when the clock runs out, you'll win money, guaranteed. Seem simple?
Here's the trick: The blinds are high, and they're going up fast. If you think you can just fold your way to victory, that ain't going to work.
If you do make it, then the prize will be directly proportional to the number of chips you have at the end. Simply put, the more chips you have, the more money you win.
This Isn't About Survival
And that leads on to the most important thing to know about Beat The Clock—it's actually more like playing a cash game than playing a tournament.
What do we mean? You shouldn't actually worry about "surviving"—"beating the clock," as it were—you should think about winning chips.
The key point is your chips are directly proportional to how much you win at the end. If you accumulate half the chips in the tournament, you win half the total prize pool.
Some quick math to illustrate: There are 48 players, each with 5000 chips. That's 240,000 chips in play. In a $1 tournament, the prize pool is $43.20. If you amass 100,000 chips at the end that's 42% of all chips, so you win $18.
Conversely, if you finish the game with only 4000 chips, you finished with less than 2% of all the chips in play. Your total prize is 72c—yes, less than what you paid to buy-in!
That's still 72 cents in free money!
True. If you signed up to the deposit bonus, that's 72 cents in free money you can play with or withdraw. So maybe you can fold your way to victory?
Probably not. Remember, the blinds are big and they're getting bigger. In our play tests, we played at least 30 hands before the clock ran out. That's seven or eight small and big blinds you'll pay, plus 30 antes.
That's over 5000 in chips even at the first level, and remember the blinds ramp up every minute. You'll need to win pots to survive.
Okay so, how do I play it?
First, don't worry about timing down. Play hands, play them fast.
While everyone else is trying to "beat the clock," you should be doing the exact opposite. Try to beat the players. Steal blinds, play aggressively, and pick spots against smaller stacks.
Particularly when the timer is down to the last minute, new players are going to be playing tight to squeak into the money. That's the time to pounce and accumulate chips. Remember, every chip you gain equals a higher percentage of the prize pool you win.
In a $1 game, one chip is worth 0.018 cents. That might not sound like much, but on the last blind level there's 2300 in the pot before you even look at your cards—800 in antes and 1500 in blinds. That's more than 41 cents in value from a single blind steal in a game that only cost $1 to play!
What else do I need to know?
The rake is high for these games. PokerStars takes ten cents of your $1 play. Put it another way, if you managed to finish the game with the 5000 chips you started with, you'd only win 90 cents.
While that doesn't really matter while you're using your totally free tickets, when it's your own money (or winnings), that's important. Given that these games are going to be so soft, you should easily overcome this barrier and have a good shot at having an edge in the games.
Long term, you'll want to move to other games. PokerStars is likely to offer higher buy-in games of Beat The Clock in the future, and traditionally these have a lower rake—so these would obviously be the next step to take.
Alternatively, you might want to move over to other game formats where the cost to play is a bit lower. Your skills will translate perfectly to cash games, but if you enjoy the fast-paced format, then Spin and Gos are a perfect next stepping stone. The rake for these games at the low stakes is 8%, and drops as you move up in stakes. The high buy-in games have only 5% in rake.