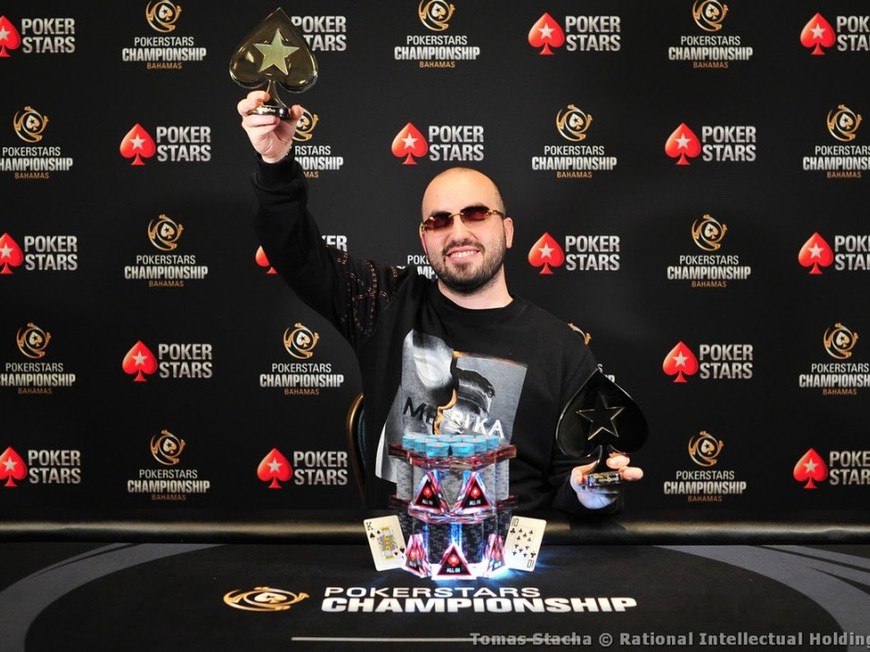 At the request of players, PokerStars has dealt its first ever "shot clock" tournament during which players had to act within 30 seconds for every decision at the table.
The high-roller event was tacked on to the schedule at the PokerStars Championship Bahamas, formerly known as the PCA. It is the first event PokerStars has ran under the new "Championship" branding.
The $25,500 single re-entry event is one of half a dozen high buy-in tournaments that PokerStars has added on to the schedule at the behest of players.
42 players were intrigued enough by the quick-format structure to pony up the $25,500 to enter the event, with 17 of them rebuying, growing the prize pool to almost $1.5 million.
American pro Bryn Kenney ultimately won the one-day event, adding to his already impressive haul here at the Bahamas: He took down a $50k tournament just a few days prior and made the money in the Super High Roller. In total, he has snagged a staggering $1.6 million this series.
The debate over whether shot clocks should be introduced into live poker is heated. Traditionally, there is no timer—though players can and do "call the clock" on players taking too much time, this is usually considered inappropriate unless the player is repeatedly slowing down the action.
While many players clamor for a stricter time limit, PokerStars has traditionally avoided its introduction. Neil Johnson, PokerStars' Head of Live Poker Operators, recently told pokerfuse his position on the issue, explaining how shot clocks can appear intimidating and put off new players to the game.
Johnson was firm in his assertion that shot clocks should be limited to tournaments that have $25,000 buy-ins and above, reasoning that one key decision made by a recreational player that is rushed could leave a lasting bad taste in the mouths of those players.
In fact, Johnson set an interesting hypothetical situation that takes place in the Bahamas, and it turns out that the Bahamas is the place where PokerStars first introduced the controversial mechanism. True to his word, Johnson implemented the shot clock at a $25,000 event.
This last-minute additional tournament here in the Bahamas seems to have been a success, but whether this will be a one off or lead to more on the schedule in the future remains to be seen.
The week has seen hundreds of players descend on the Atlantis Resort, Bahamas for nine days of poker action. Among them were dozens of PokerStars team pros and many more familiar faces—including new "Friends of PokerStars" Aaron Paul and Kevin Hart.
The Main Event action continues today, with Day 4 currently underway. A PokerStars livestream is covering all the action. 32 players returned to the felt to fight for the $480k first place prize and the first ever PokerStars Championship Main Event Trophy.