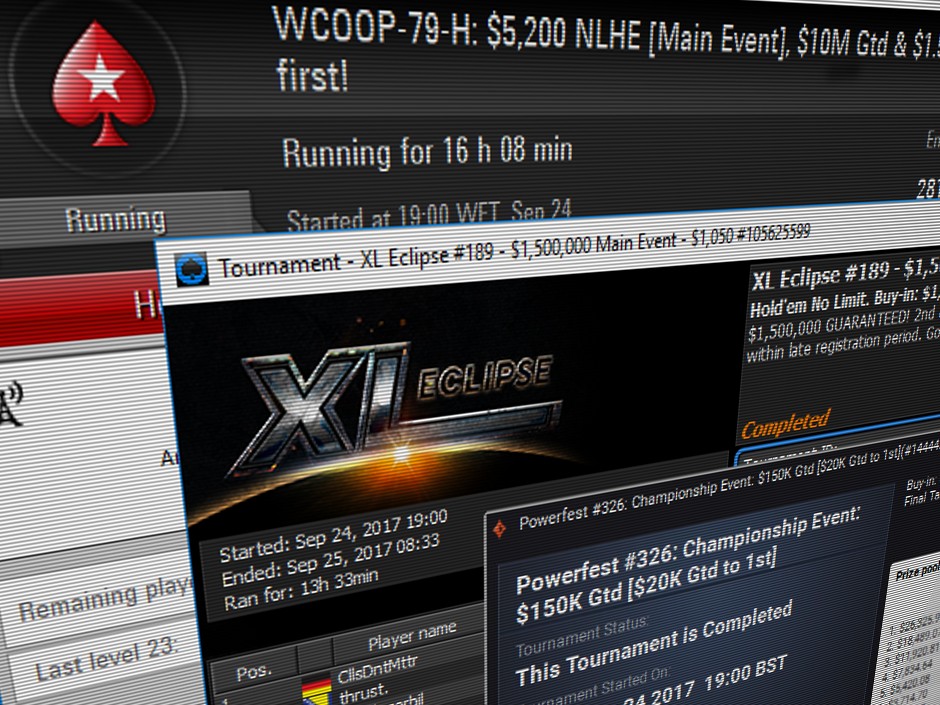 When the dust settled last month, the top three online poker operators emerged having hosted their most successful tournament series to date.
Between PokerStars, 888 and partypoker, players enjoyed what was probably the three biggest weeks in online poker tournaments in the industry's history. Well over $100 million in total prize money was paid out over 650 scheduled tournaments, and a quick glance at the completed events suggests that each operator can herald their tournament series as a great success.
PokerStars'
WCOOP
PokerStars' World Championship of Online Poker is the largest in history, with $60 million in guaranteed prizes. And yet it was also the one almost assured of success—WCOOP always smashes its guarantees; last year's event paid out a record $74 million in prize money. This year, that record was likely surpassed.
Nearly every event covered its guarantee with little apparent difficulty. Its flagship Main Events—perhaps the ones most at risk—covered their prizes, and in general, the smaller events had an even easier time. Many had prize pools 50% larger than their guarantees; some went double.
The Main Event was a repeat of the $10 million guaranteed, $5200 buy-in event, a staple of the series. This year, it attracted 1804 entries and 379 re-entries to build a prize pool of $10.9 million. The $25,000 High Roller had a similarly high turnout—149 total entries and re-entries built a prize pool of $3.65 million, again easily surpassing the guarantee of $3 million.
It is hard to find a single event that missed the mark. We spotted just one—the very ambitious $215 buy-in phased HORSE event, one of the highlights of the schedule. And that just fell short: 984 participants entered, only 16 short of covering its $200,000 guarantee.
It was also no surprise that the new Low tier was a big hit. The Main Event exceeded its $2 million guarantee by over 50%, and some events went double or even triple. Again, the only miss we could find was the Low version of the multi-day HORSE which needed a very ambitious 7500 players to enter the $11 tournament to cover the $75,000 guarantee (it attracted 6805).
Partypoker's Powerfest
Partypoker's series was much riskier. the $35 million Powerfest was a huge increase on previous events. While running tournaments with potential overlays is part of its promotional strategy to attract casual players, it was taking an unprecedented risk with its latest schedule.
It will be a big relief then, that the series went smoothly and many of the biggest tournaments all covered their guarantees admirably. While there were overlays to be found, these were mostly among the less prestigious and smaller buy-in events.
The three-week series concluded with four "Championship" events over the weekend, and all covered. The big $1.5 million phased high-roller attracted 350 players and amassed a prize pool of over $1.7 million; the $1000 buy-in, $1 million-guaranteed tournament also easily covered with 1190 total players building a $1.2 million prize pool.
The smaller buy-in championships were a bit closer to the mark, but both the $11 and $55 ultimately ran without overlays. Many others events over the weekend seemed to easily surpass their guarantees, some by 50%. There are misses there, but mostly in fairly small events, and in most cases the guarantees were met when discounting the operator's fee.
888poker's XL Eclipse
It is still a bit confusing just how big 888poker's tournament series was—the operator is still calling it an $8 million series, but by our count it is just over $9 million.
Either way, we can say that 888's two-week series was perhaps less ambitious than the competition, but it is still larger than anything they have put on in years, and its final weekend tournaments all hit their targets.
The most important event was the $1050 buy-in Main Event, with a $1.5 million guarantee. That ultimately attracted 1149 players and 413 rebuys, just covering. The smaller Main Events covered with a much larger margin—the $25 Mini almost doubled its $200,000 guarantee, and the $30 Micro with a $50,000 guarantee amassed a prize pool of $71,000.
There were some overlays to be found. The Turbo Main Event, for example, fell 17 entries short of covering its $20,000 prize pool. PokerNews, which was sponsoring the series and providing coverage of every event, lists various smaller tournaments from earlier in the week that fell a little short, but they are in the minority.
And when it mattered, 888 got players in seats. The headliners, like the $500,000 Super High Roller, the $150,000 Mega Deep and the $250,000 Whale, all covered their guarantees.
This article originally appeared on Poker Industry PRO and has been republished here as a courtesy to our readers. Please visit Poker Industry PRO for more information on the industry intelligence services that are available, or email [email protected] to get a free trial.