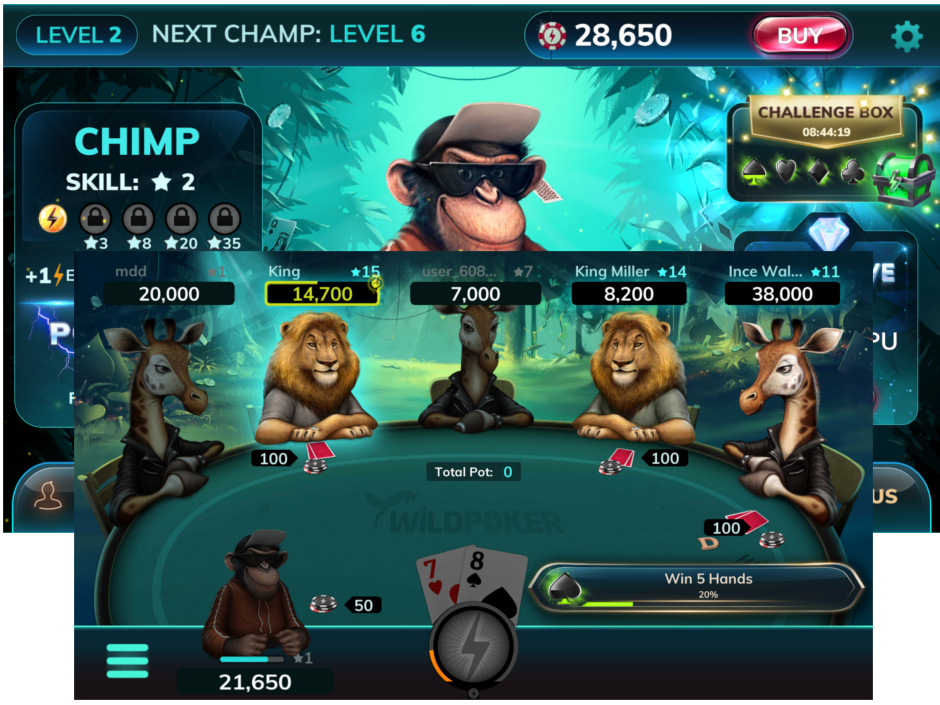 Mobile free-to-play social poker app Wild Poker announced last week that boxing champion Floyd Mayweather had partnered with the company. The big-name sponsorship put Wild Poker in the spotlight for the first time.
"As soon as I saw Wild Poker, I knew I wanted to become part of it," Mayweather is quoted as saying in the press release. "I'm constantly asked to put my name on stuff, but Wild Poker is different than any game I've ever seen. It's poker, but it goes to the next level."
Wild Poker is a live-action poker title where players play against each other for play chips. As with similar games like Zynga and PokerStars Play, players progress through the game by completing missions and amassing chips. Players can shortcut the progression by making in-app purchases with real money to buy extra chips.
This twist with Wild Poker is that each character in the game has a special power which can be deployed at the table.
"Wild Poker is Texas Hold'em but with an added layer of strategy that draws, in a very simple way, from the popularity of turn-based digital strategy games like Hearthstone," explains an earlier press release.
"Users can play as one of an array of colorful characters, each with its own particular strategic 'power up.' Players must harness their special 'animal instincts' to master the game."
For example, the monkey, the first character available, has the ability to draw a third hole card, then discard one before the flop. The lion gives players the ability to know how their hand ranks against other players at the table. The giraffe can spy on an opponent's hole cards.
Power ups can be deployed on your turn, or before the end of the betting round; after they are used, it takes a few hands for the power to recharge.
That all sounds strikingly similar to PokerStars' new real money poker title, Power Up. Indeed, many elements—the powers available (the monkey power is the same as the upgrade powerup), the fact the powers need to be recharged, the apparent Hearthstone inspiration, even the name itself—all trace back to PokerStars' game.
However, Wild Poker predates the launch of PokerStars' real money title. The app first went live in September 2016, six months before the Power Up concept was announced publicly (though, notably, the development of Power Up had already been underway for at least two years at the point of the announcement).
It does appear that multiple operators simply hit on the same idea independently. Mediarex demonstrated its HoldemX concept in early 2016 which has many similarities; Hands of Victory is another F2P poker game that dates to early 2015. Each game is inspired by video game titles like Hearthstone and aims to "enhance" poker with additional depth and strategy.
Under Wild Poker's new Floyd Mayweather sponsorship, players can work towards unlocking the Mayweather character (though what his special power is, we don't know). He also acts as a presenter during the game, giving players different challenges as they play and introducing new hands.
"We are ecstatic to attach one of the world's most recognizable athletes to Wild Poker," said Ed Mills, Hero Digital Entertainment CEO, the mobile app publisher helping to promote Wild Poker.
The app is the product of Playtrex, a new app studio headquartered in Herzliya, Israel, which was founded in 2016. Wild Poker is the developer's first and only title.
This article originally appeared on Poker Industry PRO and has been republished here as a courtesy to our readers. Please visit Poker Industry PRO for more information on the industry intelligence services that are available, or email [email protected] to get a free trial.