Bet24 to Close Following Unibet Buy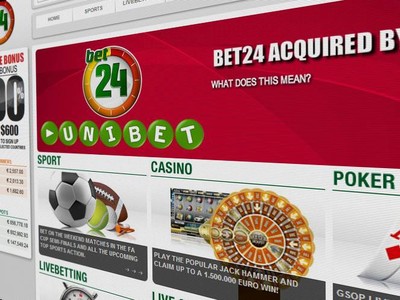 Unibet announced this week the acquisition of rival Nordic Betting Limited, bringing Bet24.com and Bet24.dk into the Unibet family of gaming operations. Once the deal is approved, the bet24 Ongame poker room is expected to close with players moved on to Unibet's Microgaming platform.
"The transaction is subject to regulatory approval and is expected to be completed by the end of the
second quarter of 2012," states Thomas Petersen, CEO of Bet24. "Unibet has confirmed that it intends to integrate the Bet24 business into its existing operations by re-branding Bet24's products and services and migrating Bet24's customers to its own platform."
The Ongame Network recently purchased by Shuffle Master Inc from bwin.party. The network will shortly be losing players on the bwin skin when players are transitioned to PartyPoker later this year, and now more will leave as Unibet transfers Bet24 players on to its room on the Microgaming Network.
Coincidentally, it is only these two skins—bet24 and bwin—are thought to be the only two to offer the Ongame mobile poker application, available in the Apple App Store. Ongame recently pushed out a new version with iPad support to bwin customers.
This acquisition for €13.5m in cash continues Unibet's aggressive expansion under CEO Henrik Tjärnström. In November last year the company bought the Solfive Group in order to re-enter the French market through the EurosportBet and EurosportPoker brands.
In December it secured a license from the Danish Gambling Authority to offer online casino and sports betting. Unibet.dk and Mariacasino.dk launched on the first of January this year. One day later, Unibet.fr launched in the regulated French market.
Last month the group spent AU$20m buying Australian Betchoice Corporation Pty Ltd which operates sports and racing betting through Betchoice.com. Back in its main European market Unibet acquired a Belgian sports betting license to comply with the new Belgian Gaming Act.
This level of acquisition both of companies and gaming licenses is extremely demanding on management. All of this corporate activity hasn't stopped Unibet from enhancing its existing product range. Unibet has successfully integrated Relax Gaming's Fast Poker product to offer its poker customers a fast-fold poker variant. CEO Henrik Tjärnström might now want to take a break and concentrate on consolidating and exploiting the enlarged company.
Unaudited accounts show Unibet Group Plc earned £35.5m last year on Gross Winning Revenues (Total bets minus cash paid out and promotional bonuses) of £154.4m. The NASDAQ OMX quoted company is positioning itself as a major player in the regulated markets with a global reach.