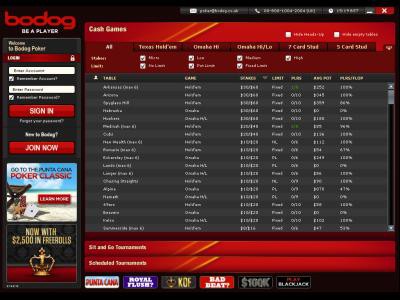 In an attempt to block public tracking sites and a supposed predatory behavior of poker professionals, Bodog has recently made changes to its poker client that removes all full tables from the table list in the lobby.
Only tables with open seats are shown, preventing players from observing most ring games or seeing how many tables are running. The facility to join a "waitlist," a staple of both online and live poker play that allows players to be notified when seats become available, has also been removed from Bodog's client.
"Everything [Bodog does] is for the benefit of all players … with an eye towards long-term health and keeping the games good," stated a Bodog representative engaging customers on poker forum 2+2. Along with blocking data tracking sites, he said that it protects recreational players and inhibits "bum-hunting," the practice employed by many poker professionals to select games with weaker players.
The move has naturally frustrated many Bodog regulars, who question any upside to the move. Along with removing one natural tool of the poker player – both online and live – to wait to join full games and select what game to play in, it also makes it harder for all players, both recreational and professional, to join in the action or even see what action is available.
Responding to player complains, Bodog's representative stated:
I know some of you are going to be mad and disagree with the decision to remove the waitlists but it should help to increase the number of tables running and creating new action. I know some of you have expressed skepticism about this effect via PMs to me already but I do anticipate this ultimately helping to create more action.
The change hinders – but does not prevent – the illicit collection and sale of hand histories by services like PokerTableRatings. However, tenacious data-miners can still open tables as they fill and continue to observe hands once the games fill up; coverage may be restricted but will likely still produce relevant data.
Other services have also been blocked as a result. Industry tracking site PokerScout – that publishes daily aggregate statistics of player numbers across all major poker networks – no longer can collect data at Bodog. Unable to observe most tables, PokerScout numbers yesterday showed an artificial 75% "drop" in traffic. PokerScout works by watching poker lobbies and "scraping" the data or, in some cases, self-reported data is provided by the poker network.
The move comes ahead of a planned major upgrade to Bodog's software, expected in the upcoming weeks. In 2012, the Bodog poker room will split into different branded "skins," with the US market undergoing a name change and the UK-facing site operating under a separate license. Bodog already operates its "Bodog88" brand for the Asian market.