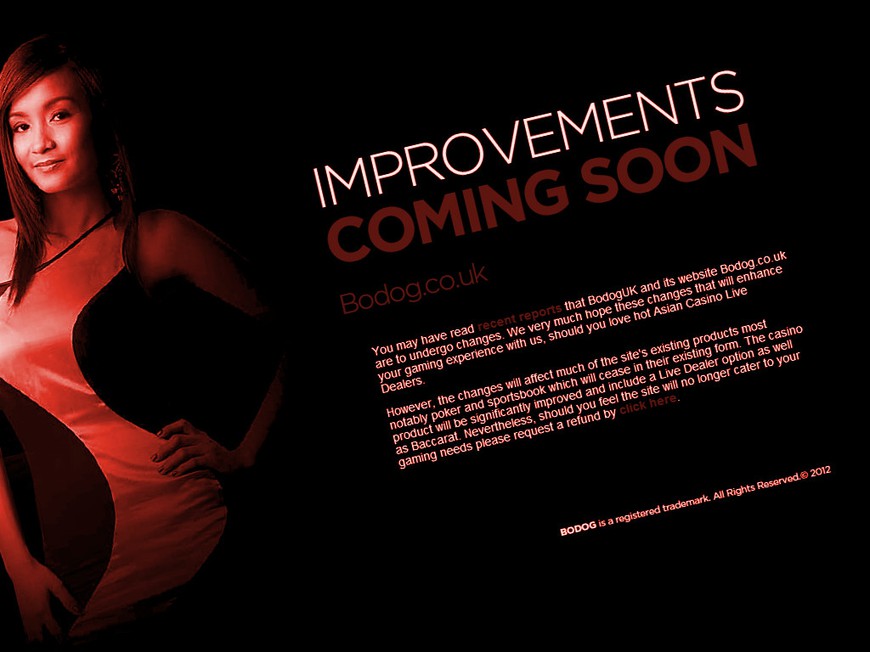 The bodog brand Bodog.co.uk has temporarily blocked new signups and will shut down its online poker room, pokerfuse has learned.
Bovada, Bodog's licensee accepting players in the United States, and Bodog.CA, its Canada-facing operation, remain online, as does the Asian-focused Bodog88.com.
Bodog.EU recently shuttered, and redirected players to Bodog.co.uk. This catered to most European players, although it did recently withdraw from 20 countries including Belgium and much of the Middle East and Eastern Europe.
Players in the UK and Europe who wish to continue to play on the Bodog Poker Network may still be able to create a new account on Bodog88.
The account sign-up page on Bodog.co.uk now informs customers that "improvements are coming soon," with a relaunched website focusing on its live dealer casino. The poker room, however, will close.
In a press release last week, Bodog UK announced that the relaunch was to focus on the Asian expat market. The new site is to offer "more traditional casino games and sports betting" but that "poker will not be included in the initial launch of the new UK-facing website."
On the website today, it states "poker and sportsbook which will cease in their existing form." Players who feel "the site will no longer cater to your gaming needs" have the option to cash out.
Bodog Asia recently bought the Bodog Poker Network and Bodog.co.uk, hence the pivot to focus almost exclusively on the Asian markets.