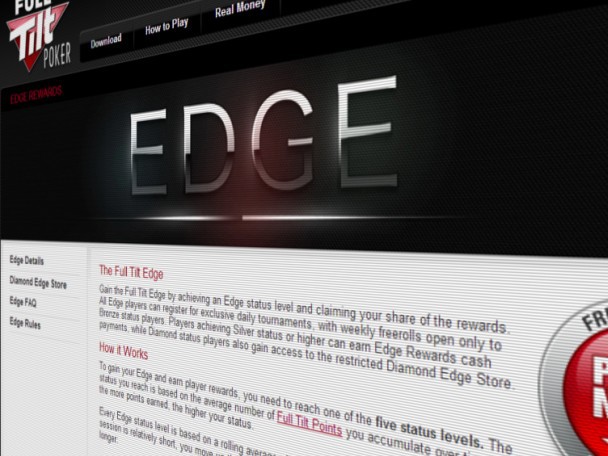 Full Tilt Poker released further details of their new VIP system, which replaces the affiliate-based 27% rakeback.
Under the new "Edge Reward Program," players will be assigned a status level based on the number of Full Tilt Points accumulated, on a 7-day, 30-day, or 100-day rolling average.
For example, to reach Silver status, a player must maintain an average of 50 Full Tilt Points a day over a week, 35/day over a month, or 25/day over a 100-day period.
Players need to reach Silver to be eligible to turn points into cash at a rate of $1 per 100 points, the equivalent of 10% rakeback. This goes up to $2.50/100—25% rakeback—for Diamond players.
To achieve and maintain this top tier, players must average 250 points a day over a 30-day period, or 250/day over 100-days.
It was previously announced that Full Tilt rakeback would max-out at 25%, and even with other promotions, would still be lower than many competitors.
Sister site PokerStars has its SuperNova program that can return up to 70% of rake through cash bonuses, PartyPoker's VIP program can reach 50%, and many iPoker and Ongame skins have 50%+ VIP programs for loyal grinders. FTP have already stated that it is not looking to compete for high-volume players with big rewards programs at the high end.
Of course, rakeback is only one part of the equation, and with with lower table caps that some of its competitors, players may ultimately still find a good deal at Full Tilt.
Cash rewards will be paid directly into player accounts weekly. In addition, players gain entry into daily and weekly tournaments. Those who make Diamond will have access to the exclusive "Diamond Edge Store," where points can be converted into cash bonuses. A new widget in the lobby will show a player's progress towards the next VIP tier.
Full Tilt Poker is expected to open later today for play money only. The site will re-open fully on November 6, at which point players will have the choice to withdraw their funds, transfer them to PokerStars, or leave it on Full Tilt to take advantage of their "Deal Me In" promotional launch.