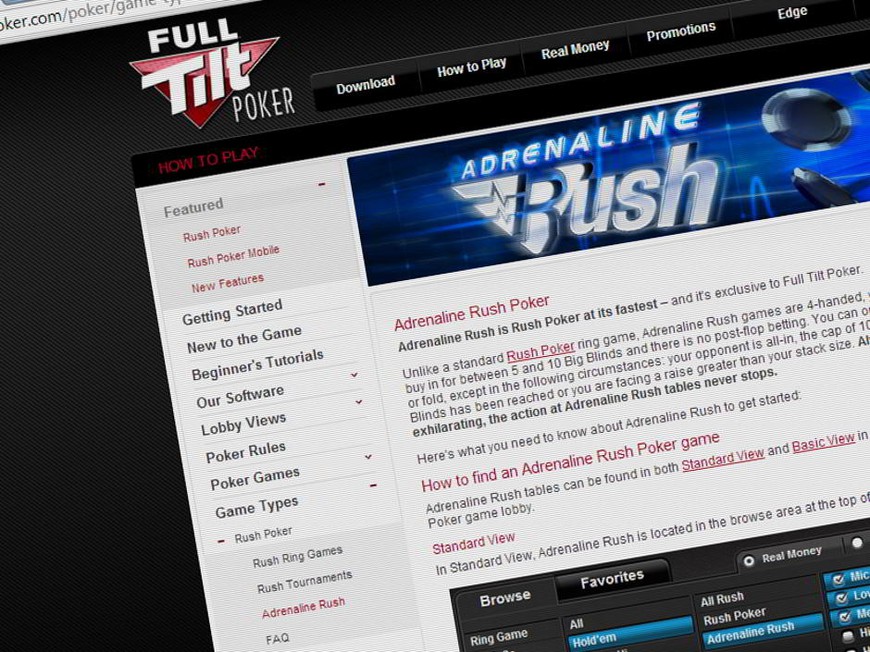 Full Tilt Poker launched its latest innovation in online poker, "Adrenaline Rush," Tuesday, in a software update that also included the first stage of a staggered roll out of casino games.
The new fast-fold poker game looks to build on the concept of fast play that popularized the original fast-fold game Rush Poker. All Adrenaline Rush tables are 4-handed and all action takes place preflop.
Betting is capped at 10 big blinds with buyins ranging from 5 to 10 big blinds. Players' options while playing are limited to raising or folding. However, players can call if facing a raise that has reached the 10 big blind maximum or is greater than or equal to their stack size.
As in other fast-fold games, once a player folds they will be whisked away to a new table and a new hand. Quick Fold and Raise Max options are available to keep the action moving at a quick pace.
"The name reflects the kind of emotional state the game delivers; it's even faster than our original Rush Poker," commented Sarne Lightman, Full Tilt Poker's head of marketing.
Fast-fold poker has been a huge success. Originally introduced as "Rush Poker" by Full Tilt, the popularity of the new poker caught the attention of other operators. Today nearly every major online poker operator offers some form of fast-fold poker, with fast-fold accounting for a significant percentage of all hands played online.