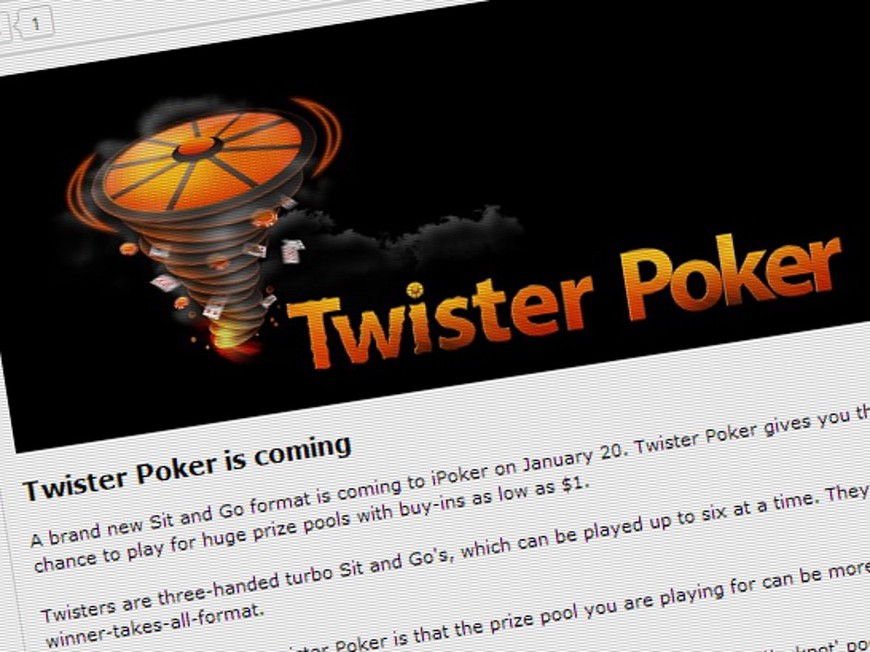 January 20 sees the introduction of Twister, a new jackpot format sit and go on iPoker. Each Twister Sit and Go (SNG) is a three player single table tournament where the winner takes all the prize money. Buyins range from $1 to $10.
The jackpot element is introduced by a random determination of what the prize pool will be for each SNG. A proportion of the buyin for each tournament is pooled to a jackpot prize fund. A proportion of that fund is then randomly awarded to each SNG. The prize fund can be enhanced by up to 1,000 times the buyin with the minimum prize for the winner of each SNG being at least twice the buyin.
iPoker has published a table of the jackpot prizes that can be awarded together with the probabilities of hitting them. The 1,000 times buyin multiplier has a probability of 20,000 to 1. The odds of no multiplier being applied are 15,162/20,000.
If no jackpot multiplier is awarded, then a $10 buyin Twister tournament would have a prize pool of $20.01 with the balance of the three entry fees going towards rake and the Twister jackpot pool. A maximum of six Twister tournaments can be played simultaneously.
Other changes being rolled out by iPoker include is a new cash game lobby which groups tables by game type and buyin. Three views can be selected:
Group view: Tables grouped by game and stake with a "Play Now" button to allow fast seating.
Combined view: A customizable view divided into three areas: Group View Compact, List View and Selected Table Properties.
List view: The existing view style for players who do not want to change to the new format.
Also, pop-up messages during tournaments can now be turned off. Separate options are available for controlling registration, unregistration and dropout notifications. There is a also a new "Auto Open Tournament Lobby" option in the settings menu.
Tournament buyins will be consolidated and listed as a single figure rather than being separated into the buyin and fee—a €9.10+€0.90 tournament will be listed simply as €10. The fee information will be displayed in the tournament lobby.