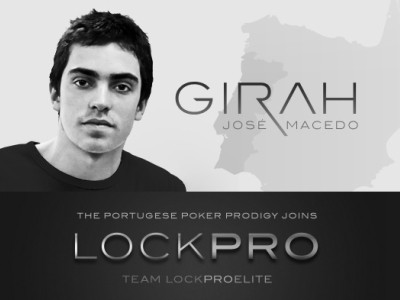 On Sunday, José Maria Macedo, known online as "Girah" and dubbed the "Portuguese Poker Prodigy," admitted to orchestrating a hole card-sharing scam that resulted in over $30k stolen from fellow high stakes players.
In a post exposing the scam, arranged to allow Macedo to post his apology directly after the announcement, "MossBoss" outlined how Macedo had encouraged other members of a high stakes HU study group on Skype to play against an "aggrofish" on iPoker by the name "sauron1989" for stakes up to $50/100, while allowing him to "sweat" their play and watch them online over screen-sharing.
The first victim, "ImFromSweden," was convinced to play $10/20, and lost over $10k. Ten days later, "MossBoss" also played "sauron1989" and lost over $20k at $25/50 over two sessions.
According to Macedo's statement, before he was confronted with the evidence he came clean. Apparently a friend, who he had "introduced to poker" and "was losing money badly," had suggested that Macedo sweat sessions with study partners, and share hole card information with him. Macedo agreed.
"This went on for a short while but I felt so bad, I had to say something, I confessed." he writes. "I told the guys involved what I had done, I told my friends and the people who I respect and who respected me." Macedo plans to pay back everyone involved, with additional compensation of $30k.
In the original exposé, "MossBoss" writes how their concerns had been voiced to the rest of the group prior to any confession:
".. we received a full admission of guilt at a point at which it was more or less apparent that we already knew we had been cheated."
The apology does little to explain why a player with supposedly $2m in winnings would be interested in a high-risk scam that netted only five figures.
Suspect Disconnections
It did not take long for Macedo's victims to become suspicious. The apparent "god-like" play of "sauron1989" was highly dubious, and suspicion soon fell on Macedo as he pushed players hard to play versus one specific opponent whilst sweating. He also disconnected from Skype at the same times that the supposed "fish" disconnected from iPoker.
The story of "Girah" and his meteoric rise to fame begun on 2+2, where an unknown "Portuguese poker prodigy" had shot up through the stakes and, with the help of some of the best high stakes players around, had turned an initial deposit in of $2500 in to nearly $2m.
Shortly after he was picked up as an "Elite Pro" on Lock Poker, a poker room on the Merge Gaming network, and, despite an earlier multi-accounting scandal that saw him disqualified from winning the Lock Poker Challenge, Macedo continued his association with the skin and recently launched his first poker training video for PokerStrategy.com.
This time, businesses are quick to distance themselves from Macedo. PokerStrategy.com announced they were ending their association with Girah on Sunday. Lock Poker has made no official announcement, but he is no longer listed as a pro on the site and all mention of Lock have been removed from his blog. PokerNewsBoy had reported yesterday that "according to the poker grapevine, which is almost without fail accurate," Macedo's contract has been terminated by Lock Poker, however the news article has since been removed.
And many members of the high stakes community associated with Macedo have also been quick to make announcements.
Haseeb Qureshi, CardRunners Pro known as "INTERNET POKERS" and "DOG IS HEAD," and Daniel Cates, nosebleed NL player known as "jungleman12" online, both of whom have been instrumental in Macedo's rise to prominence, had both planned to live with Macedo.
According to an interview with Cates on PokerStrategy.com Saturday, after being denied entry to Canada, the three "friends" planned to live together in Macedo's native Portugal for "a few months."
Macedo stated the same on his twitter on Aug 1, saying that "Jungle got deported so we can't go there anymore. The new plan is they (Dog and Jungle) are coming to Portugal to live with me."
The plans have now changed. "We never imagined that José could do something like this," wrote Qureshi in the HSNL thread on 2+2. "Suffice it to say that Jungle and I will be changing our plans and will no longer be living in Portugal with him."
As this news article is published, the story is still unfolding. Further players claiming to have been part of the Girah study group are coming forward and stating that they too were sweated by Macedo and lost large sums against players on iPoker and OnGame.