The combined cash game traffic of Ultimate Poker and WSOP.com, the first two online poker rooms in the newly regulated Nevada market, has reached a new peak, the latest traffic data reveals.
According to the latest numbers from PokerScout, the average number of concurrent players on the two sites for the last 7 days is 232 players. The previous peak was 227 players, soon after Ultimate Poker had launched.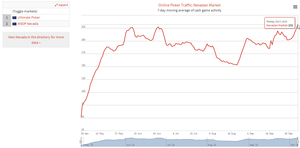 Ultimate currently accounts for 65% of this traffic, and has maintained its lead over WSOP thanks to a traffic boost this month.
WSOP remains in the early rapid growth phase. Now past its soft launch and starting to aggressively market its online poker room, strong growth can be expected throughout the month.
Both sites have had teething problems. Not all version 2 software bugs have been ironed out at Ultimate Poker, and WSOP has suffered from geolocation technical difficulties and restricted deposit options. As the two companies see their technology and player offerings mature, the market should rise substantially.