PokerStars 70 Billionth Hand Promotion Results in Controversy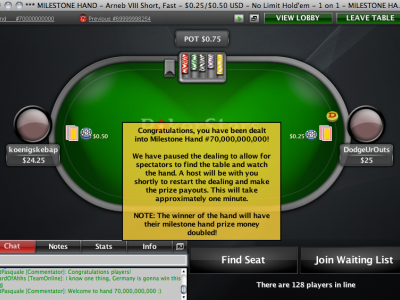 Controversy surrounds the latest winner of PokerStars' "milestone hands" promotion. The winner apparently conspired with another player to play 24 tables together and open-fold every hand, maximizing their hands played while paying no rake.
Update: Since the publication of this article, PokerStars has responded to pokerfuse – read more →
Run every 5 billion hands, the popular promotion awards players dealt into special milestone hands. The grand finale – this time the 70 billionth hand dealt on 'Stars – awarded $70k to the winner. It often leads to a 30% spike in traffic in the build-up to the final hand as players play extra tables in hopes of being dealt into the winner.
But two players from Germany – "koenigskebap" and "DodgeUrOuts" – went one step further: playing at Heads Up (HU) tables and open folding every hand. Twenty-four-tabling and paying no rake, the players were able to play upwards of eight hands per second, greatly increasing the chances of the milestone hand being dealt at their table.
It is not the first time such a practice has been used to take advantage of milestone promotions on PokerStars. In February, 2009, after players were outraged by the "angle-shooting" of players open-folding hands at heads up tables during the 25 billionth hand promotion, PokerStars disabled HU tables for the remainder of the promotion, "in order to prevent such tables from being used to gain an unfair advantage in being dealt a milestone hand."
PokerStars states in their Rules & Regulations for their "Road to 100 Billion" promotion that it "reserves the right to take action against any player found to be abusing any aspect of the Promotion." The precedence set by disabling HU tables during past milestone promotions suggests that PokerStars does see this type of behavior as "abuse."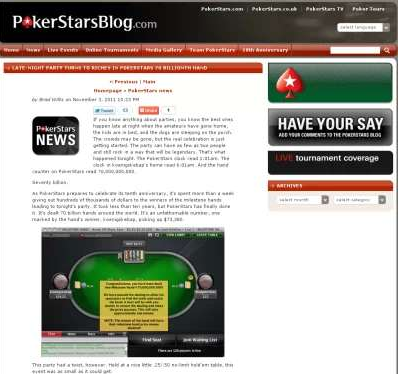 PokerStars had announced the winner of their 70bth hand promotion on their blog, but the post has since been removed. No official word on how they plan to address the current situation has been released.
If PokerStars does decide that the actions of the players dealt the 70bth hand were not "in the spirit of the promotion," it will then face the task of deciding how to award the prize.
Awarding the prizes to the the hands immediately proceeding or following the milestone hand may be considered unfair, as players may have folded their hands not knowing the significance of the hand. During milestone hands, players are notified and it is common for everyone to go all-in preflop, in the hopes of winning.
Postponing the award until another promotion may also be seen as be unjust to those that were grinding for the "original" milestone.
As players await an announcement, questions remain over the sense of a promotion inherently susceptible to abuse and hard to police.