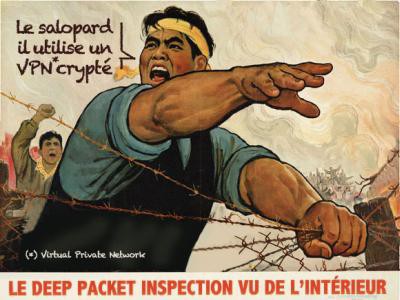 PokerStars left no doubt that it would try to strictly enforce the wishes of the Department of Justice this week, with a spate of suspensions of player accounts flagged for playing within US borders.
Numerous players have reported in the last few days that their accounts have been locked when playing on PokerStars in the United States. One player reports that their $24k account had been recently locked due to play in the US back in June during the WSOP, and would remain closed "pending further legal review."
Although it is not possible to connect directly to PokerStars from the United States, players can use a Virtual Private Network (VPN) to mask their location: A player's connection is routed through a server hosted in another country, effectively changing the client IP address and thus hiding the true location of the request. PokerStars explicitly prohibits the use of VPNs to circumvent geographical blocks.
Although likely to be technically unfeasible to detect the usage of a VPN connection, if a player temporarily disconnects from the VPN tunnel, then their true geographical location will be unmasked. Apparently, these small connection discrepancies have been diligently logged, and this week PokerStars moved to suspend accounts with such violations.
"We are not really sure what will happen [to the suspended accounts] yet," said PokerStars' VIP Manager Steve Day, talking on this week's 2+2 PokerCast, a PokerStars-sponsored podcast. "The accounts get frozen, and then we wait for guidance from the independent moderator who was appointed by the Department of Justice what to do with the funds in these accounts and what to do with the accounts in the future."
Since PokerStars stopped serving US players in April following the Black Friday indictments, it has been forthright with its intention to adhere to the requests of the DOJ in prohibiting play from within the United States, both from residents and visitors. In a special USA FAQ, PokerStars directly addresses the question of VPN usage:
Can I use a VPN or IP randomizer to appear as though I am outside the US and still play on PokerStars.com from within the United States?
No. Real money play is not allowed from within the US under any circumstances. Players who attempt to play for real money from inside the US with the aid of VPNs or other technical workarounds will lose their playing privileges and/or funds in their account.
From PokerStars' updated terms and conditions, it states:
"Residents of other nations are not permitted to engage in real-money play while located in the United States. Any attempt to circumvent the restrictions … is a breach of this Agreement. An attempt at circumvention includes … manipulating the information used by PokerStars to identify your location."
On the PokerCast, Day admitted that many people are still trying to play from within the US: "People realize now we are enforcing this. We don't always catch every single person on the first try … so people hear anecdotes from their friends, 'oh I did it, I didn't immediately get … banned from the site. So obviously it's okay for you to [play from within the US] too.'"
Day gives one example of a player who was only 200k VPPs away from Supernova Elite (PokerStars' much coveted top-tier VIP level) who had his account suspended after a friend told him it was safe to play on a VPN.
"Tell all your friends – it's a mistake to try to do this," Day adds. "Many people are getting caught, and the consequences are severe. We have to enforce the rules."