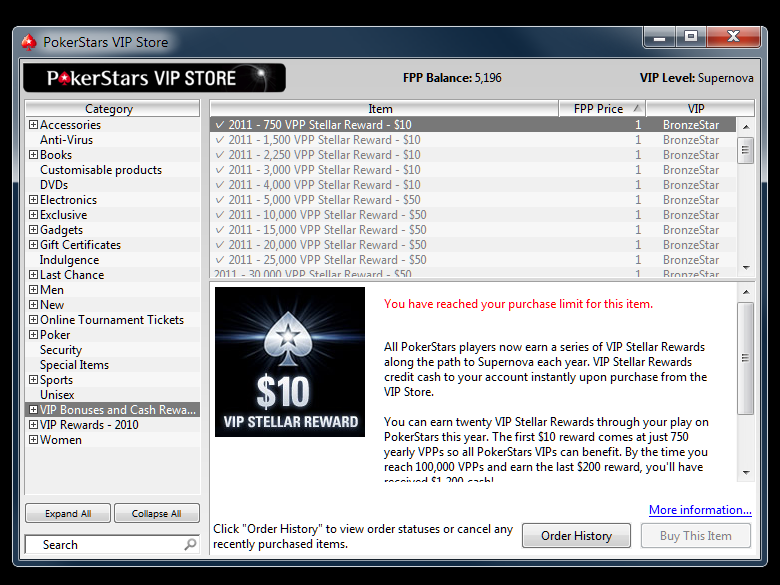 PokerStars is now allowing U.S. players to convert their Frequent Player Points (FPPs) to cash, and cash will then be immediately available to players for withdrawal.
PokerStars updated their dedicated FAQ for US players on Friday with the following details:
PokerStars has obtained an approval from the US Department of Justice that will allow former US players to use their FPPs in the PokerStars VIP Store to purchase VIP Reward Bonuses. These VIP Reward Bonuses, once purchased, result in cash being instantly deposited into the account of the purchaser. These funds will immediately be available for cash out.
Along with instacash bonuses – available based on a players' VIP level – players can also use their VPPs to purchase "VIP Stellar Rewards" and "Milestone Cash Credits".
"The funds from any purchased VIP Stellar Rewards and Milestone Cash Credits will also be immediately available for cashout.", the FAQ states. It continues:
"PokerStars has also credited players for partial completion of Stellar Rewards. These rewards act as incentive for playing on PokerStars. It seems any partial progress to the next milestone was prorated accordingly."
It is still unclear if U.S. players that have attained Supernova status or higher will once again be able to use the concierge service to redeem their FPPs. Requests to convert FPPs to cash via the concierge service have yet to receive a response. By utilizing the concierge service players are able to get better value for their FPPs by providing receipts for purchases that meet the specified criteria provided by PokerStars.