PokerStars to Address Lobby Concerns with Table Groups Innovation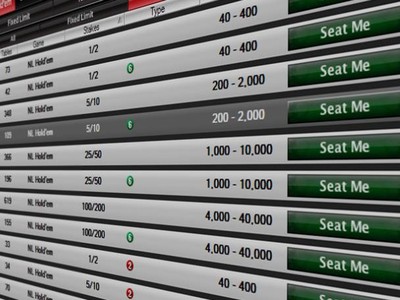 A new client update currently rolling out on PokerStars includes a play-money only beta test of an innovative new lobby feature: table groupings.
Instead of presenting a long list of tables to join, tables are grouped by stake level and table type. A single-click of the "seat me" button takes a player to an available seat at the table with the most players. Players can also expand the table grouping to see all tables available.
The new feature may go a long way in addressing a common concern that afflicts all poker sites but PokerStars especially—pages and pages of tables that make it hard for a player to find a game they want.
The problem is exacerbated with many poker players wanting to start new tables, creating long lists of tables with one player waiting. This issue particularly affects heads-up lobbies, where waiting games can outnumber active games at a factor of 50:1 or even more.
The feature is present in a new client version, but is only available at play money tables. The update is currently out on the Mac, and is expected to land on Windows machines by tomorrow and clients in regulated markets (including EU) in the next 2 days.
Along with greatly reducing the amount of scrolling to find a good table, it also simplifies the listing. By default, each group only shows the game type, stakes, type and buyin, with a "seat me" button. A "+" expands the player list and shows the usual statistics like hands/hour and players/flop.
It is likely to be welcomed by many players as it should have a positive effect in keeping games running and making it more appealing to join games. However, players who prefer to play heads up and short-handed games may suffer, as players using the table groupings feature will be by default taken to fuller tables.
Many sites have a similar feature with a "quick seat" in the first page of the lobby to allow someone to join in a game with a single click. However, this is the first time the concept has been taken to the lobby itself to group tables.