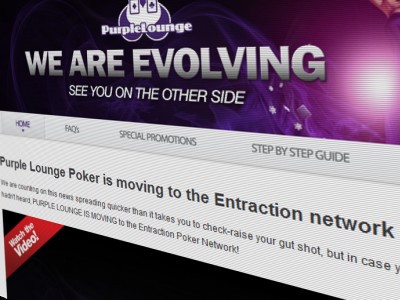 Online gaming brand Poker Lounge, owned by publicly traded MediaCorp PLC, announced on Tuesday that it plans to switch its poker room from Microgaming to Entraction. The migration will take place on January 16.
Players will be directed to download the new client when it goes live next week and poker accounts will be transitioned over. The casino site will continue to use Microgaming software.
The new network will "... create a poker environment that is financially stable, technically sophisticated and very rewarding in terms of promotions," according to a Purple Lounge PR video explaining the move.
Purple players may see a slight reduction in traffic at the new home. Microgaming is 7th on PokerScout's ranking of open dot.com poker rooms and networks, with 1600 average peak players last week. Entraction sits at 8th with 1100 peak players. This switch will bring a welcome boost to Entraction numbers and will narrow the gap between the two rivals.
Due to the different geographical restrictions on the two networks, some players will not be able to play on the new Purple Lounge Poker. Russian, Estonian and – surprisingly – Canadian Players are not permitted on any Entraction site. However, the operator plans to invite Danish players for the first time once it is issued a license to operate from the Danish Gambling Authority.
Rakeback affiliates promote Purple Lounge with a 30% rakeback deal, the maximum permitted under Microgaming. Entraction permits a similar rewards program, so players should expect a similar deal after the transition.
Anonymous blog "pkrleaks.com" predicted back in November that Purple Lounge would be moving off the Microgaming network. It claims the room was "kicked off" by the network for "constantly violating" network rules by offering under-the-table rakeback deals that attracted the spectacular label of "gagging for a good bit of raking."
Purple Lounge strongly denied any such shenanigans.