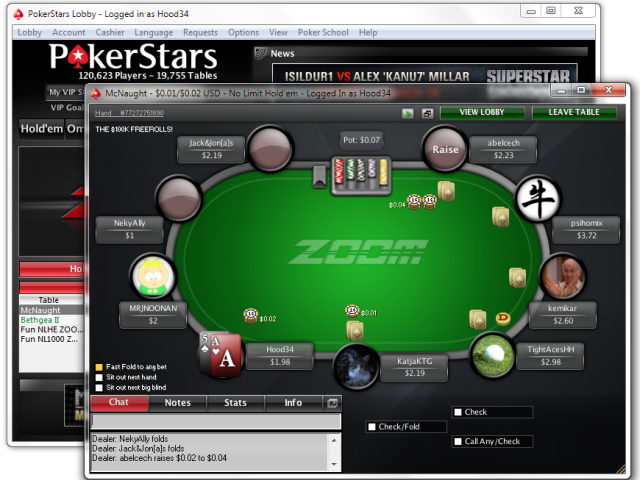 Though still technically in beta, this morning PokerStars rolled out its fast-paced poker variant Zoom Poker at real money tables for the first time. Even with a limited selection of games and stakes, the concept made popular by Full Tilt's Rush Poker is showing signs of being a big success.
In order to ensure a smooth roll-out to cash games, the only stakes offered are $0.01/$0.02 for No Limit Hold'em (6max and full ring) and Pot Limit Omaha (6max only), with plans to shortly roll out higher stakes and other games if all goes smoothly.
For performance testing reasons, PokerStars has temporarily capped all the player pools at 1500 players. In comparison, Rush Poker had a standard cap of 1k players per pool. Within hours of going live, Zoom player pools for both NL2 6max and FR filled up, and the PLO pool is at 750 players and rising. Reports by players thus far indicate that the software is performing as intended.
In addition to the real money games, PokerStars also introduced a Fixed Limit Hold'em pool in the play money section, and will consider rolling out Zoom FL for real money soon. There is also space for Omaha H/L and "other games" in the lobby, although no word if or when we will see the likes of Zoom Badugi, Draw or Triple Draw only that—in the words of the PokerStars blog—"MORE IS COMING."
Similar to Full Tilt's Rush Poker, Zoom is a fast-paced poker variant where players join a pool of players, much like a multi-table tournament. Once signed in, they are instantly seated at random with other opponents in the pool. At the end of each hand, they are moved randomly to a new table with a new selection of players. Players can "fast-fold" preflop, instantly moving them on to the next hand, allowing players to play more than 200 hands per hour while one-tabling.