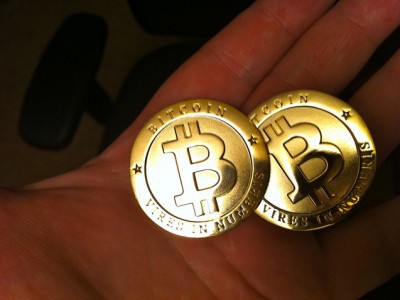 Switch Poker, a new independent poker room focused on real-money play on mobile devices, announced on Tuesday that players could now deposit and withdraw using Bitcoins. The Costa Rican-based operator will fully accept the virtual currency in the cashier alongside mainstay e-wallets Neteller and Skrill (MoneyBookers).
"The advantage of the Bitcoin currency is that it has the ability to remove all payment processing related barriers of entry," said Conor McCarthy, spokesman for Switchpoker.com. "It would allow any person to play for real money completely anonymously. Players will be able to now send us funds directly without a 3rd party being privy to the transactions, and we will be able to send funds directly back to the user."
Created in 2009, Bitcoin is a decentralized digital currency for online transactions that rose to prominence in 2010 and 2011 with significant mainstream media coverage. Though support is not widespread, various online businesses now accept Bitcoins as payment, including VPN and hosting services. However, the legality of a virtual currency is questioned in many jurisdictions: In 2011, the Electronic Frontier Foundation (EFF) ceased accepting Bitcoins for donations citing legal concerns. Controversy mounted in 2011 with the widespread reporting of Silk Road, a Bitcoin-supported online marketplace referred to as the "Amazon.com of illegal drugs."
Although Bitcoin poker rooms already exist – most notably the open-source "betcoin" – Switch Poker is thought to be the first that mixes traditional deposit/withdrawal methods alongside Bitcoin. The cashier integrates with Bitcoin 24/7, a previously-unknown Bitcoin exchange. Bitcoin exchanges, like the canonical "Mt. Gox," allows consumers to purchase Bitcoins for real money, and cash them out to dollars, similar to a real foreign currency exchange service. Once in the online wallet, Bitcoins can then be transferred to and from merchants such as Switch Poker.
Launched in 2010, Switch Poker claims to be the first real-money poker site to support iOS devices – including the iPhone and iPad – alongside Android devices. Though many sites have Flash-based sites or Android apps, iOS devices are restricted as they lack Flash and real-money gambling games are not permitted in the Apple store. Switch Poker uses a simple HTML5-based website that supports multiple mobile browsers, allowing anyone to visit.
As with all late entrants into the online poker space, liquidity is the big hurdle. Despite its claims of a unique experience, the lobby was only dealing two low-stakes real money games at the time of writing. Time will tell if the new cashier addition will encourage inquisitive Bitcoiners to give online poker a try.