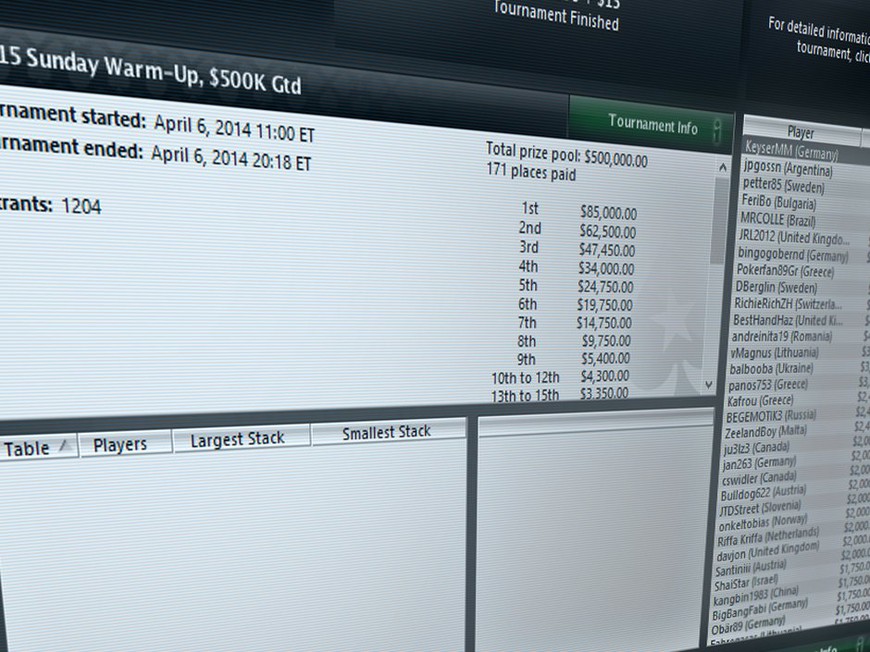 Due to a "technical issue," there was no late registration for the PokerStars Sunday Warm-Up tournament on Sunday. Only 1,204 players registered before the event began leaving a $260,000 overlay for the $500,000 guaranteed event.
"PokerStars apologizes for the lack of a late registration period in the Sunday Warm-Up. This was a technical issue, and was not deliberate," a PokerStars representative told pokerfuse. "PokerStars will honor the guarantee of the event."
PokerStars Steve Day posted a wry apology to players who were unable to register after the event started, noting that "there is also a 'small' financial motivation to ensure this error isn't repeated in our other tournaments later today."
In effect, each player who entered got an unexpected bonus in terms of their expected value in the event. Their starting chip-stack had an expected value of almost twice what they had paid for it.
Once a tournament's registration has closed PokerStars is unable to reopen the event, so at the time, they had to let the tournament play out and take the loss.Despite the technical problem, the guaranteed prize pool was still paid out in full.
Including entry fees, the players who were there at the beginning of the $200+$15 tournament paid a total of $258,860. PokerStars' actual loss ended up being 'only' $240k—so that's alright then.