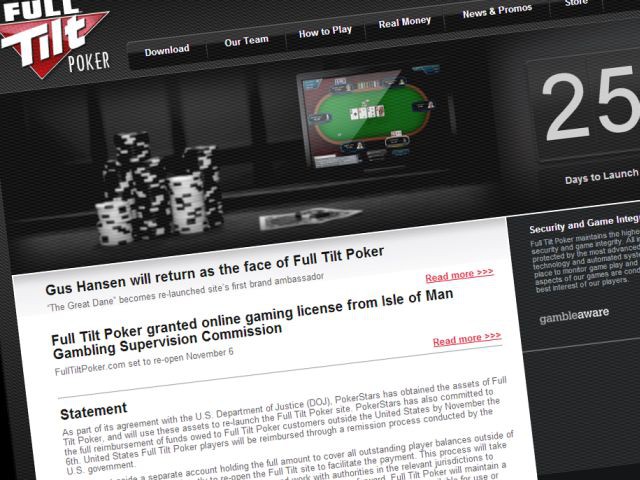 Pre-existing rakeback deals through affiliates will not continue under the relaunched Full Tilt, replaced instead with a VIP system that maxes out at 25% rakeback paid directly into player accounts.
The Iron Man promotion, that awarded players for playing every day, will also not return. The top-tier Black Card will not be available at launch, but will return at a later date.
The previous system permitted a fixed 27% rakeback, but was only available to players who signed up through affiliates who offered it. Those who signed up through affiliates that did not offer rakeback could not benefit from any rake rebate.
The new system is much more inline with PokerStars' philosophy, which keeps rewards in-house and rebates all players depending on volume of play.
Weekly cash payments based on the number of Full Tilt Points (FTP) earned in that week will be placed directly into players' accounts. The top payout rate will be $2.50 per 100 points, equivalent to 25% rakeback.
Arguably, the 25% will work out as slightly higher than the previous 27% deal, because in addition, FTP points can be spent in the Full Tilt store (previously store purchases would result in a reduction to rakeback payments).
The new scheme will include a change in how points are calculated from the "dealt" to the "weighted contributed" method. PokerStars implemented a similar change in January this year that provoked much opposition from players and a subsequent compensating rake reduction by PokerStars.
In announcing the changes, Full Tilt's Poker Room Manager Shyam Markus stated that the new scheme was already well advanced before PokerStars bought the company, stating "most of the major work on this new program was done" when the PokerStars deal came about.
"This was not a trivial decision, but in the end we decided that the benefits of having a unified program were worth the change," he added.
The highest level in the new program will allow players to buy cash bonuses in the store and will be easier to achieve than Black Card status.
There will be some transitional arrangements in place so that long-term players on Iron Man and Black Card promotions will get a "leg up" in the new program.
Players who qualified for the Iron Man mid-year bonus in 2011 will receive it when the site restarts. Ultimately, the Black Card promotion will come back in a new form, but it will not be available at launch.
Players will be able to download the updated Full Tilt software before the official November 6 launch date. Log on procedures have not changed, and whatever security measures players used prior to the shut down will remain in effect for the relaunched site.