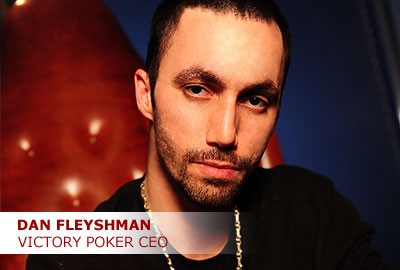 As of June 1st, Victory Poker has officially shut up shop. The cake poker skin, frequently one to grab headlines thanks to the outspoken 28-year old CEO Dan Fleyshman, has moved existing Victory accounts over to Cake Poker, the primary skin on the Cake Network.
"I'm just emotionally done with continuing as a poker site after [Black Friday]," stated Fleyshman, self-professed "youngest owner of a publicly traded company in the world." "[It] ripped the heart out of the US market which I loved."
Victory Poker already pulled out the US market soon after the events of Black Friday. Shortly proceding the events of May, Victory Poker courted controversy when it emerged that they planned to move to the much-vilified Cereus Poker Network. The plan was aborted following the indictments of Black Friday.
Along with the CEO, Victory Poker captured headlines with their impressive roster of sponsored poker pros, including TV pro Antonio Esfandiari and online tournament pro and FloatTheTurn.com founder Jonathan Little.
The VictoryPoker.com domain now has a simple page stating that "Victory Poker has moved its international player database over to Cake Poker." The brand will no longer serve as a poker skin but will use its brand and SEO to run an affiliate site "providing news, strategy, videos, and reviews."
As of Friday, VictoryCEO.com is still online. "With an impressive team of motivated professional poker players and executives," it states, "Fleyshman believes Victory is another brand that will surely succeed."