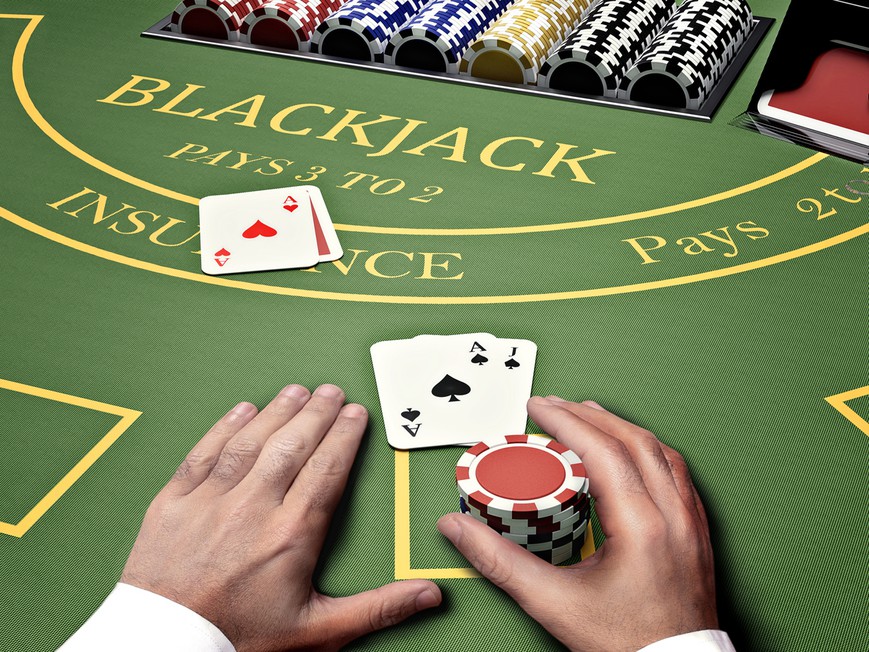 Blackjack has long been one of America's most popular card games, spread by casinos in Atlantic City, Las Vegas, Reno, and beyond. The game's popularity has only seen a further rise in recent years, as online casinos spurred up across a number of states, finally allowing for legal online blackjack to be played by Americans.
Today, real money online casinos in the US spread a number of blackjack games, all offering different rules and requiring different strategies for optimal play.
If you want to play online blackjack the best possible way, read on and learn the best strategies that can help you improve your odds when playing online blackjack in the US and decrease the house edge as much as possible.

Last verified: August 2023
Special Signup Offer
100% deposit bonus up to $1000!
$25 no deposit bonus – sign up & get casino credits
Quality live dealer action
Exclusive progressive slots
Please play responsibly. If you or someone you know has a gambling problem and wants help, call 1-800
GAMBLER
.
Online Blackjack: A Game of Luck and Skill
Like other casino games, blackjack is partially based on pure luck, as there is no way for the player to influence the cards they are dealt, the cards the dealer is dealt, or the actions of other players.
However, unlike games like roulette and baccarat, which are pure luck games, blackjack is partially based on skill, as the player has several decisions to make throughout every hand.
If you have played blackjack before, you probably know all about hitting, standing, splitting, and doubling down — all essential actions in the game of blackjack.
In order to play blackjack optimally, you will need to first learn what's known as "Basic Strategy." This strategy instructs you how to play every possible combination against every possible dealer up-card, and it is an essential part of your overall blackjack strategy.
The basic strategy gives you the best possible chance of beating the dealer to maximize your winnings or lose the minimum in various blackjack situations, bringing the house edge down as much as possible.
The house has a much different edge when playing against a player applying basic strategy and one who plays "by feel," — you should certainly be in the former group if you want to have the best chance of winning.
Since blackjack is not a game of just pure luck, we highly recommend not sitting down at real money tables until you get the basic strategy down to the dot.
Beating the House with Card Counting
It is also interesting to note that blackjack is one of the few games that players have found a way to beat by applying a string of strategies that fall under the common name of "card counting."
Card counting is an advanced strategy that involves keeping track of all the cards that have been dealt out of the deck and being able to predict the cards that still remain in the deck.
By increasing their bets when the deck is stacked with more high cards than low cards, card counters are able to achieve an edge over the casino, which is why using this technique in most venues will get you banned from playing the game or from the premises altogether these days.
It is worth noting that casinos have countered card counters by introducing multi-deck shoes, which diminish the effects of card counting altogether in the meantime.
What's even more, card counting cannot be applied in online blackjack, as online casinos shuffle the decks between each deal and make it impossible for a card-counting strategy to work. At the live blackjack tables online, the shoe penetration is never deep enough for card counting to make any meaningful impact.
Yet, the fact card counting as a blackjack strategy exists just proves the point that blackjack is a game of fine margins and one in which you can come pretty close to being a breakeven player with some study and strategic thinking.
Quick Online Blackjack Tips
The next time you play online blackjack at a US online casino, keep these tips in mind, and you will have a better chance of walking away a winner, even if you don't know the basic strategy in full:
Don't split a pair of fives or a pair of tens (or face cards)
Double down on 11 unless the dealer's up-card is an ace
Never accept insurance in blackjack
Always split your pair of eights and a pair of aces
Always stand with a pair of nines unless the dealer's up-card is a seven
Always hit hard 12 if the dealer is showing two or three
While the basic strategy offers a much more insightful look at online blackjack strategy, these few general blackjack tips will give you a better chance to beat the house each time you play.
As you apply each of these plays the right way, the house edge will diminish, you will win more hands, and you will be walking away with a profit more often.
Nothing beats hands-on experience and practice, so now it's time to put your new online blackjack skills to the test. Play a few hands at BetMGM Casino or check out our list of the best online casinos for real money in the USA for more great places to play.