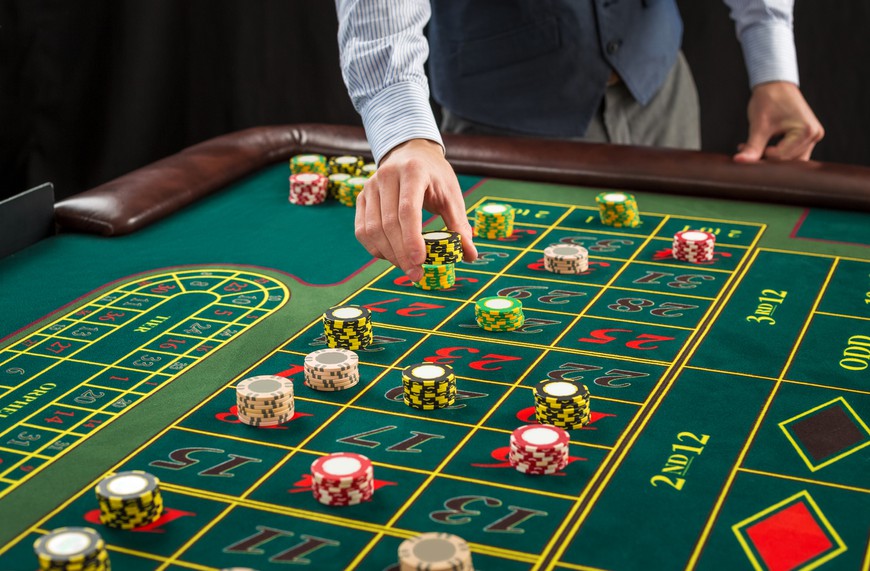 In recent years, we have seen the rise of regulated real money online casinos in the US as more states pass their own laws regulating this booming industry.
As popular as they may be, online casinos are not some completely fresh invention that came out of nowhere. They are merely virtual representations of their land-based counterparts, which have been around for hundreds of years.
This knowledge leads to a very natural question: are online casinos better than traditional ones, and does it make sense for US casino players to spend their time and money on these sites instead of in brick-and-mortar venues?
The answer is not simple, and most gambling enthusiasts cannot seem to agree. Both traditional and online casinos have their own pros and cons. In this article, we will look at and compare some of the biggest ones.

Last verified: August 2023
Special Signup Offer
100% deposit bonus up to $1000!
$25 no deposit bonus – sign up & get casino credits
Quality live dealer action
Exclusive progressive slots
Please play responsibly. If you or someone you know has a gambling problem and wants help, call 1-800
GAMBLER
.
Take advantage of the BetMGM Casino No Deposit Bonus.
Live vs. Online Casinos: Bonuses, Promotions, and Perks
Brick-and-mortar casinos, at least the good ones, know how to make their customers feel happy and welcome. Free drinks, comped meals, and free-play vouchers are all available, depending on your actual or perceived VIP status in a particular casino.
Before the advent of online casinos, traditional venues only had to compete among themselves, so a casino offering a few more amenities could easily attract more foot traffic. However, these days, players have become spoilt for choice.
Online casinos have much lower operational costs, as they do not need to pay for all the staff and all the machines, and they do not need a huge building to house all this. This means their profit margins are much higher, allowing them to offer better promotions and bonuses.
You will get much more value at an online casino from a purely monetary perspective. There will often be free play offers, bonuses to double or triple your deposit, free spins, and cashback offers to offset your losses.
A steak dinner and a few drinks are nice, but they can hardly compare to getting an extra $1000 to play with, which is why online casinos in the US have had so much success in a short amount of time.
Brick-and-Mortar vs. Online Casinos: The Social Aspect
Casino gambling revolves around winning and losing money — there are no two ways about it. However, money is not the only reason people choose to gamble.
For many, a casino session represents a fun activity where they will spend a certain amount of money. For this group, the choice between online and traditional casinos boils down to their definition of what entertainment is.
Online casinos are probably a better option if it is just about the games. They offer more options, the range of stakes is much wider (on both sides of the spectrum), and you can easily switch between different games in a matter of seconds.
However, if it is more about socializing, communicating with other people, and having a few laughs along the way, brick-and-mortar casinos do not have a substitute in the virtual environment.
Even with all the advancements in technology, there is no virtual replacement for some friendly banter among fellow players or benevolent jabs thrown the dealer's way. For some people, this is at the very heart of gambling, and for them, online casinos simply do not cut the mustard.
Online vs. Live: The Convenience
There is one area where online casinos come out significantly ahead, and that is convenience. Instead of having to dress up and journey to the nearest brick-and-mortar establishment (which can take quite a while for many people), you can fire up your computer or your mobile device while in your pj's and get started within seconds.
There are no lengthy procedures; you don't need to go through security or worry about how long you can stay if there is a long trip home ahead of you.
Besides rich bonuses, this convenience has helped online casinos flourish, not only in the US but all over the world. There is no contest for those not looking for the social component. Gambling sites have everything they need, and it is always just a few clicks away.
Of course, there is some magic to winning a hand-pay jackpot in a traditional casino and waiting for your money to arrive and be graciously presented to you — and you get to take that money home right away. With online casinos, you must wait for a bit for your winnings to reach you, but these waiting times are getting shorter and shorter.

Last verified: August 2023
Great Welcome Bonus!
100% deposit bonus up to $600!
Get $100 in casino bonus after wagering $1
Great variety of gaming options
Quality player rewards program
Claim Signup Offer
Please play responsibly. If you or someone you know has a gambling problem and wants help, call 1-800
GAMBLER
.
Get $100 in free play after wagering just $1 at PokerStars Casino.
Traditional or Online Casinos: Our Verdict
If you look at gambling as entertainment, which is the only right way to look at it, there is no definitive answer to whether online casinos are better than traditional ones.
Both options are perfectly fine as long as you stick to safe, legal, and regulated establishments. Go with whatever option you enjoy more, and do not worry too much about it. You also don't need to stick to just one — you can play online when it's convenient and then take a trip to a traditional establishment when you're craving that live casino energy.
Your winning chances are usually better at an online casino, as online games tend to have a higher RTP (which is another factor to consider), but, at the end of the day, no casino player is a winner in the long run.
The house always wins, live or online, but as long as you have fun and play responsibly, this is nothing to worry about. Wherever you play, as long as it makes you happy, you are making the right choice.