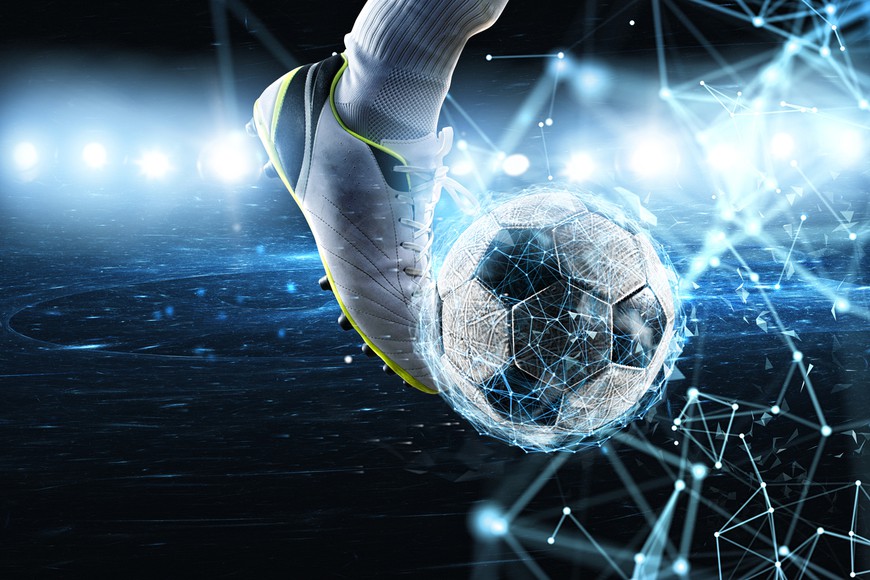 Sports bettors depend heavily on statistics and data for success. With the DraftKings Sportsbook Stats Hub, you now have access to a comprehensive tool for statistical analysis, completely free of charge.
The Stats Hub is an integrated part of the DraftKings Sportsbook that any player can access, getting their hands on precious stats that can help decide which bets to make and where to find value.
While some other sportsbooks in the US also provide some basic stats to their customers, DraftKings Sportsbook goes a step further by providing the most in-depth and detailed coverage that will surely give you some great ideas for future bets.
Let's look inside the Stats Hub and see what kind of statistics and data you can access and how you can use this information to your advantage when betting on sports online.

Special Signup Offer
20% deposit bonus up to $1000!
Access to renowned DraftKings Rewards Program
Great mobile betting apps
Fast and hassle-free withdrawals
What is the DraftKings Sportsbook Stats Hub?
The Stats Hub is available on the home page of the DraftKings Sportsbook, where players can easily access it by clicking the tab right next to Live In-Game Betting and Game Lines.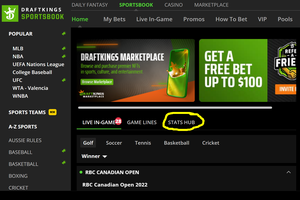 Once inside the Stats Hub, you will have access to all the stats you need, including some very specialized ones designed to give you ideas for future bets.
The Hub allows you to filter events by sport, with the likes of NHL, NBA, UFC, ATP, and PGA all available. If you don't have a preference, you can view all the sports stats, with upcoming matches listed.
The Featured tab shows you the most valuable stats for each upcoming game first, but you may want to get a little bit more detailed and see for yourself what has the most value.
Additional tabs give access to detailed stats. For example, the Line Moves tab is particularly interesting, as it shows you how betting lines have moved over the recent hours, which can help determine the betting trends and determine if one team is gaining favor among the general betting audience over the other.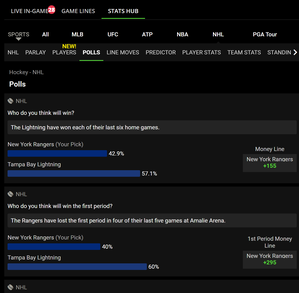 The Polls tab allows you to vote on the winners of upcoming games and shows you the poll results once you vote. You will see what other bettors think and how their opinions compare with the current betting odds.
The Player Props tab shows the featured value props in the bookmaker's opinion. These player props may have some value to bet on, as the Stats Hub lists the most likely to come in.
You can choose your prop success percentage over the last 5 or 10 games or even the whole season. For example, you can choose to display only props that a player has managed to win on more than 50% of all occasions over the last ten games, which can be very helpful in finding good props to bet on.
The Parlay tab can also help, as it gives you some solid parlay ideas, showing the odds for each pick in a given premade parlay, as well as your total potential win on a $10 bet.
If you want to have some fun and place a quick parlay that may still have some decent value, the Parlay tab will let you do this in seconds.
Finally, the Stats Hub displays all upcoming games and the results of the recently finished games, making it a one-stop-shop for sports bettors who no longer need to look for their results in separate apps.
Unique Sports Stats in the Stats Hub
If you go a step further in the stats hub and select one of the sports on the list, you will only get access to stats for that particular sport.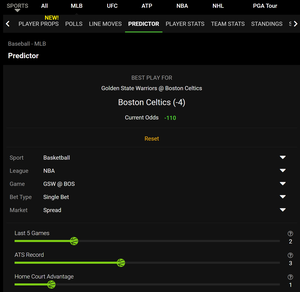 On top of the ones we already mentioned, you will also get access to standings, scoreboards, player stats, and team stats, which are incredibly helpful in deciding what to bet on. You will no longer need to look for these stats in other places.
The Predictor tab is another exciting feature, allowing you to choose from various parameters such as home team advantage, results of recent games, injuries, and more, and have the platform generate a bet for you based on those parameters.
You can also generate a "mystery bet," which is ideal if you want to try your luck and don't want to spend too long deciding on what bets to make. However, the actual value of using the mystery bet feature is probably less than optimal.
DraftKings Sportsbook Genius Facts
Another exciting feature of the DraftKings Sportsbook Stats Hub is the Genius Facts, which you can find below various stats in the Hub.
The Genius Facts are designed to draw your attention to interesting standout details that may help you make a more valuable bet.
Examples of Genius Facts include:
Team XY has won 8 out of the last 10 home games
Player XY has covered the spread in his last 10

ATP

matches
Team XY has scored fewer than X points in their last 5 games
These kinds of facts may not always be entirely relevant for the game at hand, but in some cases can give you a push in the right direction and allow you to make just the right bet to beat the bookies for the day.

Special Signup Offer
20% deposit bonus up to $1000!
Access to renowned DraftKings Rewards Program
Great mobile betting apps
Fast and hassle-free withdrawals
All the Stats You Need
With the DraftKings Sportsbook Stats Hub feature, you now have access to all the stats you need to make the best bets possible within the betting platform.
Thanks to this handy feature, you no longer need to use other apps or websites to find your stats, as the Stats Hub has all the data you need.
With the Stats Hub at your disposal, the sportsbook will tip you to the current trends and potential value bets, and you may stumble upon some great bets that you would have missed otherwise.
Download the DraftKings Sportsbook App and start using those stats to your advantage (we're rooting for you for the big win!), or head to our comprehensive review to learn about the current DraftKings Sportsbook Deposit Bonus »