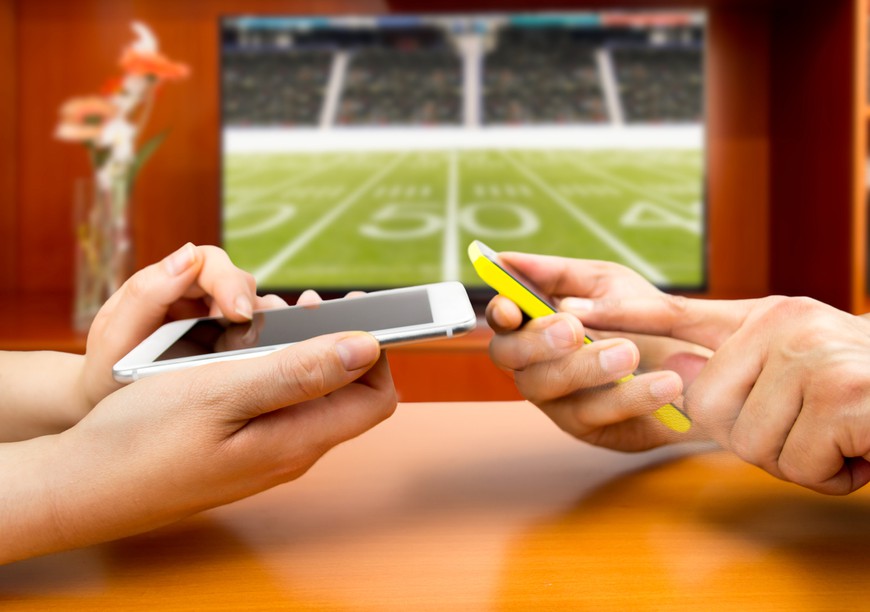 With sports betting apps in the US now legalized in many states, regulated betting operators are available to millions of Americans.
To make sports bets online, you will need to sign up with one of these operators and set up a betting account. The process is fairly simple, but there are still some things you need to know about the process — and be aware of things that may go wrong.
In this guide, you will learn:
Who can legally bet in the

USA

How to set up your sports betting account
What issues you may encounter in the process
How to fund your account and claim deposit bonuses
How to ensure your safety when betting online

Special Signup Offer
First Bet Offer up to $1000!*
Enjoy live streaming of popular events
Great mobile betting experience
Variety of betting markets on offer
*except PA & NY
Step 1: Check You're in a State with Legal Online Sports Betting
Ever since the Supreme Court repealed the law that made sports betting illegal on a federal level, states have been given the right to regulate sportsbooks within their own borders.
Many of them decided to do just that — allowing operators to get gaming licenses and set up both live betting shops and online betting sites and apps.
According to US Gaming Review, at this time players in the following states can bet with at least one legal online betting operator:
Arizona
Arkansas
Colorado
Connecticut
Delaware
Illinois
Indiana
Iowa
Louisiana
Maryland
Michigan
Mississippi
Montana
Nevada
New Hampshire
New Jersey
New York
Ohio
Oregon
Pennsylvania
Rhode Island
Tennessee
Virginia
Washington D.C.
Washington
West Virginia
Wyoming
If you live in one of these states, and are at least 18 years old, you can sign up with any of the licensed operators in your state and start making real money bets right away.
If you live in other states, you can still register an account with any licensed US Sportsbook, but you will need to travel to one of the states in which the operator has a license in order to make real money bets.
Foreigners visiting the US won't be able to make an account with a legal US Sportsbook until they get a residence in the US, as well as a social security number, which is required both during account registration process and for cashing out bigger wins.
Step 2: Create Your Sports Betting Account
If you are eligible for an account with a US sports betting site, as discussed in the previous section, you will need to pick a US sportsbook and create a user account on it.
The sign-up process is very similar between different bookmakers, which is why we can give you a general rundown of the things you will need to do at every site when registering for an account.
During your registration, the following personal information will be asked of you:
First and Last Name
Full Residential Address
Email Address
Phone Number
Partial

SSN
You will need to provide all of this information to the sportsbook while filling out your registration forms. To actually create an account follow these steps:
1. Pick Your Sportsbook: The first step is to choose the sportsbook you want to create an account at. Our US sportsbook reviews can help you get a general idea of what to expect from every site.
2. Start the Registration: Once you are at the operator's website, initiate the sign up process. You will be asked to select a username and password, which you should come up with and remember for future reference.
3. Fill Out the Registration Forms: You will now need to provide all the information mentioned earlier. Remember to provide all accurate information, as you will have to verify it all before you can freely use your account.
4. Verify Your Email: Before you can even sign into your account, you will need to verify your email account ownership by clicking a link in a mail you will be sent by the operator.
5. Start Using Your Account: You can now start using your account. You should be able to make a deposit, claim bonuses, and make real money bets. Before you can cash out, there is one more step left.
6. Verify Your Identity: Before you can cash out your winnings, you will need to verify your account ownership. Sending private documents to the operator will be required, but you can rest assured that these are kept safely in accordance with the gaming regulations.
Step 3: Solve Common Problems when Signing Up
While creating accounts with US sportsbooks is generally quite simple, there are still some things that can go wrong either during the registration process or at a later point.
We have compiled a short list of the most common issues that may arise while trying to set up a new account or play on one you have created recently.
Multiple Accounts — Legal sportsbooks limit the number of accounts a single user can have to just one. Sometimes, a single account can be opened per household, and a single bonus can be received per household. If you already have an account with an operator and try to sign up for a new one, you will be denied. This might also happen if a member of your household has an account with an operator that only allows one. Make sure you check the terms and conditions before signing up.
Wrong Personal Info — If you provide a sportsbook with wrong information, you won't be able to create an account, or won't be able to verify it at a later point. Providing a wrong email address will result in you being unable to receive the confirmation email which you need to activate your account. If you provide the wrong name, address, and other info, you will be unable to verify that information at a later point when identity verification is required. We highly recommend double checking that you have provided all the correct information, as it can be difficult to fix this at a later point.
No Confirmation Email — A relatively common issue during account registration is that your confirmation email simply isn't coming in. If this happens, we recommend giving it some time first, to make sure that the email isn't simply delayed. As you wait, you can also check the spam folder in your email account to make sure the mail didn't go there. Finally, you can always try the registration process again, or contact the operator's customer service to try and resolve the problem effectively.
Step 4: Deposit Funds Into Your Account
Once you have created an account at a US sportsbook, you will need to fund it with cash before you can make real money bets.
Fortunately, US bookmakers now provide plenty of deposit options which you can use to fund your newly created account and get into action.
All deposits made with regulated sportsbooks are very safe, as the sites use all the necessary security measures to ensure the complete anonymity and safety of the deposit process.
It's also worth noting that deposits are almost always processed instantly, with the exception of wire transfer deposits which must be cleared, and are typically used for larger deposits.
The following are some of the deposit methods you can use to fund your US betting accounts:
Credit and Debit Cards (Visa, MasterCard, Discover, AmEx)
Play+ Card

VIP

Preferred e-check
PayNearMe
Wire Transfer
PayPal
Skrill
Apple Pay
Online Banking
Step 5: Keep An Eye on Sports Betting Security
The most important thing to keep in mind when engaging in online sports betting is to stay safe. To do this, you will need to always bet only with licensed and regulated betting sites, as no other site can guarantee your safety.
If you create accounts with operators that have proper gaming licenses in your state, you will be protected both by the state-of-the-art security measures they use, and by law.
The operators ensure that all private information you share, including your banking info, is transferred to their servers safely encrypted, and unreadable to third parties.
If any problems do arise with a licensed operator, you can contact your state's gaming regulator and have the issue looked over and taken care of fairly and within the confines of the law.
The best tip we can give you is to only sign up with a sportsbook that you are 100% sure is licensed for operation in your state and operated by a trusted brand you are familiar with.