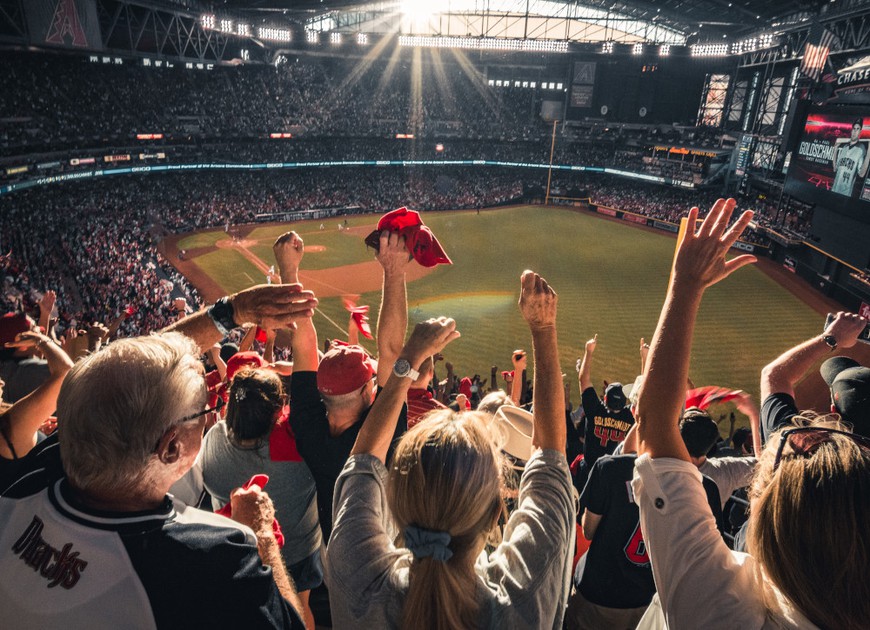 Michigan sports betting was legalized in the state in 2021. Ever since then, the market has been growing consistently, making Michigan one of the biggest legal betting markets in the US by the number of MI sports betting apps, sites and revenue.
Both retail and online sports betting are legal in Michigan, but it is online betting that brings in most of the revenue. In particular, mobile bets are very popular, and a good chunk of those are made on events that are already in-action.
Live or in-play sports betting in Michigan is available with all the regulated sportsbooks, with each offering a various live betting markets for major sports events.
If you are new to live sports betting, keep reading to find out how you can make in-play bets in Michigan and which are the top three live sports betting sites in the state.
To learn more, check out our complete guide to online sports betting in Michigan »
How Live Betting Works
Live betting, or in-play betting, allows you to make bets on sports matches that are already underway.
In every other way, the live betting platform is the same as pre-match betting, with the majority of all pre-match betting markets available during the game as well.
You will have the option of betting on the match winner, final number of points, and much more, all in real time while watching the game.
All the major regulated sportsbooks in Michigan offer live betting markets for all the major sporting events in the US and beyond. This means the next time you are watching a game, you will be able to make in-play bets on a betting platform of your choice.
Mobile betting apps support live betting, and the best of them also offer live streaming of the games, which means you can actually watch the game through the sportsbook app as well.
Michigan Online Sports In-Play Betting: Top Picks
To help you make your pick for a live sportsbook, here is our pick of the three best live betting sites in Michigan:
1. DraftKings Sportsbook MI
DraftKings MI is the leader in Michigan sports betting, featuring a state-of-the-art desktop and mobile platform, some of the best betting odds around, and plenty of live betting markets.
The operator allows in-play bets on all major sports events in the US, as well as a variety of international competitions, which means there are live betting options available around the clock.
Betting real money at DraftKings Sportsbook MI means you will have access to a 20% deposit bonus worth up to $1,000, which you can both clear through live bets.
On top of the welcome bonus, the operator offers a variety of live and pre-match betting promotions that will enhance your betting experience and allow you a better shot at boosting your bankroll.

Special Signup Offer
$1000 First Deposit Bonus
Access to renowned DraftKings Rewards Program
Great mobile betting apps
Fast and hassle-free withdrawals
Please play responsibly. If you or someone you know has a gambling problem and wants help, call 1-800
GAMBLER
.
2. BetRivers Sportsbook MI
While the BetRivers MI betting app cannot compete with the likes of DraftKings in every aspect, in-play betting is one where it certainly holds its own.
The operator offers more live betting opportunities than most, along with extremely appealing betting odds and plenty of special promotions for live bettors.
The valuable $250 bonus can be yours upon first deposit, and is subject to a 1x wagering requirement, which makes it highly attractive to anyone looking for a little boost to start off with.
Whatever your favorite sport may be, you are likely to find live betting options for it at BetRivers Sportsbook MI, a site heavily dedicated to allowing in-play bettors as many options as possible.
You will be able to watch more games through BetRivers' live streaming service than you could on any other sportsbook as well, which easily makes it one of the top three live sportsbooks in Michigan.

BetRivers Sports Special Signup Offer
100% first bet refund up to $500!
Quality welcome offer
Engaging & versatile promotions
Good odds across the board
Please play responsibly. If you or someone you know has a gambling problem and wants help, call 1-800
GAMBLER
.
3. BetMGM Sportsbook MI
Another major sportsbook in Michigan, BetMGM Sportsbook MI offers plenty of in-play betting for both desktop and mobile users.
The platform includes a live streaming service that covers most big games, along with statistics and play-by-play tracking of hundreds of games every week.
The $1,000 risk-free bet gives you an opportunity to start your experience with this sportsbook without worrying about the risks, which is definitely a reason to look into signing up for an account.
The great variety of live betting markets and the high quality of the BetMGM app make this operator a top contender for the title of the best live betting site in MI.

Special Signup Offer
First Bet Offer up to $1000!*
Enjoy live streaming of popular events
Great mobile betting experience
Variety of betting markets on offer
*except PA & NY
Please play responsibly. If you or someone you know has a gambling problem and wants help, call 1-800
GAMBLER
.