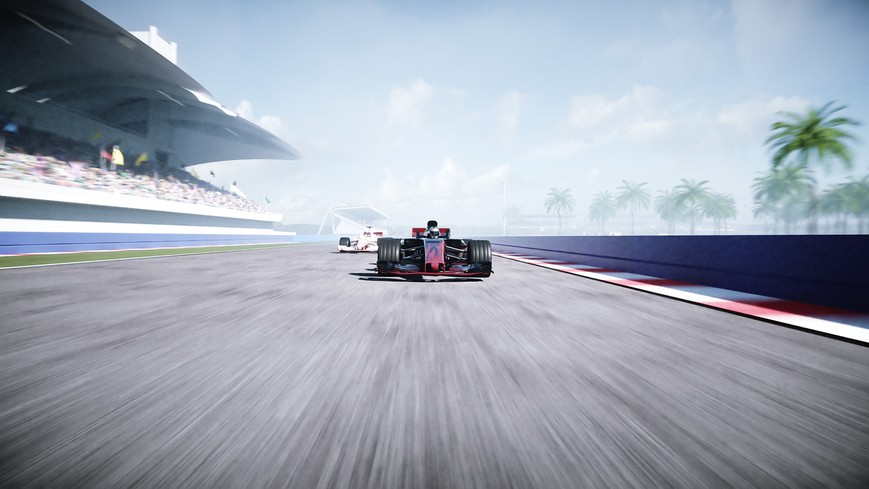 Key Takeaways
Formula 1 returns to Las Vegas after a four-decade hiatus.
Max Verstappen's unprecedented season challenges conventional betting.
Lando Norris seeks his first F1 win with attractive odds at DraftKings.
Aston Martin shows signs of resurgence in the F1 scene.
Betting options include bold picks and safer choices for the Las Vegas Grand Prix.
Formula 1 returns to Sin City for the first time in over four decades, as the best drivers on the planet are ready for the penultimate stop of a lengthy 2023 calendar.
The Brazilian GP gave us a familiar winner, a painful shift of pace for the former heavyweights, and a big celebration for the other two podium finishers.
Although the drivers prefer to focus exclusively on the track, the maiden Las Vegas GP will be packed with additional events, such as the grand concert, just a few days before the racing weekend.
The street race around the Vegas Strip represents something new for the drivers. Will the factor of uncertainty even the playing field, or will Max Verstappen continue his unprecedented dominance in what will be remembered as the greatest single season in the sport's history?
Either way, we will witness history on Saturday night. The start is scheduled for November 19 at 1 a.m. ET (10 p.m. local time).
The Downfall of Mercedes in Sao Paulo
Joint-record-holding seven-time F1 champion Lewis Hamilton has not won a race since 2021. His best shot at ending such a nightmare streak was probably the last stop of the Americas triple-header two weeks ago in Sao Paulo. Mercedes had a 1-2 finish last year in Brazil. They've dominated the circuit over the last several years, and they announced better days with improved form in the most recent races, including Hamilton's runner-up finish in Mexico.
Nevertheless, the Brazilian GP was one of Toto Wolff's worst racing weekends in the last decade. With the Red Bull dominance, the return of Lando Norris, and Aston Martin becoming a factor again, we can hardly see Mercedes' drivers bouncing back in Las Vegas.
US sportsbooks have Lewis Hamilton as the third favorite for the win on Sunday. Unlike before the previous couple of races, we can't see any value in backing either Lewis or his teammate George Russell in Sin City.

Last verified: November 2023
Special Signup Offer
First Bet Offer up to $1500!*
Enjoy live streaming of popular events
Great mobile betting experience
Variety of betting markets on offer
*except NY
Please play responsibly. If you or someone you know has a gambling problem and wants help, call 1-800
GAMBLER
.
Max Keeps Writing History: Can We Bet Against Him?
Although he was forced to work harder than in previous races this year, Max picked up another commanding victory in Brazil. It was his fifth on the trot and 15th of the last 16 races. Verstappen has already broken all single-season records. He currently sits on 524 points in the Driver's Championship, 70 more than his record from last year. And we still have two races remaining.
You don't have to be an avid F1 fan to predict Verstappen's win in any race this year. However, is there a case to go against the record-breaking Dutchman on an unfamiliar street circuit? If anything can cause chaos in Formula 1, it's uncertainty. No driver has got any experience on this track. Despite his dominance, it is still hard to find value in backing Max at -400 odds (with most American sportsbooks).
Regarding this, we have found a very interesting betting option at BetMGM Sports, which has a duel between Max Verstappen and the rest of the field. We like backing any other driver to win the Las Vegas Grand Prix at the attractive +200 odds.
Lando Norris Ready for His First F1 Win?
Lando Norris enjoyed a perfect weekend two weeks ago in Sao Paulo. He did not win the race, but he did not make a single mistake in an effort that challenged Max Verstappen if the Dutchman had not had since Monaco and the battle with Fernando Alonso. McLaren's pace was great at Interlagos, allowing Norris to keep his stellar run of form.
The 23-year-old Briton now has five podium finishes in the last six races. He is yet to pick up the inaugural win of his career. Could the inaugural Las Vegas street race allow him to do so? DraftKings has the in-form Lando at lucrative +900 odds to win. You will not get a better long shot for this race.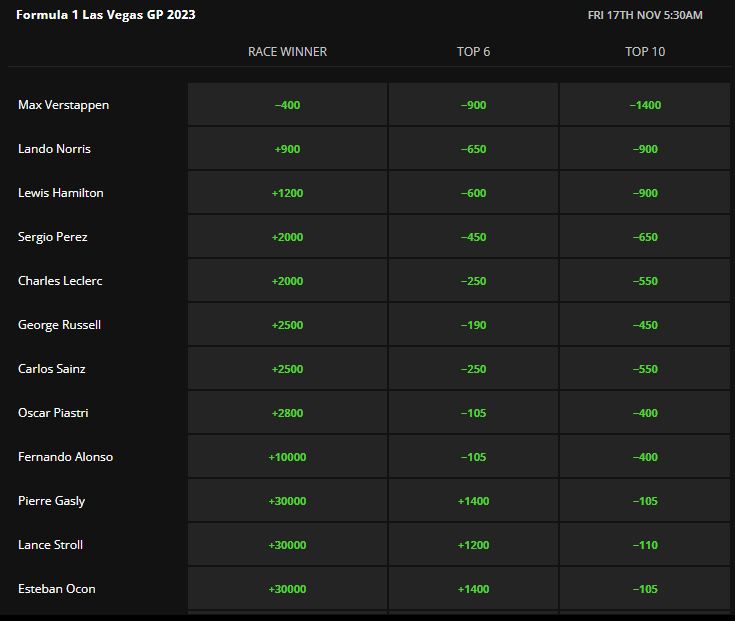 The more conservative bettors can go for a much safer option and back Norris to secure another podium finish at the -200 price tag. The odds are not spectacular, but remember, we are talking about a man who secured five podium finishes in his previous six races.

Last verified: November 2023
Special Signup Offer
$1000 Deposit Bonus
Make a deposit & get 20% boost up to $1000
Great mobile betting apps
Fast and hassle-free withdrawals
Please play responsibly. If you or someone you know has a gambling problem and wants help, call 1-800
GAMBLER
.
Aston Martin is Back
Aston Martin began the season as Red Bull's most serious rival. After they got off to an outstanding start to the year, the team's fortunes completely shifted during the summer. Fernando Alonso and Lance Stroll were not pulling up any trees in the last several months, and introducing a major update before the race in Austin only made things worse.
They seem to have returned to their best, being the third-quickest car on pace two weeks ago at Interlagos. Fernando Alonso has showcased the best defensive driving of his career to deny Red Bull's Sergio Perez in the battle for the podium. Stroll enjoyed his season-best third-place qualifying finish and ended the race just six seconds shy of his teammate.
The tremendous display from the two Aston Martin drivers did not impress the US sportsbooks, though. We are happy to back Fernando Alonso to secure a Top 6 finish in Sin City at -105 odds with DraftKings, while the braver bettors can back Stroll to repeat the success from the previous race at the sky-high +1200 odds.