One of the most commonly spread card games in casinos worldwide, Blackjack is a game of both luck and strategy and rewards good play more than others.
Compared to many other casino games, such as roulette, Blackjack offers fewer betting options and plays but also a lower house edge and higher returns.
Blackjack is played against the dealer, and unlike poker, it is not a game in which skill can give you an overall edge or create a long-term profit. However, playing a good Blackjack strategy will allow you to minimize house edge and give yourself the best possible Blackjack odds.
Before you jump into playing Blackjack for real money, read through this guide and learn the basic rules of Blackjack, your betting options, and some tired-and-true Blackjack strategy. Once you're done, you'll have the tools to play like a pro at live tables and online casinos in the US and worldwide.

Last verified: August 2023
Special Signup Offer
100% deposit bonus up to $1000!
$25 no deposit bonus – sign up & get casino credits
Quality live dealer action
Exclusive progressive slots
Please play responsibly. If you or someone you know has a gambling problem and wants help, call 1-800
GAMBLER
.
Blackjack House Edge Explained
Before we discuss the specifics of house edge in Blackjack, it is worth explaining what house edge is and how it impacts you as the player.
House edge is a numerical representation of the casino's edge over the player. The number represents the percentage of total bets that the casino retains in the long run.
For instance, a 1% edge means that for every $100 you bet in a game, you will lose $1 over the long run. The higher the house edge, the less favorable the game is to play.
Unlike many other gambling games, in which house edge is preset and fixed, house edge in Blackjack is variable and depends on the player's skill and approach to the game.
Playing against a complete novice, who makes almost the worst possible play in every situation, the house can retain a massive 29% edge, but this is the absolute worst-case scenario.
By applying even a little common sense and logic, players can quickly take the Blackjack house edge down to just 3% or less, and even this is not the optimal number.
In fact, by learning how to play "basic strategy," you can take the Blackjack house edge down to just 0.5% at most Blackjack tables and even further in some versions of the game.
The overall house edge in Blackjack depends heavily on your playing strategy but also on specific rules the casino applies.
For example, the house edge is quite a bit lower in Blackjack games played with a single deck, as opposed to the six to eight decks you will see in most online and live Blackjack games.
Furthermore, rules on dealer standing or drawing on soft 17, doubling after splitting, and re-splitting will all affect the total house edge in the game.
If you can find the right Blackjack tables to play at and play basic strategy to perfection, you may be able to push the casino edge very close to zero, allowing you to play much longer and have a lot more fun with the same bankroll at your disposal.
But before we get into teaching you basic strategy, let's talk about the elementary rules of Blackjack and the plays you can make in every hand.
How to Play Blackjack: Rules, Betting, and Gameplay Options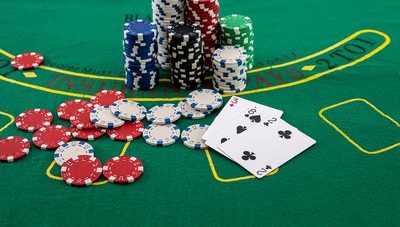 The game of Blackjack can be played with one or multiple players at the table, all of whom are playing against the dealer.
At the start of each hand, the dealer deals two cards to each player who made a bet and two cards to himself. Players' cards are all dealt face-up, while one of the dealer's cards remains face-down at the start of the hand.
The action goes in a circle, with all players acting before the dealer. The objective of the game is to reach a total hand value of 21, or as close to 21 as possible, without going over that value (busting).
All numbered cards have their face value
All Tens and face cards have a value of 10
All Aces have a value of 1 or 11
There are three different ways you can win a hand of Blackjack, and they are as follows:
If you are dealt 21 on your first two cards, you make Blackjack, which pays 3:2
If you come closer to 21 than the dealer without busting
If the dealer busts (goes over 21)
Unless you are dealt 21 (an Ace and a face card) immediately, you will have decisions to make moving forward. You will be able to request additional cards (Hit), keep the cards you currently have (Stand), Double, Split, take Insurance, and more.
So, now that you understand what the goal of the game is let's go into specific plays you are allowed to make in Blackjack and find out what each of them achieves and when it should be made.
Play Like a Pro: Every Play in Blackjack Explained
Once you are dealt your initial two cards, you will have a decision. Depending on the cards you are dealt, several options will be available to you, each of them achieving a different goal.
In order to play Blackjack in the best possible way, you will need to master each of these plays, learn how it affects your hand, and when exactly to make it.
The following options are available in the game of Blackjack:
Stand: Keep your current cards and end your play. You will win the hand if your total exceeds the dealer's or if the dealer busts.
Hit: Take an additional card. Once the new card is dealt with, you will have further options unless you bust your hand.
Split: If you are dealt a pair, you can split it into two new Blackjack hands. Depending on the pair you split, and the Blackjack version you are playing, you may be able to take further cards, split again, etc.
Double Up: You double your bet and get only one extra card. The new total will go up against the dealer's hand for double the stakes.
Surrender: You can surrender your hand when the odds are against you. In this case, you lose any chance of winning the hand but get half of your stake back.
Insurance: Insure your hand if the dealer is showing an Ace before he looks at his other card. If the dealer has Blackjack, you get paid. If not, you lose your insurance bet but can continue playing as usual.
Bet Behind: In live Blackjack games, you may be able to bet on other players' hands when the table is full. Betting behind means you are betting on another active player beating the dealer.
Plays such as Hit and Stand are available in all Blackjack versions and work pretty much the same. Plays like Split and Surrender, on the other hand, can differ vastly depending on the rules enforced by the casino you are playing at or the online Blackjack version you choose to play.
In either case, it is good to know what each of these options means and how to use it, as you may encounter different Blackjack variations that allow for each play in different capacities as you play the game in different locations.

Last verified: August 2023
Great Welcome Bonus!
100% deposit bonus up to $600!
Get $100 in casino bonus after wagering $1
Great variety of gaming options
Quality player rewards program
Claim Signup Offer
Please play responsibly. If you or someone you know has a gambling problem and wants help, call 1-800
GAMBLER
.
Payouts in Blackjack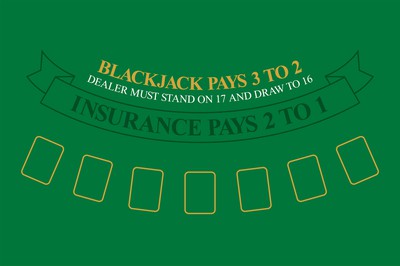 Now that you know all the possible plays you can make in Blackjack and your goals, it is worth looking at Blackjack payouts and what you can expect to win in this game.
Unlike many other gambling games that allow for many different outcomes and big payouts, you will not be looking at big wins in the individual hands of Blackjack.
Instead, each hand of Blackjack will end in one of the following scenarios:
You make a Blackjack, and you are paid 3:2 on your bet
Your hand beats the dealer, and you are paid 1:1 on your bet
Your hand ties with the dealer, and you get your bet back
Your hand loses to the dealer, and you lose your bet
You can win more than these amounts if you end up doubling up or splitting your hand, but you will still be looking at double the money you have invested throughout the hand in the best case unless you make a Blackjack with your initial cards, in which case you will be paid $3 for every $2 you wagered.
Payouts in Blackjack are very simple and don't differ too much between hands, making Blackjack a very low-volatility game, allowing you to play for long stretches of time with a limited bankroll.
However, many Blackjack games allow you to spice up the action by placing additional side bets, some of which offer huge payouts when you get lucky. So, let's look at some Blackjack side bet options available in some Blackjack games.
Side Bets in Blackjack
Side bets are not a regular feature of the game of Blackjack but rather extra features that are available in some Blackjack games, especially at US online casinos.
It is worth noting that all Blackjack side bets come with a fairly high house edge, much higher than what you can achieve by playing basic strategy in Blackjack.
Yet, if you are looking to spice up the action and make the game more fun, some of the following side bet options may be available to you:
Perfect Pairs: Get paid up to 30:1 when you are dealt a pair. Mixed pairs pay 5:1, colored pairs pay 10:1, and perfect pairs (pair of exact same cards) pay 30:1. This Blackjack side bet comes with a house edge of 10.7%.
21 + 3: Combine your two cards with the dealer's up-card to make "poker hands." Get paid between 5:1 for a "flush" (all three cards of the same suit) and 100:1 on suited three of a kind (all three cards are identical in value and suit). The house retains an edge of 4.62% on this side bet.
Lucky Ladies: Get paid at least 4:1 anytime your initial two cards have a value of 20. Higher payouts are available for getting matching cards while getting two Queens of Hearts pays 125:1. You can win a 1,000:1 jackpot if the dealer also makes a Blackjack when you have two Queens of Hearts. The house edge on Lucky Ladies' side bet is a massive 24.7%.
While these three side bets are the most common ones you will come across, other side bets such as Lucky Lucky, Super Sevens, Royal Match, Under/Over 13, and many others can be found.
The one thing shared by all these bets is that they heavily favor the casino and massively increase your overall loss per hand if you decide to put money on them.
If you want to make some side bets, make sure that you bet significantly less on a side bet than you do on your original hand to keep your losses in check and not give away too much value.
Blackjack Strategy: How to Minimize the House Edge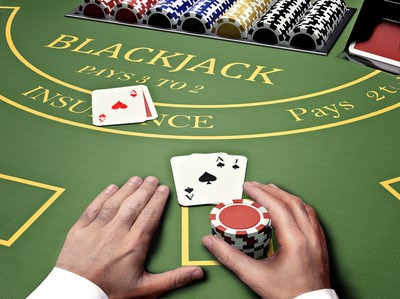 Unlike games of incomplete information, like Texas Hold'em Poker, Blackjack is a solved game, which means there is a perfect play to make in every situation, which results in the most favorable possible outcome.
The strategy that's based on these perfect plays is called Blackjack basic strategy, and it is the only strategy you should ever be using in the game.
By playing optimally, in accordance with the basic strategy, you will be able to diminish the casino edge in Blackjack to the bare minimum. Depending on the casino rules in place, you can maintain an RTP of 99.5% to 99.8%, making Blackjack one of the best games you could play in the casino.
Apart from hitting and standing, which are the two simplest plays, here are a few takeaways from the basic strategy chart that you can quickly memorize and always apply in your games:
Always double up on 11
Double up on 10 against all cards except T and A
Double up on 9 against 3, 4, 5, and 6
Double up on Soft 19 against 6
Double up on Soft 18 against 2 – 6
Double up on Soft 17 against 3 – 6
Double up on Soft 16 against 4 – 6
Double up on Soft 15 against 4 – 6
Double up on Soft 14 against 5 and 6
Double up on Soft 13 against 5 and 6
Always split Aces and Eights
Never split Tens or Fives
You can memorize these quick Blackjack tips in just five minutes, and they will help you do better at the game the next time you play.
To do even better, keep a basic strategy chart handy when you play, and try to remember all the plays over time for the best possible long-term results.

Last verified: August 2023
Exclusive Casino Signup Offer
$1000 Play It Again
$1000 Play It Again for the first 24 hours
Quality promotions around the clock
24/7 live dealer casino
Please play responsibly. If you or someone you know has a gambling problem and wants help, call 1-800
GAMBLER
.
Is Blackjack the Right Game for Me?
While it does not offer too many opportunities to hit a big score quickly, Blackjack is one of the casino games most serious players will recommend.
By using the correct gameplay strategy, you can reduce the house edge in Blackjack to well under 1%, which makes it one of the best games to play in both live and online casinos.
Learning how to play Blackjack right can take a little time, but once you get a hang of it, it will become second nature to you, and you will be playing hands very quickly and without delays.
Playing Blackjack is a great way to gamble with little variance and without massive swings, which is exactly what one portion of players prefers.
If you fall into this group, we definitely suggest learning how to play Blackjack and playing this game instead of most other casino games in order to give yourself the best shot at coming out ahead.
Also, consider Blackjack as a solid way to clear online casino bonuses at sites that count it towards the wagering requirement, as the amount of money you will be losing playing Blackjack remains very small in comparison to slots, roulette, and most other casino games.
Blackjack
FAQ
What is the goal of Blackjack?
The main goal in the game of Blackjack is to acquire cards totaling as close to 21 as possible without going over that number. You can also win in Blackjack with a lower score if the dealer busts his hand by going over 21.
What is the house edge in Blackjack?
Unlike in many other casino games, the house edge in Blackjack changes depending on your gameplay strategy. For players who play Blackjack very badly, the house edge can be over 20%, while for those who play basic strategy to perfection, it can be as low as 0.25% in some versions of the game.
How do I make a Blackjack?
If you are dealt an ace and one of the cards valued at ten points (T, J, Q, or K), you have Blackjack. You will be paid at 3:2 unless the dealer also has Blackjack, in which case the hand is a tie.
What is a soft hand and a hard hand in Blackjack?
In Blackjack, all starting hands can be split into hard and soft hands. Hard hands are hands that don't contain an Ace, which means they have a fixed value. Soft hands are those that contain an Ace, giving them dual value. For instance, if you are dealt an A and a 5, your total is 16/6. If you draw a 10, your new total will be 16, and you will not bust.
When should I split my cards in Blackjack?
You should always split a pair of Aces and a pair of Eights. For all other pairs, refer to our basic strategy chart to find out which dealer cards you should split it against.
When should I surrender in Blackjack?
In most Blackjack versions, you should Surrender if you hold 16 against the dealer's 9, 10, or 11, as well as if you hold 15 against the dealer's 10. In all other cases, don't Surrender your hand and follow other parts of the basic strategy chart.
When should I double up in Blackjack?
There are quite a few scenarios in which you should Double Up in Blackjack. Always Double Up when you hold 11, Double Up your 10 against 2 – 9, and double up your 8 against 3 – 6. Refer to our basic strategy chart to find which soft totals you should also be doubling up.
Can I play through online casino bonuses playing Blackjack?
This depends on the bonus in question. However, many online casinos will allow you to play through your bonus requirements by playing Blackjack. Note that Blackjack and other card games might only count for a percentage of your bets, as the house edge in these games is much lower than in slots.
Latest Blackjack News